If you're here, you're probably searching for the most breathtaking wedding venues in the NC mountains. I've got some great news for you: you've just found one of the most gorgeous Blue Ridge mountain wedding venues in North Carolina. Introducing The Barn On New River!
Discover the breathtaking allure of highland mountain-view wedding venues in the scenic landscapes of North Carolina at the Barn On New River.
Nestled within the majestic NC Mountains, these highland venues offer a picturesque backdrop for your special day. From panoramic vistas to serene natural surroundings, embark on a journey to find the perfect mountain view wedding venue that encapsulates the beauty and charm of North Carolina's stunning mountainous regions.
The Barn on New River
The Barn on New River, a rustic wedding venue for those seeking a unique and charming location, offers a beautiful ceremony backdrop. It can be found at 2162 S Fork Farm Ln, in the picturesque town of West Jefferson, North Carolina, Zip Code 28694.
If you are exploring wedding venue options, don't hesitate to reach out to us at (704) 798-3512. We are eager to offer additional details and explore ways to create lasting memories on your special day.
Reasons to Plan Your Wedding at the Barn On New River
Situated in the picturesque Blue Ridge Mountains, The Barn on New River provides a magical location for an unforgettable wedding getaway.
We offer BYOB & BYO Vendors.
Soak in the view of our stunning vistas, verdant gardens, and delightful rustic barn situated on our waterfront estate.
We offer on-site accommodations and a variety of outdoor activities, which can transform your wedding into a complete family gathering.
We are available to assist you in organizing your ideal wedding and guarantee that everything is correct.
After the sun goes down, you can come together by the fire pit to enjoy s'mores and observe the stars.
You're sure to experience a weekend filled with love, joy, and lasting memories by booking The Barn on New River.
We've created this helpful map so you can visualize your wedding experience at our mountain venue. Plan a hiking excursion, go wine tasting, visit our local secret spots, and make your wedding an unforgettable experience.
Planning a destination wedding at The Barn on New River
You can add a level of enchantment to your special day by organizing your destination wedding in the Blue Ridge Mountains, particularly at the Barn on New River. The stunning and romantic setting of the North Carolina mountains provides a backdrop that can elevate your wedding experience. See our recommendations to elevate the memorability of your destination wedding at the Barn on New River in North Carolina. Select the Barn on New River as the location for your wedding ceremony and festivities, to guarantee a remarkable and lasting experience.
Embrace the Local Cuisine:
North Carolina is renowned for its delicious Southern cooking, and incorporating local specialties into your wedding menu at the Barn on New River can add an extra special touch. From BBQ to fried chicken to biscuits and gravy, your guests will love experiencing the region's authentic flavors.
Add Local Flair to Your Wedding Favors:
Instead of the usual chocolates or personalized trinkets, consider giving your guests a taste of North Carolina to take home from the Barn on New River. Thoughtful and one-of-a-kind choices include locally produced honey, jars of jam or jelly, and homemade candles with scents that reflect the region.
Consider a Non-Traditional Venue at the Barn on New River:
While traditional wedding venues are lovely, the Barn on New River offers a unique setting in the North Carolina mountains. How about a mountaintop ceremony, a rustic barn wedding reception, or an intimate ceremony in a cozy cabin? With limitless possibilities, the Barn on New River offers unconventional choices that can transform your wedding into an unforgettable experience.
Take Advantage of the Natural Beauty:
The mountains of North Carolina, especially around the Barn on New River, serve as a stunning backdrop for any wedding. Utilize the natural beauty and incorporate it into your décor at the Barn on New River. Your special day can be enhanced with a hint of natural sophistication through the inclusion of wildflowers, greenery, and rocks adorned with moss.
Carve out time for exciting experiences and exploration.
The mountains of North Carolina, including the area around the Barn on New River, offer endless opportunities for outdoor adventure. Incorporating a fun activity into your wedding festivities at the Barn on New River can make the occasion even more memorable. From hiking and zip-lining to horseback riding and white-water rafting, there's something for everyone to enjoy. Planning a wedding can be stressful, but it doesn't have to be, especially when set against the scenic backdrop of the Barn on New River in the Blue Ridge Mountains.
Why the Barn on New River in North Carolina is an ideal location for your mountain wedding
You Can Breathe Easy:
We're Available at Every Step: Local or destination, our support is constant, from initial inquiry to beyond the wedding day.
Personalized Experiences: We take pride in creating unique experiences, listening to your vision, and perfecting every detail.
Get Ready in Luxury:
Dahlia Suite Bliss: Natural light, serene ambiance, and ample space in the Dahlia Suite ensure the perfect start to your wedding day.
Groom's Lounge: A cozy retreat with rustic decor and outdoor access, offers a tranquil escape for the groom and his party before the festivities.
Say "I Do" in Style
Enchanting Arbor: Walk down the aisle through an arbor adorned with lush florals, surrounded by the sweet scent of mountain air.
Scenic Vows: Exchange vows by a glistening pond with a magnificent fountain, embraced by the majestic Blue Ridge mountains.
Sip & Enjoy:
Breathtaking Patio: The Barn's spacious patio offers stunning farm views, perfect for sipping libations and capturing memorable moments.
Celebration Backdrops: No shortage of stunning backdrops for celebratory toasts and captivating couple portraits.
Whimsical Photo Journey:
Photographer's Paradise: The property is designed for photographers, providing endless opportunities for breathtaking wedding photos, and one-of-a-kind shots.
Savor Every Moment:
Grand Entrance: The Barn welcomes you with 30′ post and beam ceilings, Swarovski crystal chandeliers, and dreamy string lighting.
Delectable Dining: Enjoy food and drinks in a spacious dining area surrounded by the warmth of friends and family.
Memorable Speeches: Let the night unfold with speeches that evoke laughter and tears.
Dance the Night Away: Fabulous acid-stained concrete floors provide the perfect foundation for a night of revelry.
Captivating Views:
Enchanting Property: We offer breathtaking views of the Blue Ridge Mountains, riverfront tranquility, and vibrant gardens for stunning photos.
Sunset Session: Owner Paula offers a mountain-top sunset session for more unforgettable memories.
Venue Spaces at The Barn on New River
At The Barn on New River, we recognize that orchestrating a wedding celebration can be overwhelming, especially if you're not acquainted with the area. But fret not – we're here to guide you in crafting a stunning and unforgettable wedding day that will be a masterpiece of serenity.
Our 90-acre Property:
Spans 90 acres with stunning Blue Ridge Mountain and South Fork on New River riverfront views.
Features The Main Barn, The Old Hay Barn, a beautiful garden, a pond with a fountain, the Main House, and a lodging cabin.
The Barn:
Impressive features include 30′ post and beam ceilings, Swarovski crystal chandeliers, charming string lighting, and acid-stained concrete floors.
Encompasses 4900 sq. ft., leaving an indelible impression on couples and guests.
Dahlia Suite: Spacious area with ample natural light for relaxation and preparation, connected to the women's bathroom.
The Lounge: Cozy atmosphere for watching TV and getting ready, offering plenty of seating and private entry points.
The Old Hay Barn:
Covered outdoor area with string lights, ideal for socializing and unwinding.
Adjacent grassy area for five to six outdoor games like giant Jenga and cornhole, and a cozy seating area with Adirondack chairs and a gas fire pit.
The Dahlia Garden
The Barn on New River (Southfork) provides both indoor and outdoor wedding venues for your exclusive use. The Dahlia Garden presents a fairytale setting adorned with lush greenery and charming pathways, creating an enchanting space for a romantic stroll or a ceremony.
The Stone Patio & Ceremony Area
Our grand patio is equally elegant, featuring stone accents with ambient lighting for a champagne toast or cocktail hour. While the patio is ideal for dancing under the stars, you can commemorate your happily ever after under the rustic, white pergola.
FAQs
What amenities can we expect at these venues?
Ceremony Area: Dedicated space for wedding ceremonies. It can accommodate up to 200 guests.
Covered Outdoor Space: Sheltered area for events, protecting from the elements.
Dressing Room: Designated area for attire changes and preparation.
Handicap Accessible: Facilities designed to accommodate individuals with disabilities.
Indoor Event Space: Enclosed area suitable for hosting events indoors.
On-Site Accommodations: Lodging facilities are available on the premises.
Outdoor Event Space: An open-air area designed for hosting events.
Reception Area: Space allocated for post-ceremony celebrations.
Wireless Internet: Availability of wireless internet connectivity on-site.
Which season is best to plan my wedding?
| | |
| --- | --- |
| Season  | Description |
| Spring | Mild temperatures, blooming flowers, and greenery. Ideal for outdoor ceremonies and events. |
| Summer | Warm temperatures, longer days, and vibrant landscapes. Perfect for outdoor weddings and enjoying the scenic surroundings. |
| Fall | Crisp air, vibrant fall foliage, and a cozy atmosphere. The mountains offer stunning autumn views, enhancing the wedding experience. |
| Winter | Snow-capped mountains, a festive atmosphere, and potential for a winter wonderland. Indoor venues can provide a warm and intimate setting. |
What does the wedding package include?
Our offerings not only provide you with an exceptional venue for your wedding ceremony, along with seating arrangements but also include an assortment of other significant features. Recognizing that each wedding has its unique needs and style, our adept team collaborates closely with you. We do this to customize your wedding package, aligning it perfectly with your specific preferences and desires.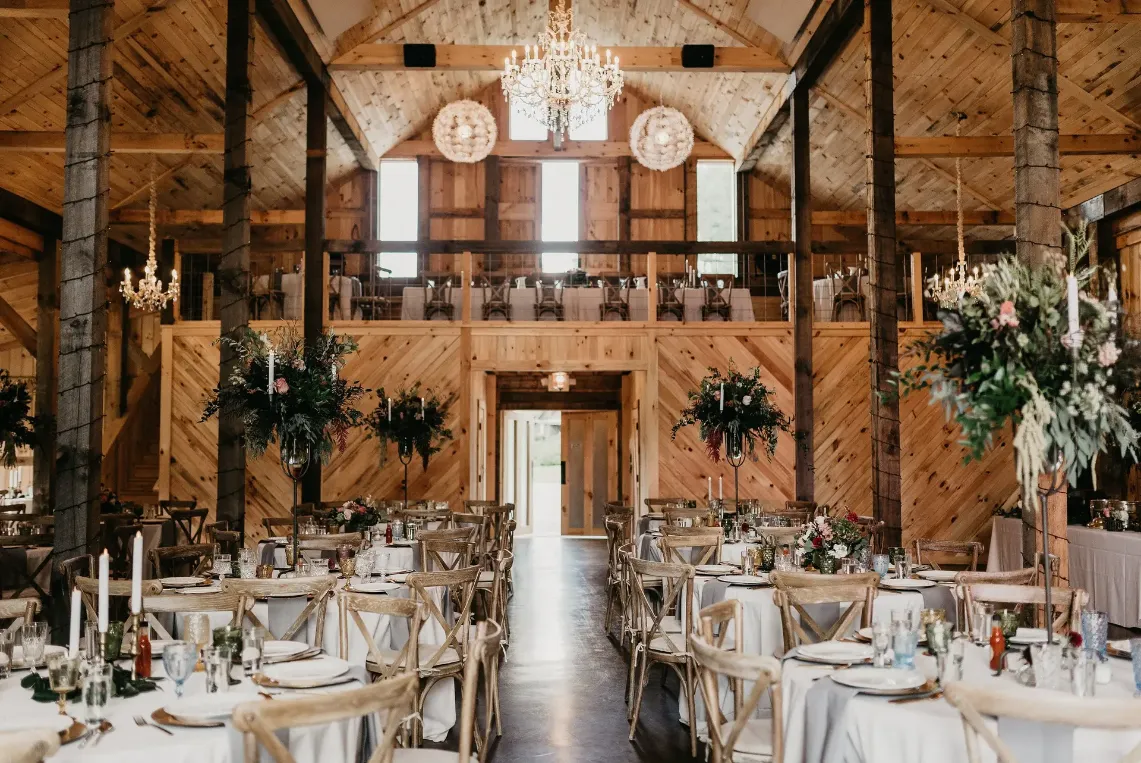 "This is the most beautiful venue you could ever imagine for a wedding. All the flowers were blooming and weather was perfect. Paula and her husband were wonderful to work with and so accommodating. Caroline the wedding planner really knows her stuff. Wedding proceeded without a hitch. Could not have asked for a better day. Perfect wedding, perfect venue." – Crystal
Schedule a Tour
Embark on a journey to envision your dream wedding at The Barn on New River. Schedule a personalized tour with us, and let our enchanting venue unfold before your eyes. Explore the rustic charm of our indoor and outdoor spaces, wander through the picturesque Dahlia Garden, and envision the magic of your special day in the heart of nature. Contact us to schedule your tour and discover how The Barn on New River can bring your wedding dreams to life.