Congratulations on your upcoming wedding! In this blog post, we unveil the top nine Asheville wedding venues that capture the essence of romance, elegance, and enchantment. From historic estates and lush gardens to rustic barns and scenic mountain vistas, these carefully selected venues showcase the diversity and beauty that make Asheville a coveted wedding destination.
Whether you envision a grand affair or an intimate celebration, Asheville has something to suit every couple's unique style and preferences. We'll guide you through each venue, highlighting its distinctive features, picturesque settings, and exceptional amenities. Prepare to be inspired as we unveil the hidden gems and well-known treasures that set the stage for extraordinary weddings in Asheville.
The best wedding venues in Asheville, North Carolina
Asheville, nestled in the picturesque mountains of North Carolina, is a haven for couples seeking a magical destination to tie the knot. Known for its breathtaking natural beauty, vibrant arts scene, and charming southern hospitality, Asheville offers an array of stunning wedding venues that will make your special day truly unforgettable.
So, join us on this journey as we explore the 11 best Asheville wedding venues, where dreams come true, and love stories are etched into the fabric of this remarkable mountain paradise. Let the planning begin, and let Asheville be the backdrop to your perfect day!
1. The Barn On New River | Mountainside Weddings & Events
Address: 2162 S Fork Farm Ln, West Jefferson, NC 28694
Enchantment Awaits: Discover The Barn on New River's Natural Splendor
Welcome to The Barn on New River, a sanctuary where enchantment awaits, and your imagination is set free. Nestled in the breathtaking Blue Ridge mountains, our venue unveils a captivating landscape of serene ponds, blossoming gardens, picturesque South Fork New River frontage, and awe-inspiring scenic views. Immerse yourself in the tranquil embrace of nature and seize the opportunity to capture your unique love story against the backdrop of our expansive 90-acre property.
Scenic Serenity: Unveiling the Magic of Our Idyllic Setting
Immerse yourself in the breathtaking serenity that defines our idyllic setting, setting the stage for an enchanting and unforgettable day. Our post-and-beam barn, adorned with elegant crystal chandeliers and meticulously curated lighting, creates a soft and romantic atmosphere perfectly tailored to celebrate your love. Step into a world where dreams become reality as you witness firsthand how The Barn on New River transforms weddings into breathtaking masterpieces.
Beyond Beauty: Crafting an Unforgettable Experience
But our commitment doesn't end with visual splendor. At The Barn on New River, we are dedicated to ensuring your wedding experience is stress-free and enjoyable. Our passionate team is here to address your questions, provide valuable recommendations, and guide you through every step, making your journey with us positive and truly memorable.
A Picture-Perfect Celebration: Painting Your Special Day
Join us at The Barn on New River and allow us to help you paint a beautiful picture of your special day. Surrounded by the splendor of nature and supported by our attentive and caring staff, you'll experience the magic and tranquility that awaits you. Let us craft an unforgettable celebration that exceeds your expectations, leaving you with cherished memories of a day filled with love, joy, and enchantment.
What's Included in Our Package
| | |
| --- | --- |
| Packages and Inclusions | Starting Price |
| Exclusive use of the 90-acre farm with ponds, fields, river frontage, gardens, and mountain views | $3,500 |
| Full photography access | – |
| BYOB and BYO Vendors | – |
| 2 Ready Rooms: The Dahlia Suite and Lounge | – |
| Handicap-accessible post-and-beam barn with modern bathrooms, crystal chandeliers, and 2nd-floor balcony | – |
| (20) 60″ round tables, (20) 8″ long tables, (10) cocktail tables, (6) whiskey barrels, and 200 wooden cross-back chairs | – |
| Tucked away Caterer's kitchen and prep area | – |
| Stone patio cocktail area with a stylish live edge wood bar | – |
| Ceremony site with paved aisle, arbor, and illuminated fountain | – |
| Covered outdoor cocktail area at the Old Hay Bar with yard games and fire pit | – |
| Breathtaking sunset photography location at the summit of the mountain | – |
| Parking access with on-site attendant for guest convenience | – |
| Complimentary night in the luxurious Honeymoon Suite | – |
2. The Grand Bohemian Hotel
About The Grand Bohemian Asheville: A Magnificent Wedding Venue
Introduction: Discover the enchanting world of The Grand Bohemian Asheville, an extraordinary wedding venue located in Asheville, North Carolina. Designed to evoke the charm of a 17th-century European hunting lodge, this venue pays homage to its famous neighbor, the Biltmore Estate. Its rustic lodge exterior, adorned with peaked roofs and archways, seamlessly blends into the historic Biltmore Village area. Nestled in the breathtaking Blue Ridge Mountains, this venue offers picturesque backdrops at every turn and a myriad of activities for couples and guests to enjoy. Step into this inviting space and create cherished memories as you exchange vows and celebrate an unforgettable wedding.
Facilities and Capacity: A Space of Unparalleled Beauty
Experience the grandeur of The Grand Bohemian Asheville with its impressive facilities and capacity. From expansive stone fireplaces to hand-carved Balinese wood, every detail exudes elegance and sophistication. The venue offers indoor and outdoor event spaces accommodating up to 170 people, allowing you to tailor your celebration to your unique vision. Delight in sumptuous 14k gold wall coverings, custom-designed Swarovski crystal chandeliers, and 4500 square feet of private entertainment space. For more intimate weddings and elopements, the Black Forest Wine Room provides an intimate setting for up to 20 guests.
Services Offered: Crafting Your Dream Wedding Experience
At The Grand Bohemian Asheville, expect exceptional services tailored to make your wedding experience seamless and unforgettable. Wedding Sales Professionals are available to assist you with venue planning and preparation, ensuring every detail is executed flawlessly. Benefit from setup and cleanup services and preferred vendor referrals to simplify your planning process. Explore all-inclusive wedding packages, including catering and bar services. The venue provides essential items such as tables, chairs, linens, flatware, glassware, china, serving pieces, and a dance floor. Valet service is also available to enhance guest convenience.
Accommodation: A Luxurious Retreat for You and Your Guests
Extend your wedding experience with luxurious accommodations at The Grand Bohemian Asheville. Indulge in well-appointed luxury suites and guest rooms, offering a perfect blend of comfort and sophistication. Pamper yourself at Poseidon Spa, immerse yourself in captivating artwork at the Grand Bohemian Gallery, or savor exquisite dining at the Red Stag Grill. The venue is pet-friendly and provides a fitness center for your convenience, ensuring a truly enjoyable stay for you and your loved ones.
Experience the enchantment of The Grand Bohemian Asheville, where timeless elegance and impeccable service come together to create unforgettable wedding celebrations. From the moment you step through our doors, be immersed in a world of beauty and luxury, where your dream wedding becomes a reality.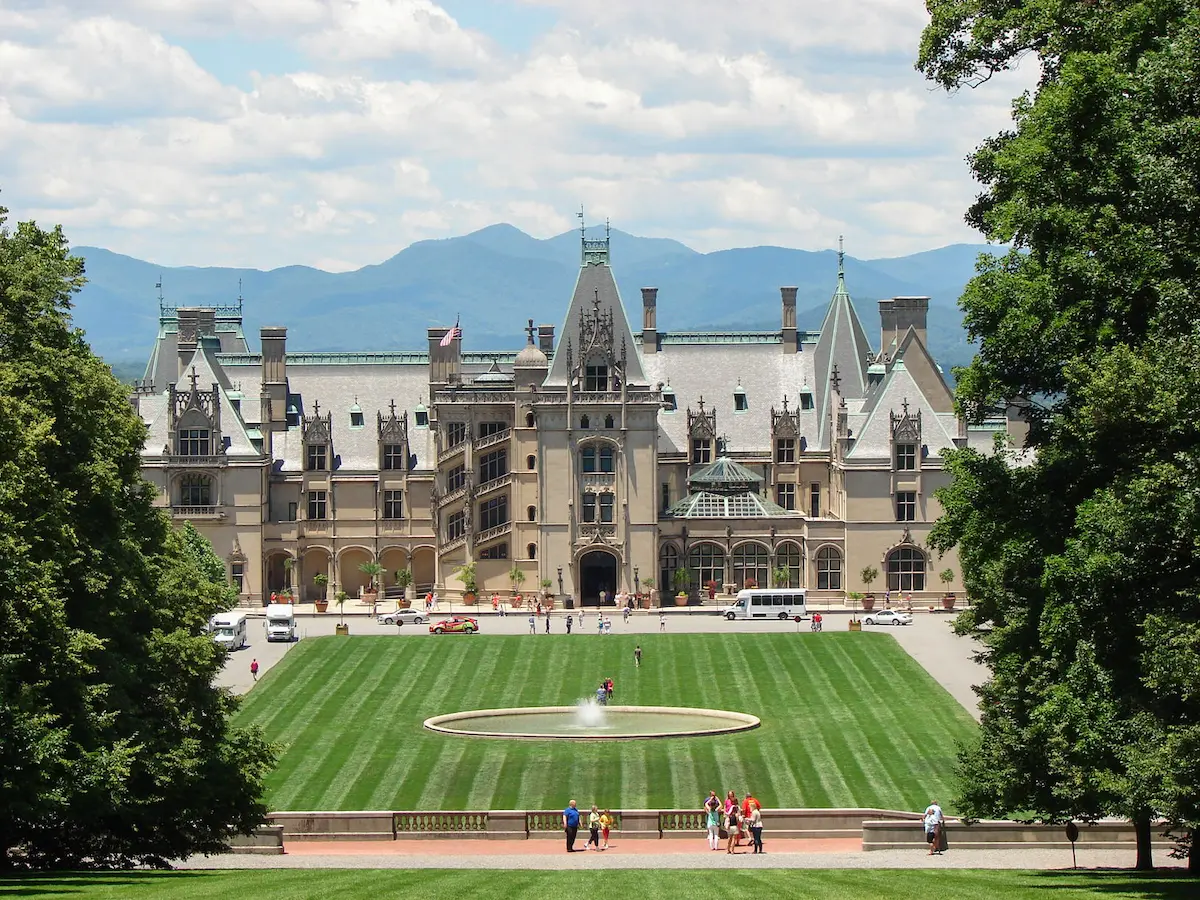 3. The Biltmore Estate
$44k – $66k For 100 Guests
Up to 300 guests
Biltmore Estate is a historic wedding venue located in Asheville, North Carolina. It is a vintage-style mansion built in 1895 by George W. Vanderbilt, boasting 250 rooms and being America's largest home. The estate offers experienced staff, unmatched hospitality, and breathtaking beauty.
Couples can accommodate up to 400 guests at this French Renaissance chateau. Biltmore House and Gardens provide multiple indoor and outdoor settings, including the Front Lawn, South Terrace, Italian Garden, and Stable Loft. The Conservatory features tall arched windows and exotic plants, while the marble statue of Diana offers stunning views of the estate and the Blue Ridge Mountains. Lioncrest, Amherst at Deerpark, Antler Hill Barn, Cedric's Garden, and Champagne Cellar at the Winery are other unique and picturesque venues available.
Biltmore Estate offers all-inclusive packages to ensure a successful wedding day. Services include event planning, event rentals, lighting, and sound. Each package includes a selected menu, four-hour open bar, customized wedding cake, champagne toast, and a complimentary overnight stay for the couple. Additional services provided are setup, cleanup, tables, chairs, china, glassware, flatware, and barware.
The estate also offers a bridal suite for the newlyweds, ample parking for guests, and a range of additional services to make the wedding experience seamless and memorable.
4. The Omni Grove Park Inn
Starting Cost: $$$$ – Luxury
Address: 290 Macon Ave, Asheville, NC 28804
The Omni Grove Park is another luxury wedding venue in Asheville with the same price range if not more, than The Biltmore Estate.
Surrounded by over a century of historic grandeur, The Omni Grove Park Inn offers a truly unforgettable wedding experience.
Discover distinctive indoor and outdoor venues, including terraces with majestic views of the Blue Ridge Mountains.
Enjoy the convenience of on-site catering, deluxe accommodations, and legendary service.
The dedicated team of experts will personally assist you with every detail, ensuring your wedding dreams become a reality.
All-inclusive wedding packages cater to both hometown celebrations and mountain destination weddings in Asheville, North Carolina.
Customize your nuptials with hotel amenities such as four signature restaurants, a world-class 43,000 sq. ft. Spa, and an 18-hole Donald Ross-designed golf course.
Host your rehearsal dinner, bridal shower, bachelor/bachelorette and engagement parties, and even your bon voyage brunch at the same place where you exchange your vows.
The Omni Grove Park Inn sets the stage for an extraordinary wedding journey, where cherished memories are made and cherished forever.
5. Chestnut Ridge
Address: 633 Turnpike Rd, Canton, NC 28716
Chestnut Ridge is a luxurious wedding venue located just outside of Asheville in Canton, North Carolina. This stunning venue is surrounded by scenic open fields and breathtaking mountain views, creating a picturesque backdrop for any wedding celebration.
The main structure is a white barn that is specially designed for weddings, and it comes with its own on-site planning team to ensure that your day is everything you dreamed of and more. Chestnut Ridge offers several indoor and outdoor ceremony options, a do-it-yourself package, and an all-inclusive package.
The venue is far enough outside Asheville to give you a mountain feel but near enough to have great hotel and transportation options for you and your guests.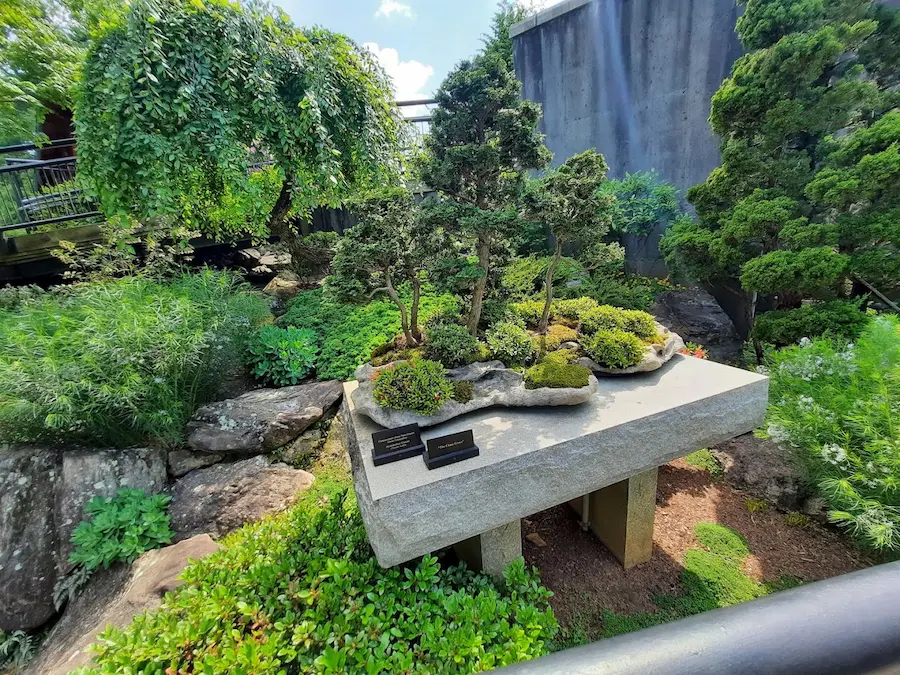 6. The North Carolina Arboretum
Address: 100 Frederick Law Olmsted Way, Asheville, NC 28806
The North Carolina Arboretum in Asheville is a stunning wedding venue for couples who love gardens and nature. The arboretum offers both indoor and outdoor spaces for ceremonies and receptions, including the Education Center Veranda, the Baker Exhibit Center, and various gardens and trails.
Sustainable and Eco-Friendly Weddings
The venue is highly eco-friendly, with LED lighting and recycling throughout the facility. Couples can choose from packages ranging from 25 to 150 guests, and a venue coordinator is provided to assist with planning. The North Carolina Arboretum boasts breathtaking mountain views and botanical gardens, making it a unique and unforgettable wedding location.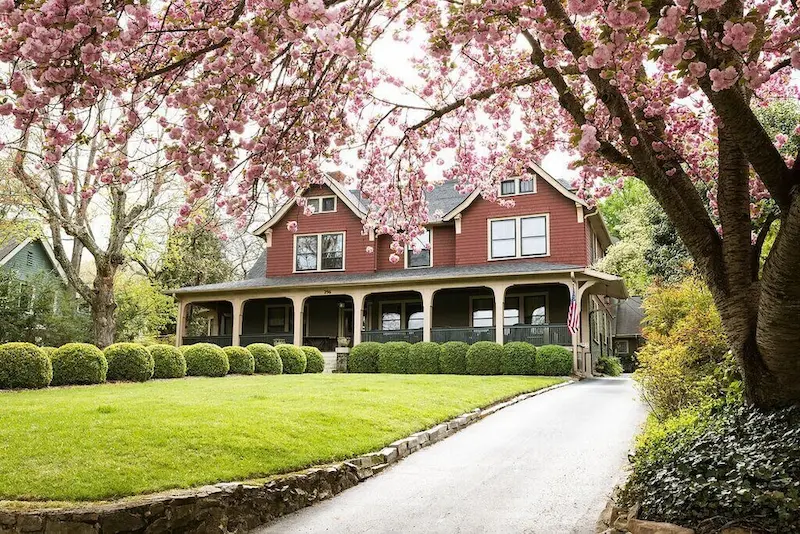 7. The 1900 Inn on Montford
Address: 296 Montford Ave, Asheville, NC 28801
The 1900 Inn on Montford is a charming bed and breakfast located in Asheville, North Carolina, that offers a unique and intimate wedding experience. With a capacity of up to 30 guests, the focus is entirely on the couple and their loved ones. The Inn features elegant spots, both indoors and in the gardens, for the ceremony and stunning photo backdrops.
Onsite Lodging
The onsite housing for 18 people in 8 rooms with 9 beds is perfect for a cozy and luxurious getaway, with thoughtful details arranged by the Inn.
8. Highland Brewing
Experience the essence of craftsmanship and excellence at Highland Brewing. Immerse yourself in their exceptional beer and extraordinary events, where every detail is meticulously curated to create unforgettable experiences. The Event Center and Barrel Room offer a seamless blend of indoor and outdoor spaces, accommodating up to 280 guests for seated dinners and up to 450 guests for cocktail-style receptions. With soaring ceilings, natural light pouring through vast windows, and state-of-the-art sound and light equipment, the Event Center sets the stage for grand celebrations.
For intimate affairs, the Barrel Room's rustic charm, private bar, and capacity for up to 80 guests for rehearsals or 64 guests for receptions create an atmosphere of warmth and intimacy. And for breathtaking views, the spacious rooftop presents a 3,000-square-foot canvas with stunning 360-degree vistas of the surrounding mountains. Beyond the enchanting venues, Highland Brewing offers dedicated wedding suites, get-ready rooms, and a well-equipped catering kitchen.
9. Crest Center & Pavilion
Address: 22 Celebration Pl, Asheville, NC 28806
$15k – $20k For 100 Guests
Nestled on Crest Mountain in Asheville, North Carolina, the Crest Center and Pavilion embody rustic elegance and breathtaking natural beauty. Allow yourself to be embraced by the awe-inspiring mountain views that serve as the backdrop for your momentous occasion. From engagement parties to rehearsal dinners, ceremonies to receptions, these venues will flawlessly accommodate every aspect of your wedding celebration.
The Crest Center welcomes you with its stunning lodge setting, boasting 86 feet of windows that frame the majestic Blue Ridge Mountains. With 4,500 square feet of event space, the Main Hall can accommodate up to 200 guests, providing a charming ambiance with exposed wooden beams, enchanting Edison chandeliers, and a cozy lounge area featuring a stone-crafted gas fireplace. Step outside onto the Overlook Deck, where expansive mountain vistas create a picturesque setting for your outdoor ceremony. The Mezzanine, offering 1,700 square feet of versatile space overlooking the Main Hall, provides a backup ceremony location and a delightful area for games or private moments.
The Crest Pavilion, an open-air venue, captivates with its 7,000 square feet of event space, enclosed by sliding glass windows that grant panoramic views of Crest Mountain and the Blue Ridge skyline. With its soaring 30-foot ceiling adorned with a network of iron and wooden beams, the Pavilion exudes a magical atmosphere illuminated by twinkling fairy lights. The terrace, accompanied by an outdoor bar and a charming wood-burning fire pit, sets the stage for a captivating cocktail hour. Below the terrace lies a spacious lawn, serving as the idyllic outdoor ceremony location. With seating for up to 350 guests, the Pavilion ensures ample space for a seated buffet-style service, while its built-in stage accommodates grand live performances, allowing you to dance the night away with a 13-piece band. For those seeking a mountaintop ceremony, the gazebo on the side of Crest Mountain offers amphitheater-style seating for up to 160 guests, overlooking downtown Asheville, creating an unforgettable prelude to your reception.
That wraps up our top 9!
Keep reading for FAQs, info about towns and cities near Asheville, and more.
FAQ About Asheville Weddings Venues
Asheville, NC: A Premier Wedding Destination
Asheville has been ranked as one of the top wedding destinations in the United States according to WeddingWire's 2021 Destination Wedding Report. Source: WeddingWire
Biltmore Estate: America's Largest Home and Stunning Wedding Venues
The Biltmore Estate, located in Asheville, is America's largest home and offers breathtaking wedding venues on its picturesque grounds. Source: Biltmore
Scenic Beauty of the Blue Ridge Mountains
Asheville's Blue Ridge Mountains provide a stunning backdrop for weddings, with scenic views and natural beauty that create unforgettable experiences. Source: Explore Asheville
Diverse Range of Wedding Venues
Asheville offers a diverse range of wedding venues, including historic mansions, rustic barns, modern event spaces, and outdoor gardens, catering to various styles and preferences. Source: Asheville Wedding Guide
Thriving Wedding Industry
Asheville has a vibrant wedding industry with a wide selection of vendors and professionals specializing in catering, photography, floral arrangements, and more. Source: Asheville Wedding Guide
Affordable Wedding Destination
The average cost of a wedding in Asheville, NC is approximately $28,000, which is slightly lower than the national average. Source: Cost of Wedding
Unique Amenities and Services
Asheville's wedding venues often offer unique amenities and services, such as on-site accommodations, spa facilities, and outdoor activities for couples and their guests to enjoy. Source: Asheville Wedding Guide
Economic Impact
Asheville's wedding industry contributes significantly to the local economy, attracting couples from around the country and generating revenue for hotels, restaurants, and other businesses. Source: Explore Asheville
Year-round Wedding Destination
Asheville's mild climate makes it an appealing wedding destination year-round, with each season offering its own charm and opportunities for outdoor celebrations. Source: Asheville Wedding Guide
Customizable Packages for Every Budget
Asheville's wedding venues often provide customizable packages and options to accommodate different budgets and wedding sizes, ensuring couples can find the perfect venue within their means. Source: Asheville Wedding Guide
What are the best Asheville wedding venues in NC?
Are you ready to discover the best Asheville wedding venues in NC? Look no further! Asheville, NC has become a sought-after wedding destination, and it's easy to see why. With an array of breathtaking venues to choose from, finding the perfect one can be a challenge. Here are five exceptional wedding venues that will captivate your heart:
The Biltmore: Step into a world of enchantment at The Biltmore Estate. This iconic venue offers a variety of spaces, from grand ballrooms to intimate gardens. Imagine exchanging vows amidst the grandeur of the historic mansion, with stunning views of the majestic Blue Ridge Mountains as your backdrop.
Hidden River Events: Nestled on 20 acres of private land, Hidden River Events is a rustic paradise. Embrace nature's beauty as you celebrate alongside a serene river, charming gardens, and a lovingly restored barn. With on-site lodging available, your wedding party and guests can indulge in a truly immersive experience.
The Omni Grove Park Inn: The Omni Grove Park Inn is a perfect choice for a touch of historic elegance. This distinguished hotel offers both indoor and outdoor venues, including a magnificent terrace boasting breathtaking mountain vistas. Pamper yourself and your guests with on-site accommodations and a luxurious full-service spa.
The Venue: If you're seeking a modern and stylish setting, look no further than The Venue. Its industrial-chic ambiance, exposed brick walls and lofty ceilings, sets the stage for a contemporary celebration. Don't miss the rooftop terrace, offering sweeping city views that will awe you and your guests.
Homewood: Step into a world of refined elegance at Homewood, an exquisite historic mansion enveloped by lush gardens. The timeless beauty of this venue provides a romantic setting for your special day. With on-site lodging options and customizable packages, Homewood ensures your wedding dreams become a reality, no matter your budget.
What types of Asheville wedding venues are available?
Asheville, North Carolina, offers various wedding venues catering to different preferences and styles. Here are the different types of wedding venues available in Asheville:
Barns & Farms
Hotels
Wineries & Breweries
Country Clubs
Restaurants
Rooftops & Lofts
Mansions
Churches & Temples
Museums
Boats
Parks
Historic Venues
Banquet Halls
Beaches
Gardens
Waterfronts
What is the cost of renting an Asheville wedding venue?
Asheville offers various wedding venues, with rental costs ranging from $500 to $11,000 (venue rental only). The average cost for a wedding venue in Asheville is around $5,000. The cost varies depending on the venue's capacity, location, and services provided. For instance, venues that offer housing options, on-site catering, and bar services will have higher rental costs compared to those that do not. Additionally, venues with a larger capacity will also have higher rental costs. It's important to consider your budget and needs when selecting a wedding venue in Asheville.
Are there any wedding venues near the Blue Ridge Mountains?
Chestnut Ridge: Experience luxury at its finest at Chestnut Ridge. This remarkable venue offers a picturesque indoor ceremony space and a spacious white reception "barn" with a lofty ambiance. Immerse yourself in the natural beauty that surrounds this enchanting location.
Highland Brewing Company: For a unique and memorable wedding experience, consider Highland Brewing Company. This brewery serves exceptional craft beers and boasts a rooftop deck that provides panoramic views of the breathtaking Blue Ridge Mountains. Raise a toast to your love amidst the stunning backdrop.
The Omni Grove Park Inn: Discover a world of elegance and sophistication at The Omni Grove Park Inn. With a range of wedding packages to suit every style, this venue offers luxurious accommodations and exceptional onsite catering services. Let their experienced team help you create the wedding of your dreams.
Explore More: The beauty of Western North Carolina extends beyond Asheville. Venture into the nearby towns and uncover a treasure trove of venues that cater to your desires. The options are endless, from serene lakeside settings to charming farms and rustic barns. Complete your wedding experience with the assistance of local resources such as officiants, planners, and photographers, who are ready to make your day truly special.
Are there any wedding venues with a barn or pavilion setting?
Several wedding venues in Asheville, NC offer a barn or pavilion setting. The Barn at Honeysuckle Hill is a 100-year-old equestrian estate with a lily pad pond, waterfall, chapel, and green pastures. Hawkesdene is a private estate with beautiful mountain views, serene woods, and multiple ceremony sites. Both venues offer packages that suit various guest counts, all-inclusive options, and flexible event spaces. Whether you want a rustic countryside ceremony or a modern reception under the stars, these venues provide a pristine and intimate setting for your special day.
Are there any Asheville wedding venues offering elopement packages?
Yes, several Asheville wedding venues offer elopement packages. Elope Asheville provides small wedding and elopement packages that can be held in various locations such as waterfalls, mountains, gardens, breweries, or park overlooks. You could even get married at the cabin you're staying at if you so choose. Homewood in the Montford neighborhood of Asheville offers a la carte wedding experiences, elopement packages, and all-inclusive wedding packages. They can accommodate up to 150 people and offer outdoor and indoor ceremonies. Asheville Luxury Picnics provides simple wedding packages that are custom to your uniquely tailored needs. You can get married in the Zen Garden & Chapel or choose a custom location of your choosing. They offer packages for 10, 15, and 25 guests, including a wedding consultation, officiant, string musician, rug, artisan cake, and photography.
Thinking of Relocating?
In the vicinity of Asheville, NC, you'll discover a multitude of charming cities and towns, each with its own distinct character and allure. Explore the artistic communities of Black Mountain, Weaverville, Brevard, and Hendersonville. Immerse yourself in the historical charm of Saluda, Hot Springs, Marshall, and Flat Rock. Experience the natural beauty of Waynesville, Maggie Valley, Sylva, and Franklin. Indulge in the small-town charm of Burnsville, Mars Hill, Canton, and Spruce Pine. Discover the recreational opportunities in Boone, Banner Elk, Lake Lure, and Highlands. Delight in the mountain vistas of Cashiers, Chimney Rock, Robbinsville, and Bryson City. Uncover the tranquility of Leicester, Mills River, Fletcher, and Clyde. Enjoy the riverside beauty of Marshall, Hot Springs, Bat Cave, and Marshall. Marvel at the agricultural heritage of Mars Hill, Madison, Marshall, and Barnardsville. Embrace the vineyards and wineries of Hendersonville, Tryon, and Rutherfordton. Delve into the unique offerings of Dillsboro, Waynesville, Asheville, and Canton. These are just a glimpse of the numerous cities and towns that adorn the region surrounding Asheville, NC, each adding its own charm and attractions to the vibrant tapestry of Western North Carolina.
Good luck finding the perfect venue!
Finding the perfect wedding venue in Asheville, NC is a pivotal decision that sets the stage for your dream day. Take into account various factors like location, capacity, layout options, aesthetics, amenities, and backup plans. Asheville boasts an array of venues catering to diverse tastes, from the Biltmore Estate's timeless elegance to The Venue's contemporary charm. Nature lovers will adore The Ridge with its breathtaking outdoor vistas, while The Omni Grove Park Inn, Claxton Farm, and Homewood offer unique and memorable settings. Remember to book early, schedule tours, and connect directly with venues to secure your ideal choice. Discover your ideal wedding venue in Asheville, NC and embark on an unforgettable journey to your perfect day.