Welcome to our guide uncovering the best Blowing Rock wedding venues in North Carolina. Discover enchanting locations that exude charm and provide the perfect backdrop for your dream wedding. From stunning resorts to picturesque spots, we'll guide you through the top venues, ensuring your special day is filled with love, memories, and unforgettable moments. Get ready to embark on a journey to find your ideal Blowing Rock wedding venue, where magic and romance intertwine. Let's explore the possibilities together!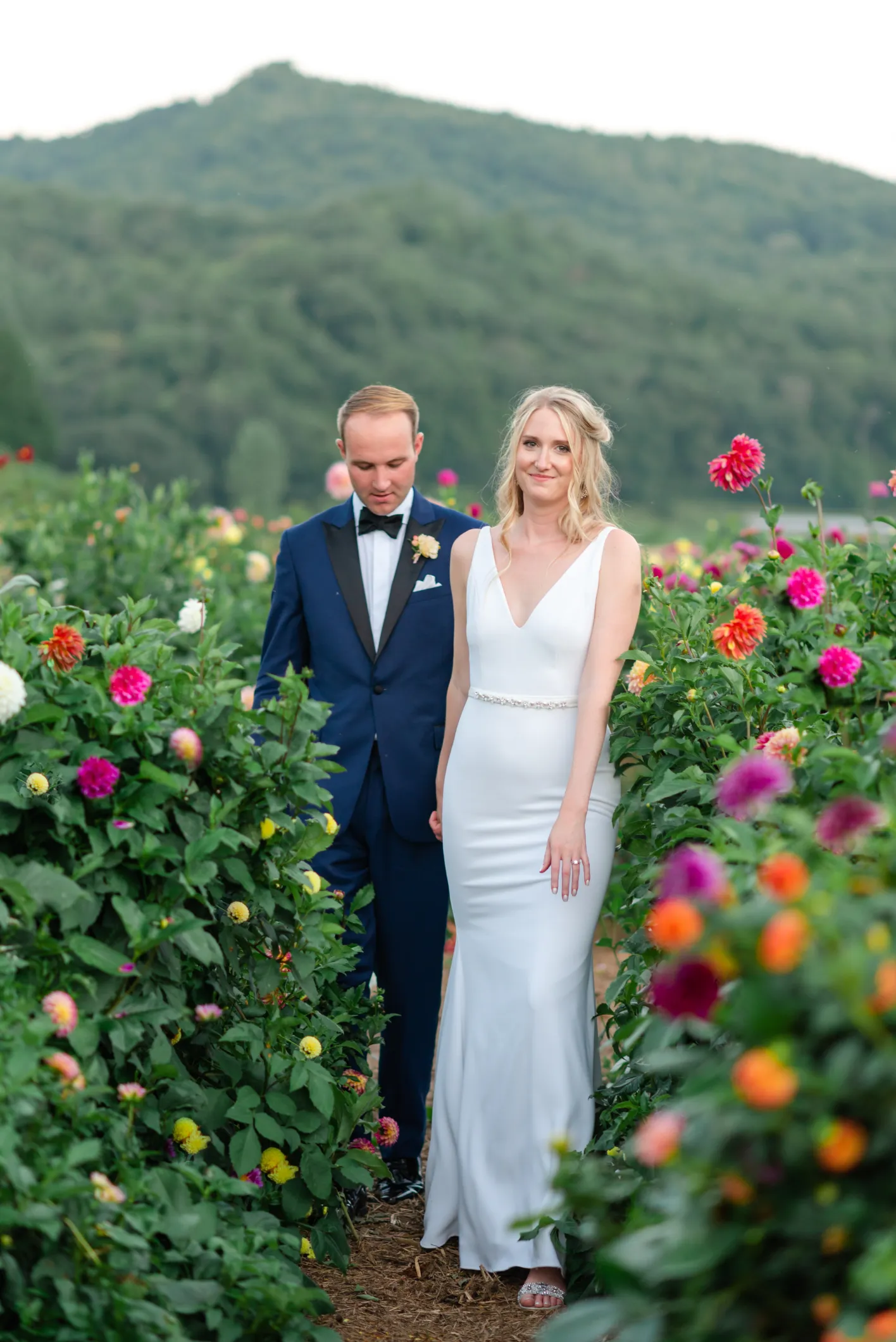 What are the most stunning Blowing Rock wedding venues?
The most stunning Blowing Rock wedding venues in NC are The Barn On New River, Westglow Resort and Spa, and Chetola Resort at Blowing Rock.
Keep reading for more information on these venues and more!
1. The Barn On New River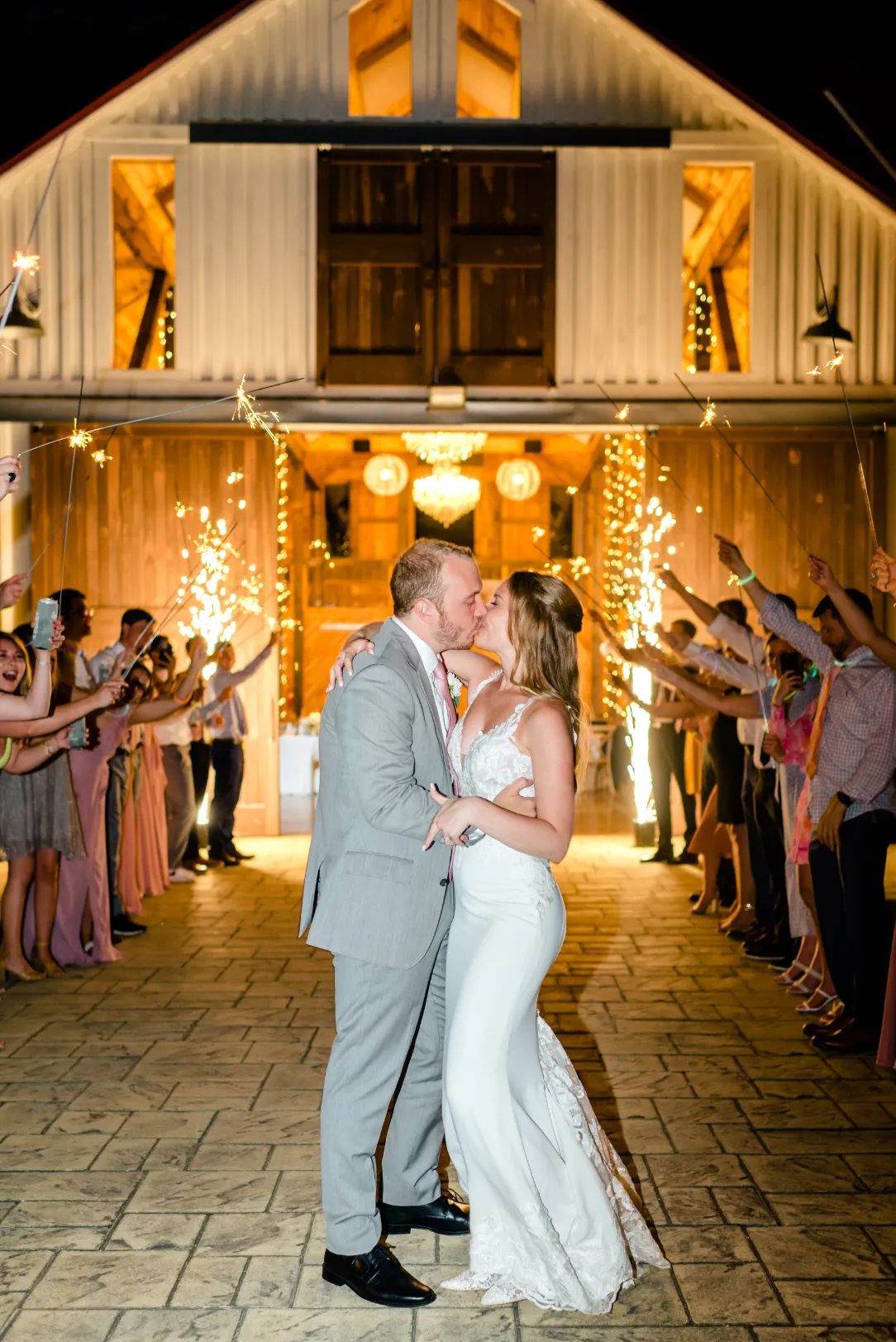 The Barn On New River is a charming wedding venue located in the scenic town of West Jefferson, North Carolina. Set on the banks of the New River, this rustic 90-acre property boasts stunning views of the surrounding mountains and countryside. The centerpiece of the venue is a beautifully restored barn, complete with exposed wooden beams and vintage details that create a warm and inviting atmosphere.
Experience an unforgettable wedding with us and enjoy exclusive perks:
Complimentary Night in the Luxurious Honeymoon Suite: Book your wedding with us and receive a complimentary night in our lavish Honeymoon Suite. (Valid through June 2023)
Affordable without Compromising Style: We offer one of the most affordable venues in the area, ensuring you get exceptional style and elegance without breaking the bank.
Inclusions, Packages, and Pricing: Discover our comprehensive offerings, including inclusions, packages, and transparent pricing details. Keep scrolling to find out more.
Picturesque 90-Acre Farm: Enjoy the exclusive use of our stunning 90-acre farm featuring scenic ponds, fields, river frontage, gardens, outdoor patio areas, and breathtaking mountain views. Capture unforgettable photos with full photography access.
BYOB and BYO Vendors: Save thousands of dollars by bringing your own beverages and vendors of choice.
Elegant Barn with Modern Amenities: Our handicap-accessible post-and-beam barn boasts modern bathrooms, crystal chandeliers, a second-floor balcony, and oversized doors that seamlessly blend the outdoors with the indoors.
Extensive Seating and Table Options: Benefit from our ample seating and table options, including 60″ round tables, 8″ long tables, cocktail tables, whiskey barrels, and 200 indoor wooden cross-back padded chairs. We also provide seating for guests at the ceremony site.
Convenient Caterer's Kitchen: Take advantage of our tucked away caterer's kitchen and prep area, saving you thousands of dollars on caterer fees for reheating food.
Stylish Stone Patio and Indoor/Outdoor Bar: Enjoy our charming stone patio cocktail area with atmospheric lighting and access to our fabulous indoor/outdoor live edge wood bar.
Captivating Ceremony Site: Walk down a paved aisle adorned with a gorgeous arbor and exchange vows by a serene pond with a captivating fountain that lights up at night.
Covered Outdoor Cocktail Area: Delight in our covered outdoor cocktail area at the Old Hay Bar, perfect for yard games and gathering around the fire pit.
Breathtaking Sunset Photographs: Experience the enchantment of being transported to the summit of the mountain, capturing breathtaking sunset photographs that will forever remind you of your special day.
Convenient Parking and Attendant: Your guests will appreciate our parking access with an on-site attendant, ensuring easy arrival and departure.
Personalized Care by Paula: Rest assured that Paula, our dedicated team member, genuinely cares about your wedding experience and will go above and beyond to ensure your special day exceeds all your expectations.
Westglow Resort & Spa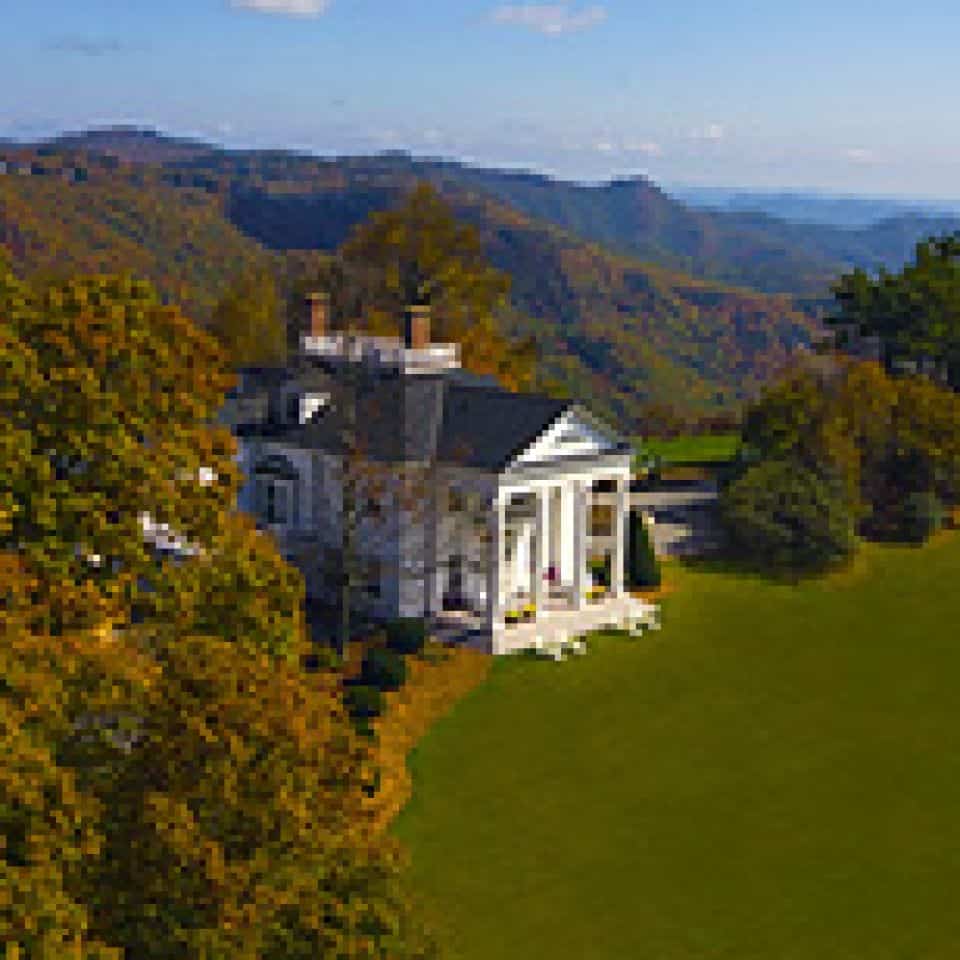 Westglow Resort & Spa is an elegant and historic wedding venue located in Blowing Rock, North Carolina, near the Blue Ridge Parkway. The 42-acre estate features a beautifully manicured landscape and breathtaking nature scapes, including views of Grandfather Mountain. The Greek Revival mansion, built-in 1917, serves as a unique and luxurious place to spend your wedding day. Couples can choose to have an outdoor wedding overlooking the mountains and forest, with a white gazebo on the resort lawn serving as a handsome frame for the ceremony. The venue also offers a beautiful ceremony and reception yard, with a mansion patio for cocktail hour. Inside, the Westglow Resort and Spa provides a neutral and luxurious setting with crisp white walls, beautiful furnishings, and stunning wedding decor, creating a dreamy atmosphere. The venue can accommodate up to 100 guests, and the onsite spa adds an extra touch of relaxation and pampering for the couple and their guests.
For Weddings with 50+ (May – October)
Weekend Rate: Priced at $12,000, this package includes six Mansion Lodging rooms for a three-night stay (Thursday-Saturday nights or Friday-Sunday nights). Guests have access to all Mansion common areas throughout their stay, which can be utilized for Welcome Parties, Rehearsal Dinners, Bridal Luncheons, and other events. The Westglow Courtyard is available for the ceremony and/or reception. Guests staying in the Mansion are treated to a light continental breakfast each morning.
Weekday Rate: Priced at $8,000, this package includes the same offerings as the Weekend Rate but with the six Mansion Lodging rooms available for a two-night stay. This rate is applicable for Sunday-Wednesday nights only. Please note that additional costs for tent rental, tables, chairs, linens, glassware, lighting, dance floor, and other amenities are required for courtyard events. Wedding planning, catering, photography, floral arrangements, and other services are to be arranged by external vendors.
During the Low Season (November – April):
Weekend Rate: Priced at $6,000, this package offers a two-night stay in six Mansion Lodging rooms. Guests can enjoy the use of all Mansion common areas for Welcome Parties, Rehearsal Dinners, Bridal Luncheons, and similar events. A light continental breakfast is served each morning for guests staying in the Mansion. Additionally, wedding coordinating services are included, encompassing assistance with ceremony rehearsal, day-of coordination, ceremony direction, vendor coordination, and the provision of a detailed timeline of events at least one week in advance. For smaller events held on the West Portico and in the Blue Ridge Parlor, rentals of chairs, tables, linens, glassware, and other necessary items are required. As with the High Season, external vendors are responsible for wedding planning, catering, staffing/bartenders, photography, floral arrangements, and other specific requirements.
Chetola Resort at Blowing Rock
Address: 185 Chetola Lake Dr, Blowing Rock, NC 28605
Chetola Resort at Blowing Rock is a stunning mountain wedding venue located in Blowing Rock, North Carolina. Nestled on 78 acres of picturesque land, this resort offers indoor and outdoor settings for your special day. With a capacity of up to 250 guests, there are multiple locations to choose from, including:
The Gazebo by the Lake
The Willow Tree
Peninsula Point.
Cuisine and Lodging
Chetola Resort prides itself on its award-winning cuisine, luxurious accommodations, and a full-service spa. This full-service venue offers all-inclusive packages that include wedding coordination, event rentals, and a recommended vendor list. Your guests can choose from a variety of accommodation options, including Chetola Lodge, Chetola Condominiums, and The Bob Timber Inn.
More Blowing Rock NC Wedding Venues
Appalachian Ski Mountain
940 Ski Mountain Road Blowing Rock, North Carolina, 28605, United States
828-295-7828
Love skiing and want to tie the knot? Here's your perfect match. Appalachian Ski Mountain offers a picturesque and scenic location for your High Country Wedding, with the majestic mountain ranges providing a beautiful backdrop for your special day. The venue offers a professional staff that will assist you in making your occasion one to remember. Appalachian Ski Mountain has a capacity that can accommodate weddings of all sizes and styles, with multiple venues that can accommodate up to 400 people.
The venue's catering department is always available to aid you in planning your event, and they offer many complimentary services, such as assistance in locating:
florists
bakers
musicians
rental equipment
and more.
Appalachian also offers chairlift services for wedding ceremonies as well as convenient on-site mountainside lodging.
Blowing Rock Art & History Museum
159 Chestnut Street Blowing Rock, NC 28605
Accommodates up to 125 guests
Style: Museum/Gallery
Nestled in the majestic Blue Ridge Mountains, The Blowing Rock Art and History Museum offer an extraordinary venue for your wedding day. Step into a world where art, history, and natural beauty converge, creating an unforgettable setting to exchange your vows surrounded by loved ones.
As you arrive, the museum's stately stone exterior immediately captivates you, setting the tone for a sophisticated and elegant affair. The moment your guests step inside, they are greeted by the museum's enchanting atmosphere. The grandeur of the dark wood staircase in the museum atrium becomes the centerpiece for your sacred vows, with its sky-high ceilings creating a truly dramatic backdrop that will leave a lasting impression on all who attend.
The Schaefer Gallery provides a warm and inviting space for an intimate dinner, perfect for sharing a meal with your closest family and friends. The gallery offers a quiet yet welcoming atmosphere that can seat up to 20 guests. You can enjoy the evening in this charming space, surrounded by art and the joyous energy of your loved ones.
Alternatively, the Alexander Community Gallery offers a spacious and contemporary setting for a traditional reception. With its tasteful neutral color palette, expansive windows that flood the room with natural light, and the timeless elegance of wood columns and beams, this gallery provides a versatile backdrop to bring your dream reception to life. It effortlessly combines modern sophistication with classic charm, ensuring a memorable experience for you and your guests.
The Inn at Crestwood
In March of 2004, the Moberg family opened their private summer home to the public, unveiling Crestwood—a captivating mountain retreat in North Carolina's High Country, nestled between Boone and Blowing Rock and conveniently located near The Blue Ridge Parkway. Combining modern and traditional styles, Crestwood offers The Inn, a comfortable and inviting accommodation, The Spa for relaxation, The Table at Crestwood Restaurant for delectable dining, and The Dawg Star Bar for vibrant socializing. With its timeless fusion of architecture, natural beauty, and warm hospitality, Crestwood invites guests to indulge in an unforgettable experience where every detail has been carefully curated to ensure a memorable stay.
| | | | |
| --- | --- | --- | --- |
| Venue Space | Capacity (Ceremony) | Capacity (Reception) | Additional Features |
| The Lawn | Over 200 | – | Beautifully landscaped area with a panoramic view, easy access to terrace, dining room, bar, and library |
| The Terrace | Up to 175 | Up to 120 | Ideal for a wedding, luncheon, or cocktail hour, shares breathtaking view with the Dining Room and Lawn, easy access to bar, dining room, and library |
| Main Dining Room | Up to 100 | Up to 80 | Towering glass wall with mountain view, gas fireplace, seats up to 80 people for a reception, additional seating for 60 in the gallery |
| The Library | – | – | Charming room with dual gas log fireplaces, pine flooring, suitable for intimate indoor weddings, meetings, overflow from the Main Dining Room |
| The Lounge | Up to 70 | Up to 70 | Private bar, hardwood floors, surround sound stereo system, private patio leading to the Terrace, accommodates up to 110 people standing |
| Dawg Star Bar | – | Up to 30 | Perfect for bar service, full ABC permits, adjoins with Main Dining Room and Library, features custom granite countertop, seats up to 30 people |
Green Park Inn
The Green Park Inn, nestled in the picturesque Blue Ridge Mountains, serves as a perfect wedding venue for couples looking for a blend of turn-of-the-century style and genteel hospitality.
The last of the "Grand Manor Hotels" in western North Carolina, the Green Park Inn has been the elegant choice for over a century.
With exceptional cuisine and a variety of banquet packages, the inn can tailor event spaces and menus to suit every preference, whether it's a wedding, rehearsal dinner, bridal luncheon, or breakfast.
The venue offers indoor and outdoor spaces, including a Victorian ballroom, a patio, and a terrace, with a maximum capacity of 200.
The beautifully landscaped lawn, a quiet mountain stream, and the inn's historic charm make it an ideal location for couples to celebrate their special day.
Inn at Ragged Gardens
Address: 203 Sunset Dr, Blowing Rock, NC 28605
The Inn at Ragged Gardens in Blowing Rock, NC, offers a charming and elegant wedding venue for couples seeking a picturesque setting in the Blue Ridge Mountains. The venue can accommodate up to 24 guests with indoor and outdoor options for ceremonies and receptions. The garden, terrace, and reception hall provide a beautiful backdrop for a romantic wedding, while on-site catering and food service are available for added convenience. As a historic property, the Inn at Ragged Gardens boasts turn-of-the-century style and genteel hospitality, making it a unique and special choice for couples looking for a one-of-a-kind wedding venue.
What other cities and towns are near Blowing Rock NC?
| | |
| --- | --- |
| Town | Featured Attraction/Trail/Landmark |
| Boone | Appalachian State University |
| | Grandfather Mountain |
| West Jefferson | Mount Jefferson State Natural Area |
| Newland | Linville Gorge Wilderness |
| Lenoir | Wilson Creek Gorge |
| Jefferson | New River State Park |
| Linville | Linville Falls |
| Wilkesboro | W. Kerr Scott Reservoir |
| Spruce Pine | Roan Mountain State Park |
| Morganton | Lake James State Park |
| Granite Falls | Granite Falls Historical Park |
| Hickory | Hickory Museum of Art |
| North Wilkesboro | W. Kerr Scott Reservoir |
| Marion | Catawba Falls |
| Blowing Rock | Blowing Rock |
| Burnsville | Mount Mitchell State Park |
| Hudson | Buffalo Creek Park |
| Elkin | Elkin Valley Trails |
| Bakersville | Roan Mountain State Park |
Activities and Things to Do Near Blowing Rock NC
Moses H. Cone Memorial Park: A beautiful park featuring hiking trails, a historic mansion, and stunning mountain vistas.
Julian Price Memorial Park: A picturesque park offering hiking trails, fishing, canoeing, and a scenic lake.
Linville Gorge Wilderness Area: Known as the "Grand Canyon of the East," this wilderness area boasts breathtaking views, challenging hiking trails, and cascading waterfalls.
Grandfather Mountain: A must-visit destination with hiking trails, a Mile-High Swinging Bridge, wildlife habitats, and panoramic views of the surrounding mountains.
Blue Ridge Parkway: A scenic drive that winds through the mountains, offering numerous overlooks, hiking trails, and opportunities for photography and picnicking.
Moses Cone Park Carriage Trails: A network of gently sloping carriage trails ideal for walking, running, or cycling amidst the area's natural beauty.
Linville Falls: A spectacular waterfall located in the Pisgah National Forest, offering various hiking trails and viewpoints.
Tweetsie Railroad: A family-friendly attraction featuring a Wild West-themed amusement park, live entertainment, and a historic steam locomotive ride.
Elk Knob State Park: A serene park with hiking trails leading to the summit of Elk Knob, offering panoramic views of the surrounding mountains.
Appalachian Ski Mountain: A popular ski resort during the winter months, providing opportunities for skiing, snowboarding, ice skating, and snow tubing.
Good luck with your search and planning your wedding in Blowing Rock!
Wishing you all the best in your journey ahead :)