Welcome to The Barn On New River
Address: 2162 S Fork Farm Ln, West Jefferson, NC 28694, United States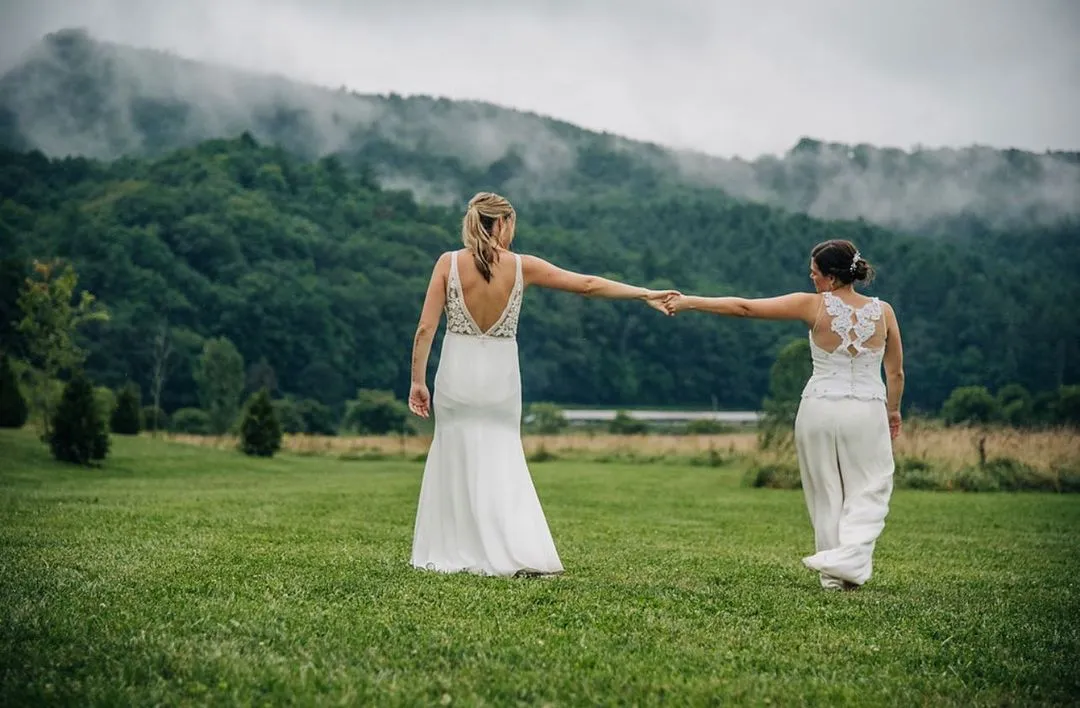 Country Wedding Venues, Redefined.
Nestled in the North Carolina mountains, The Barn On New River farmstead transports you to a bygone era, surrounded by untouched natural beauty. Offering the allure of a vintage venue within a landmark building, this countryside retreat affords an intimate glimpse into North Carolina's rustic charm.
With 56 Google Reviews and a 4.9 Star Rating, it's safe to say that past couples LOVE The Barn On New River.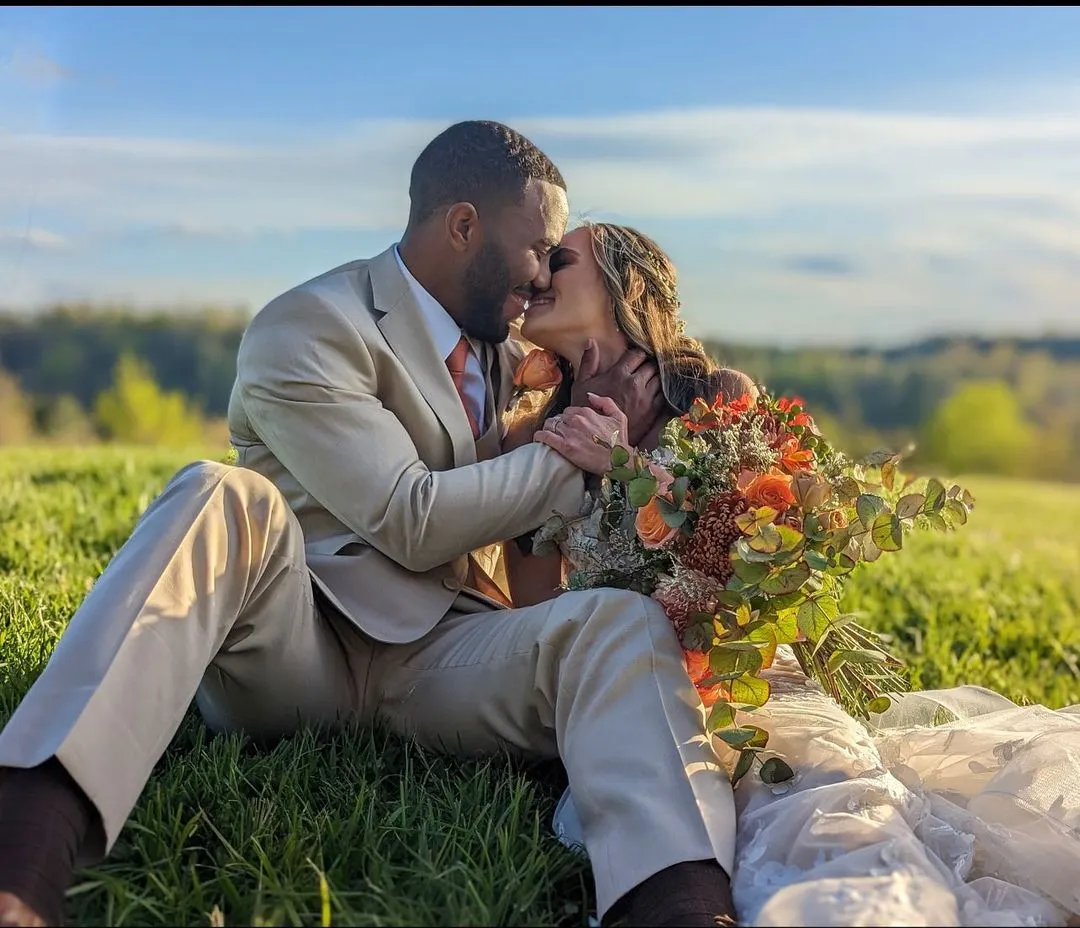 Renowned for its southern hacienda-like retreat, the authenticity of this setting is simply unparalleled.
Handcrafted Perfection at Our Rustic Wedding Venues
Our rustic "dairy barn" (hint: we built it brand new, it's not an old hay or dairy barn like some venues!) with a barn loft is a masterpiece, built from 80-year-old pine trees, with soaring ceilings, elegant chandeliers, and acid-stained concrete floors.
Affordable Wedding Packages for Your Wedding Event
Starting at just $3,500, we offer tailored wedding packages that include access to our stunning venue, tables, chairs, and more. Our waterfront gazebo is an upgrade from the traditional wedding chapel.
An Exclusive 90-acre Haven
Ponds, fields, river frontage, gardens, lakefront, meadows, and mountain views provide a picturesque backdrop for your event.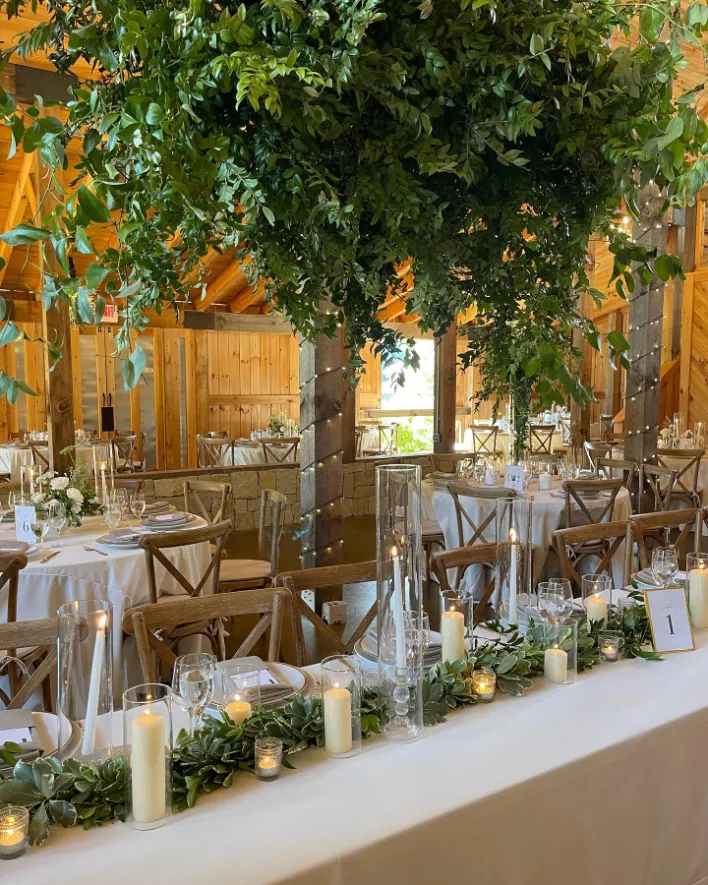 "The Barn at New River is spectacular; all of my guests came up to me and commented how beautiful the venue, setting, and the barn were! The barn is elegant with chandeliers and the original wood look! The mountains are a perfect ceremony background to the outside arbor and fountain!! Paula has also done an awesome job with the gardens; the flowers were blooming, and she was very helpful!!"
BYOB and BYO Vendors
Choose your beverages and vendors to save on costs. Consider selecting a reception venue like ours, farmland or ranch that allows outside vendors and offers extensive vendor lists.
This not only aids in saving costs but also lets you personalize your wedding reception, right down to the wedding reception dinner.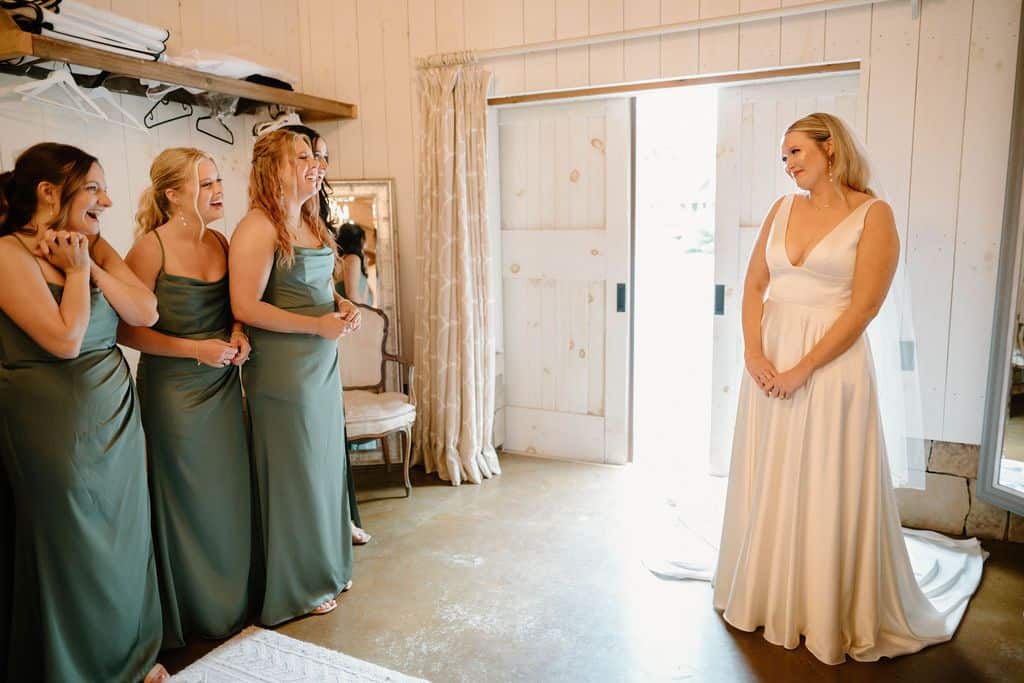 Ready Rooms for Your Comfort
Stocked with snacks, the Dahlia Suite and Lounge ensure you're well-prepared and comfortable.
Ample Seating and Caterer's Kitchen
We include:
tables
whiskey barrels
200 wooden chairs
a convenient caterer's kitchen.
Our Stone Patio & Arbor
Our stone patio, arbor, and fountain create a perfect setting for cocktail hour and your ceremony.
Capture the Magic at the Mountain Top Venue & Summit
Don't miss the opportunity to capture breathtaking sunset photos. The allure and charm of the Mountain Summit go beyond its high altitude and stunning views. Embrace an unforgettable getaway as you bask in the dramatic and spectacular sunsets that seem to put on a show against the backdrop of the sky. The ambiance is as captivating as the scene unfolding before your eyes.
The Main Barn Reception Hall
Discover post-and-beam elegance with Swarovski crystal chandeliers. This venue, popular for its reception offerings, brings a touch of magic to your special day. Its fashionable barn serves as a striking reception venue and can be expertly fitted as a barn chapel for your ceremony, offering an excellent contingency plan for rainy weather. The charming mix of sophistication and archaic charm add to the momentum of this location, not forgetting its usefulness in capturing stunning, industrial-chic wedding photos. Undoubtedly, the Main Barn Reception Hall is one of the best wedding venues.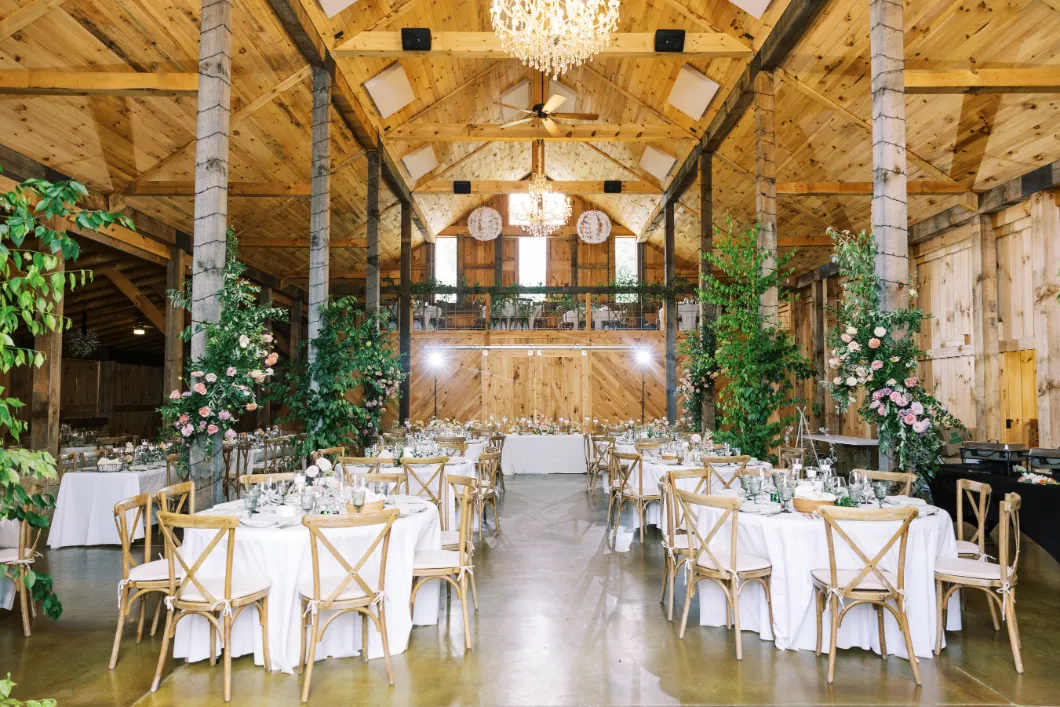 "We visited Paula and the gorgeous Barn on New River while doing our research for our wedding venue. Paula (the owner) did an unbelievable job with the venue, the ambiance, the accommodations, etc. She thought of everything! If you're looking for an upscale barn event space in the country, I highly suggest you go check it out!"
The Dahlia Suite & The Lounge
Prepare in style with spacious suites for your bridal party.
The Old Hay Barn
Enhance your event with outdoor socializing and games in the charming Old Hay Barn.
The Dahlia Garden Venue
Create picture-perfect memories in the botanical wonderland of our Dahlia Garden.
"We wanted to do something slightly different, and so we were the first to get married in front of the absolutely gorgeous dahlia garden. Paula even offered to plant bulbs in our wedding colors months in advance so that everything would look cohesive!"
The Stone Patio & Wedding Ceremony Area
Our stone patio and ceremony area are the perfect spaces for cocktails and wedding ceremonies to say your vows.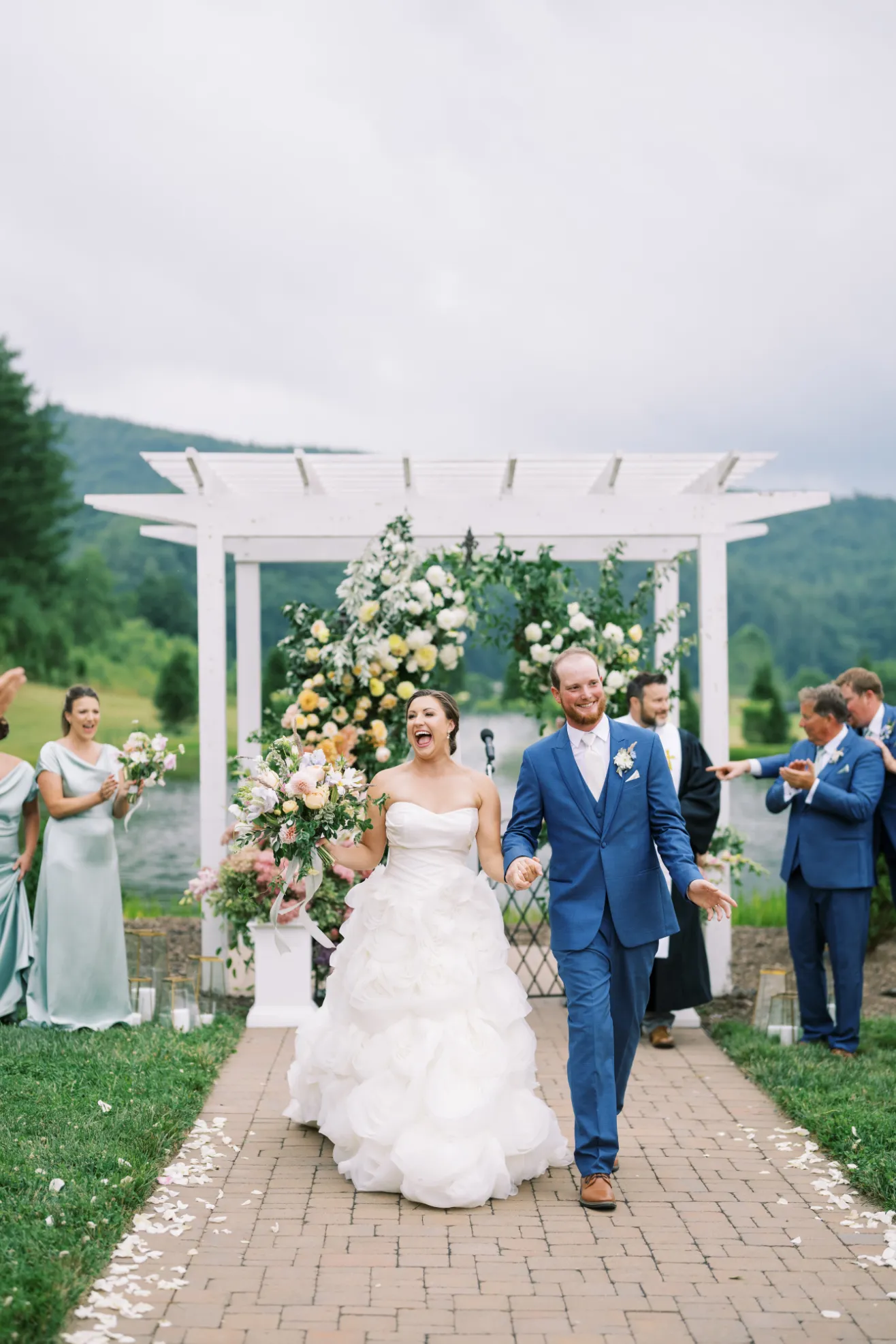 "I call you my Moon – it is representative of the unequivocal gravitational pull that you have on me. There is no other person like you that walks this Earth, and I thank God everyday for allowing me to be the lucky person that gets to spend the rest of their life with you."
Scenic Serenity Amongst Our Rustic Wedding Venues
Our post-and-beam barn sets the stage for your event, offering a romantic atmosphere and terra for various occasions.
Onsite Lodging
"We rented the cabin on site and the Honeymoon suite. Both were very easy and we would highly recommend taking advantage of this resource! You are treated like the most special couple and really feel celebrated on your big day."
FAQs About Our Rustic Wedding Venues
| | |
| --- | --- |
| FAQs about The Barn On New River | |
| Location | 2162 S Fork Farm Ln, West Jefferson, NC 28694, close to Boone, NC, and West Jefferson, NC. |
| Capacity | Our venue accommodates up to 185 guests. |
| Accommodations | We offer comfortable accommodations, and details can be found on our accommodations page. |
| Onsite Parking | We provide ample onsite parking with a dedicated parking attendant to ensure a smooth experience for your guests. |
| Booking | Our event booking operates on a first-come, first-serve basis. Your date will be secured with a signed contract and deposit. |
| Tours | Schedule an in-person or virtual tour based on your comfort. |
| Specialization | We specialize in indoor/outdoor weddings for couples who love nature and adventure. |
How does the Barn on New River compare to other wedding venues?
It's all about the amenities! Couples get to enjoy exclusive use of our 90-acre farm, including a picturesque pond, fields, riverfrontage, gardens, outdoor patio areas, and stunning mountain views, with full photography access.
Our Unique Barn Elegance
At The Barn On New River, we offer an exquisite rustic experience.
Unlike many venues in the Bay Area and Pennsylvania, our North Carolina venue provides an affordable option with more relaxed rules.
While the Bay Area boasts rustic wineries with wine cellars and vineyards, our venue stands out with its scenic mountain views and lush terrain, free from wildfire concerns (and cattle ranches). Say goodbye to unexpected barnyard aromas!
Redefining Rustic Charm
Some couples instantly think of a classic red barn when they imagine a rustic venue. Or perhaps a stone barn with a fireplace.
In Idaho, there's a venue fittingly named the Red Barn – a vibrant and timeless choice that speaks to the heart.
While red is a strong color choice for many, we offer a different, yet equally captivating rustic elegance here in North Carolina.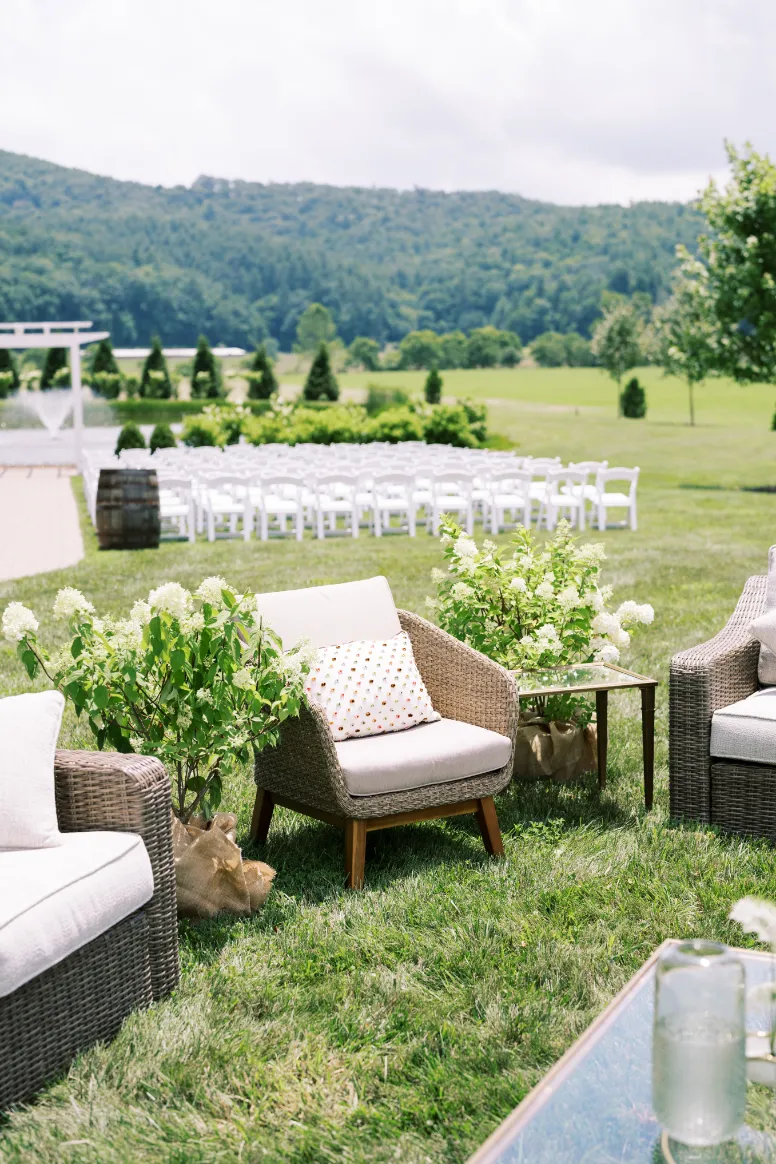 Unique Touches in NJ and Nationwide
New Jersey is home to exceptional rustic venues like Prallsville Mills, adding a distinctive flavor to your wedding.
What sets us apart is our exclusive 90-acre farm, offering picturesque ponds, fields, river frontage, gardens, outdoor patio areas, and stunning mountain views.
While we may not have some of the most modern urban amenities like widespread wifi (though we do offer indoor wifi) or a conservatory, we redefine North Carolina's rustic charm with our breathtaking natural surroundings and timeless elegance. It feels like you're out west in Montana or Wyoming when you're here on the terrace looking out at the Smoky Mountains!
Minnesota is also home to rustic wedding venues, but you should probably schedule between July-August or it may get very chilly!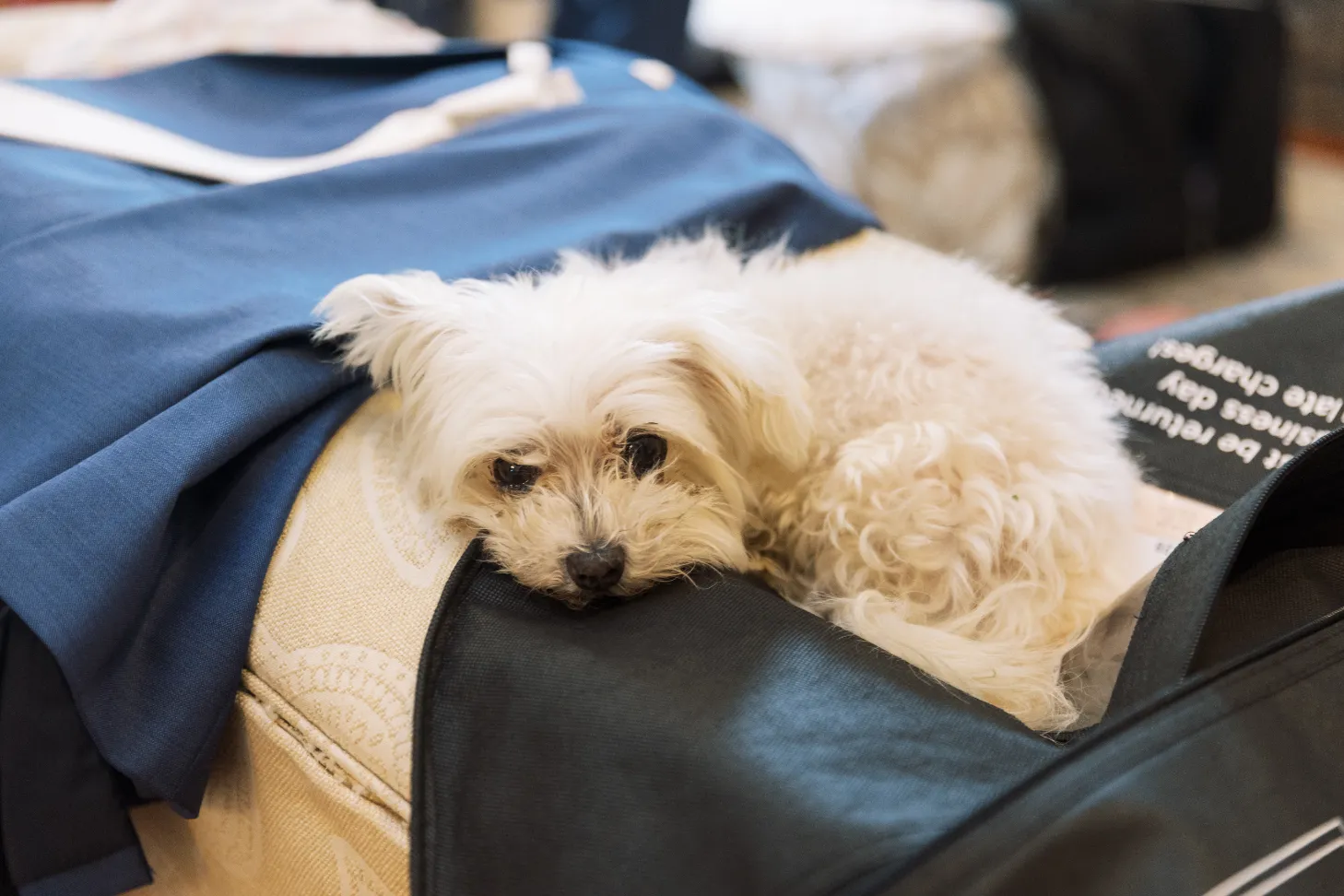 Accommodations at The Barn on New River
We can host up to twelve guests on-site, with ten in the Cabin and two in the Honeymoon Suite.
We are a pet-friendly venue with specific guidelines to ensure a comfortable experience.
Our amenities include various facilities and equipment to enhance your comfort and convenience.
The Cabin is available at $450 per night, while the Honeymoon Suite is priced at $200 per night, with a required 2-night minimum stay in the Cabin.
There are nearby shuttle services, but we are in the High Country, so don't rely on a lyft or Uber :)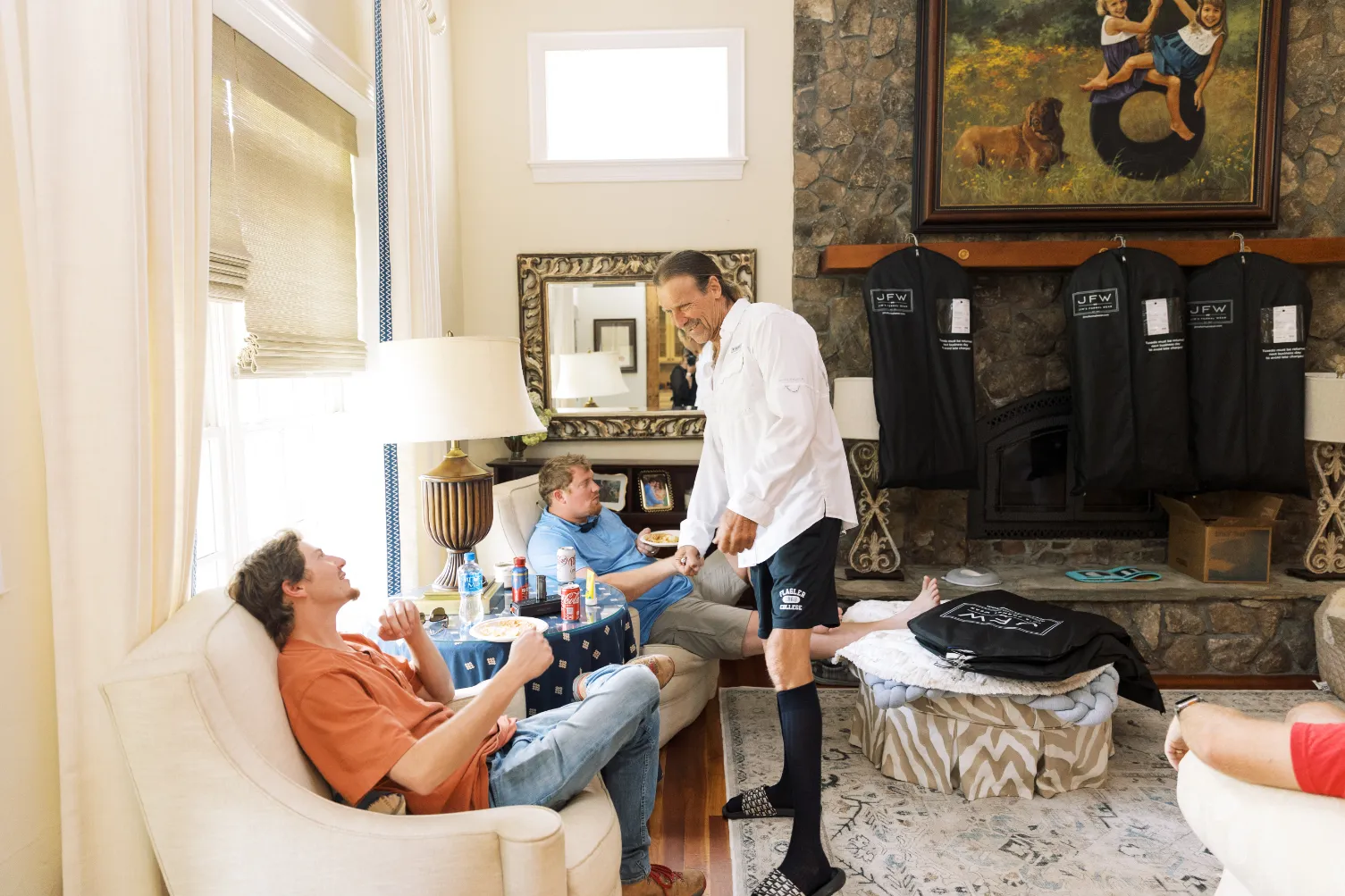 Bar & Catering
Although we don't offer catering services, we provide a list of trusted caterers for you to choose from at our banquet hall venue.
You can select any licensed and insured caterer that suits your preferences.
You are welcome to bring your beer, wine, and liquor, but please note that a certified bartender is required if serving liquor.
Our venue features a convenient caterer's kitchen with a separate entrance.
Explore our list of vetted vendors who have received positive feedback from weddings hosted here at our banquet hall venue.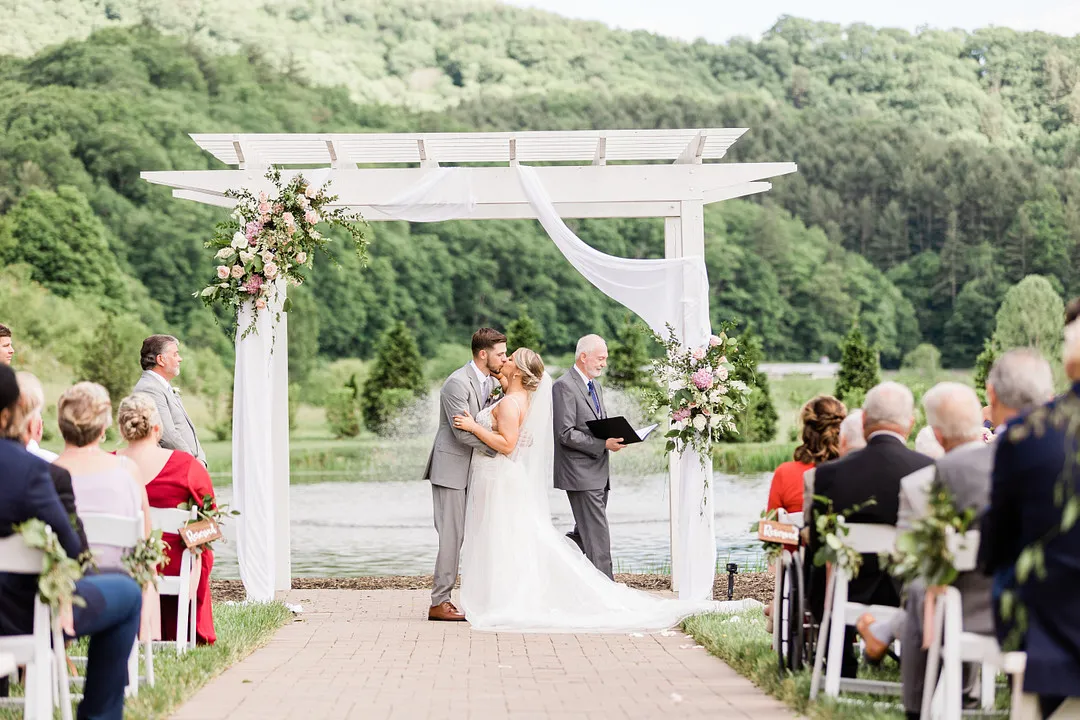 Planning Your Destination Wedding
Bethany, our invaluable coordinator, is available to assist with your wedding day and planning needs.
Additionally, we offer full-service planning at an additional cost.
Most wedding couples book our venue 1-2 years in advance or even earlier.
We typically schedule a 1-hour rehearsal the night before or the morning of the wedding celebration. You can even schedule a rehearsal dinner if you'd like.
You have the option to choose between a live band or a DJ for your entertainment.
For specific package details, please review each package's information.
Multiple ceremony and reception spaces are available across our 90-acre property, and we provide various tables and chairs for your event.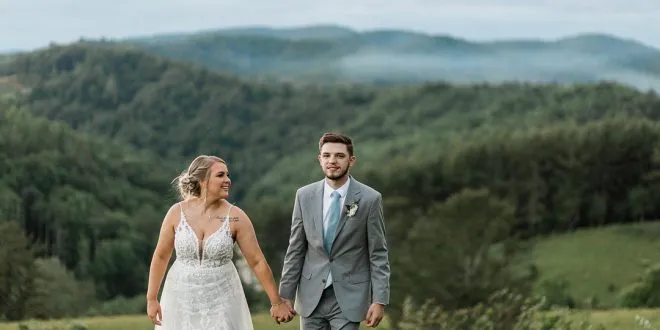 Logistics
The closest international airport is Charlotte Douglas International Airport (CLT), located approximately 2.5 hours away.
For the convenience of your guests, you can find several hotels in the Boone and West Jefferson areas.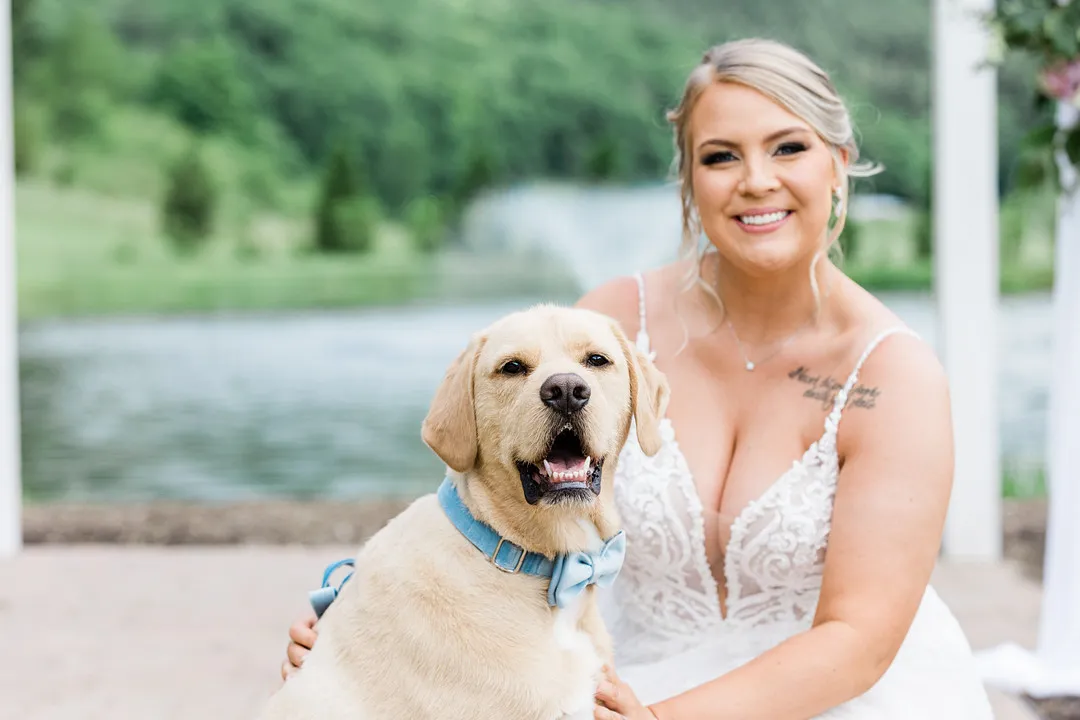 Booking & Payments
To secure your date, a signed contract and deposit are required.
The deposit is due upon signing the contract, with final payments due 30 days before your event.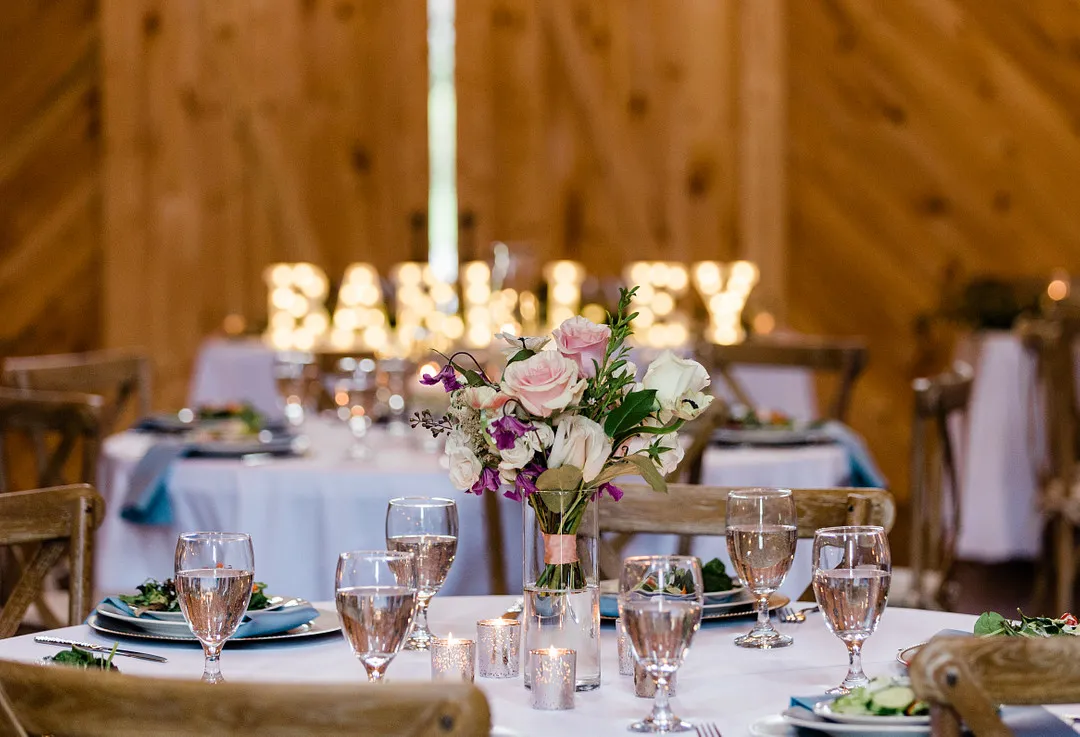 Miscellaneous Wedding Experience Details
Explore our website for details on elopement packages.
We allow sparklers in designated areas; please review our guidelines on our website for more information.
Yes, you can rent a reception tent. We think it's an amazing addition to the patio.
We're excited to help you plan your dream wedding at The Barn On New River; feel free to contact us to get started.
What are you waiting for? Schedule a tour and see this beauty for yourself :)