Are you dreaming of a wedding celebration amidst the picturesque mountains and breathtaking natural beauty? Look no further than Boone, North Carolina, a hidden gem that offers an array of enchanting wedding venues for your special day. Boone is the perfect backdrop for your wedding reception, boasting stunning landscapes, charming rustic charm, and a touch of Southern hospitality. In this guide, we'll take you on a journey through the best wedding venues in Boone, NC, showcasing the unique and captivating spaces that will make your wedding a truly unforgettable experience. Whether you envision an intimate gathering or a grand affair, prepare to be inspired by the extraordinary possibilities awaiting you in this charming mountain town.
What are the best wedding venues in Boone, NC?
There are so many gorgeous wedding venues in Boone NC, and the one that fits you depends on your style, budget, vision, and flexibility. So we'll present some of Boone's top wedding venues of different styles and vibes and let you decide which is best for your special day!
1. The Barn On New River
Welcome to The Barn On New River, where dreams come to life amidst the breathtaking beauty of the Blue Ridge Mountains in Boone, NC. Nestled on a 90-acre property, our venue offers a slice of heaven where your imagination can run wild. Imagine exchanging vows surrounded by the serene ponds, blossoming gardens, and the tranquil South Fork New River. With exclusive access to our property, including full photography rights, you can capture your love story in the embrace of nature's splendor.
Mountain Magic: Limited Time Offers
We believe in making your wedding day exceptional, so we're delighted to present our limited-time offers. All wedding dates include a complimentary night in our luxurious Honeymoon Suite, allowing you to extend the joy of your special day. For May/June 2024 dates, we're thrilled to offer an additional $1,000 discount, ensuring your celebration is both unforgettable and affordable.
Scenic Serenity: An Idyllic Setting for Your Magical Day
Step into our post-and-beam barn, an epitome of rustic elegance adorned with crystal chandeliers and soft lighting. This charming space sets the perfect romantic atmosphere for your celebration of love. At The Barn On New River, we prioritize your peace of mind and aim to make your wedding experience stress-free and enjoyable. Our dedicated team is here to answer your questions, offer recommendations, and ensure every aspect of your day is handled with care.
Our Property & Spaces: A Canvas for Your Wedding Masterpiece
We understand that planning a wedding can be overwhelming, especially if you're unfamiliar with the area. That's why we're committed to helping you create a beautiful and unforgettable wedding day that is truly a work of art. Our 90-acre property encompasses various enchanting spaces, including the Main Barn, the Old Hay Barn for outdoor seating and socializing, a stunning garden adorned with vibrant dahlias, a pond with a fountain, and a Main House with a honeymoon suite. Additionally, our lodging Cabin provides accommodation for your VIP guests who wish to stay overnight.
Unveiling the Splendor: The Barn and Its Timeless Charm
Step into The Barn, where elegance takes center stage. With its soaring 30-foot post-and-beam ceilings, exquisite Swarovski crystal chandeliers, captivating string lighting, and stunning acid-stained concrete floors, The Barn on New River has become a beloved venue that consistently leaves couples and their guests in awe.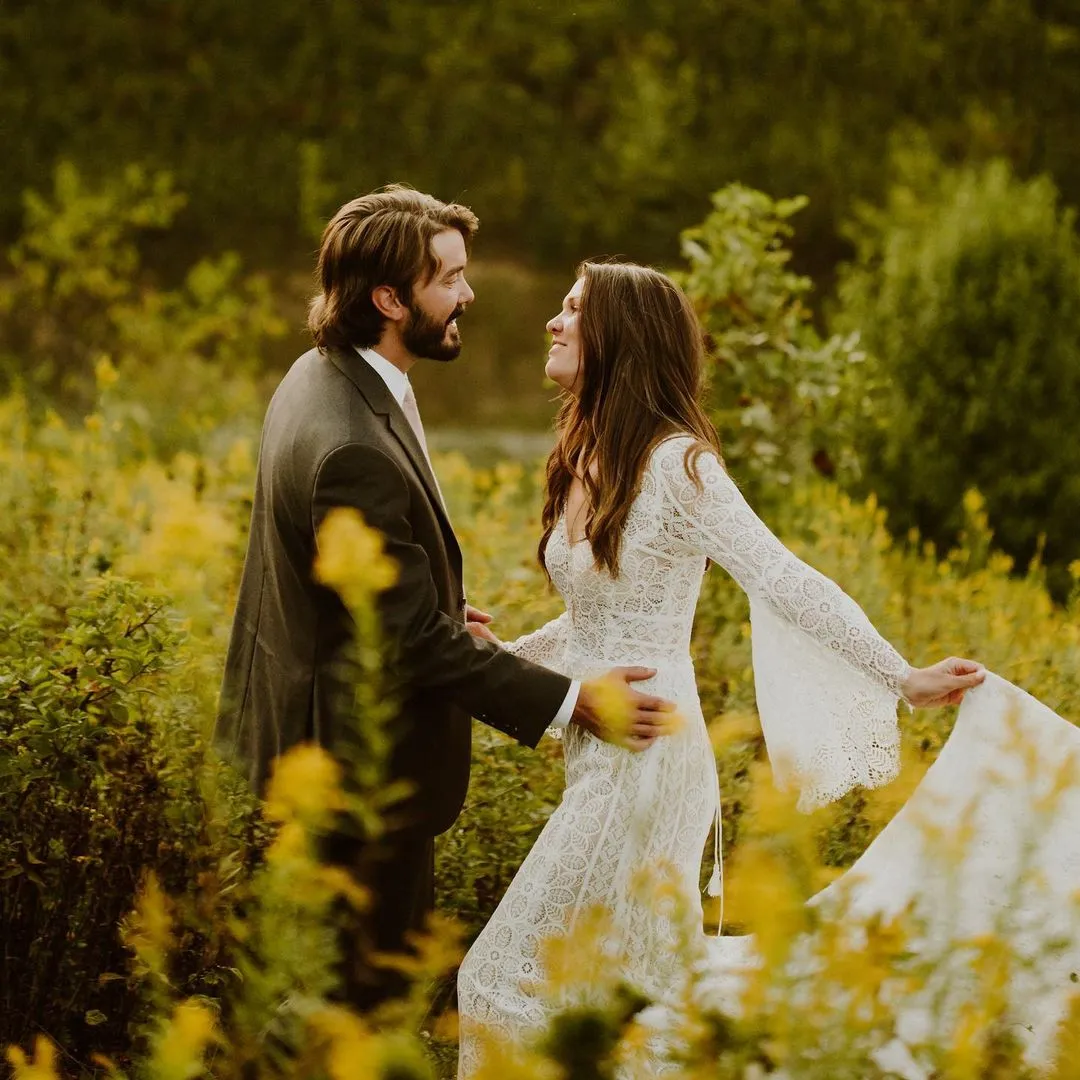 Sweetheart Suites: Preparing for Your Unforgettable Day
Our venue features two distinct areas for you and your party to prepare for the big day. The Dahlia Suite, a spacious haven bathed in natural light, offers the perfect space for relaxation and unwinding. It is an ideal spot for getting ready with ample seating, mirrors, and optimal lighting. The Lounge, located at the opposite end of the barn, provides a cozy atmosphere where you can easily enjoy TV and prepare. Both suites offer privacy and direct access to the barn and outdoor areas, ensuring your comfort and convenience throughout the day.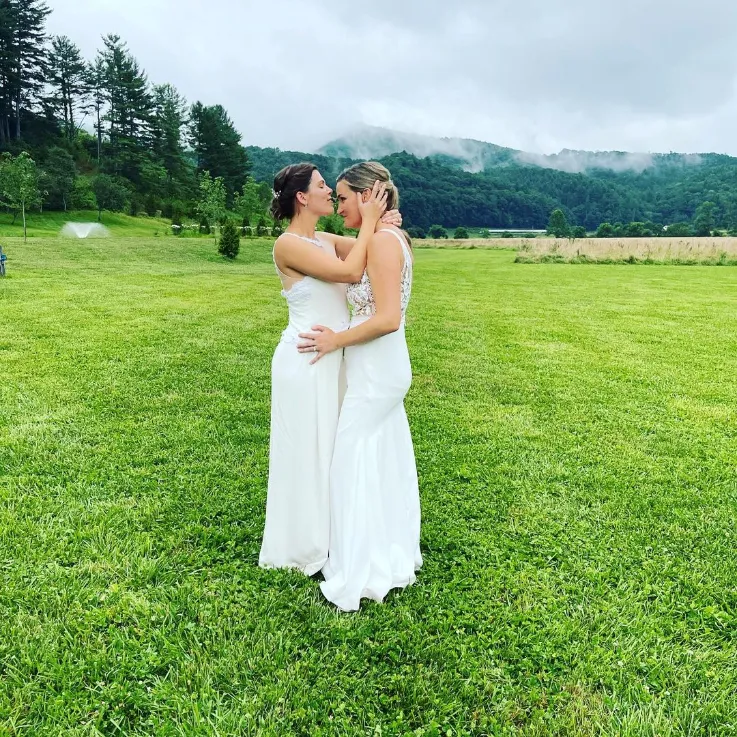 Fireside Lounge: Unwind and Make Memories
Step into The Old Hay Barn, a haven for unwinding, socializing, and fun-filled moments. The covered outdoor area is adorned with mesmerizing string lights, creating an inviting ambiance for mingling. Adjacent to the covered space, a grassy area awaits outdoor games and entertainment, while a cozy seating arrangement with Adirondack chairs and a gas fire pit offers the perfect spot for relaxation.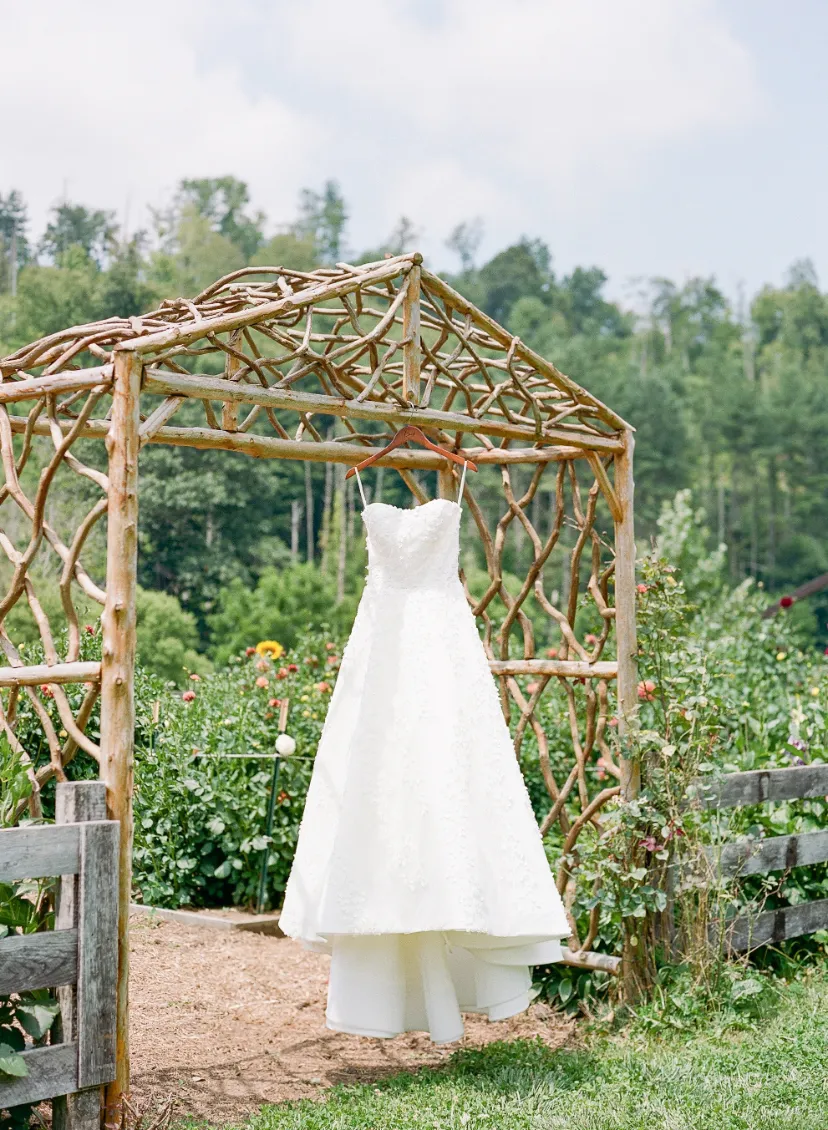 Garden Glam: A Botanical Wonderland
Discover The Dahlia Garden, a botanical wonderland where vibrant dahlias bloom from late June to mid-October, complemented by an array of colorful flora. Walk through charming arbors and meander around raised beds filled with flowers and vegetables. Every corner of The Garden presents an opportunity for stunning photos, ensuring cherished memories. It also serves as a peaceful oasis for guests to take a moment amidst the excitement. For those seeking a unique ceremony experience, The Garden offers an alternative site that will leave you breathless.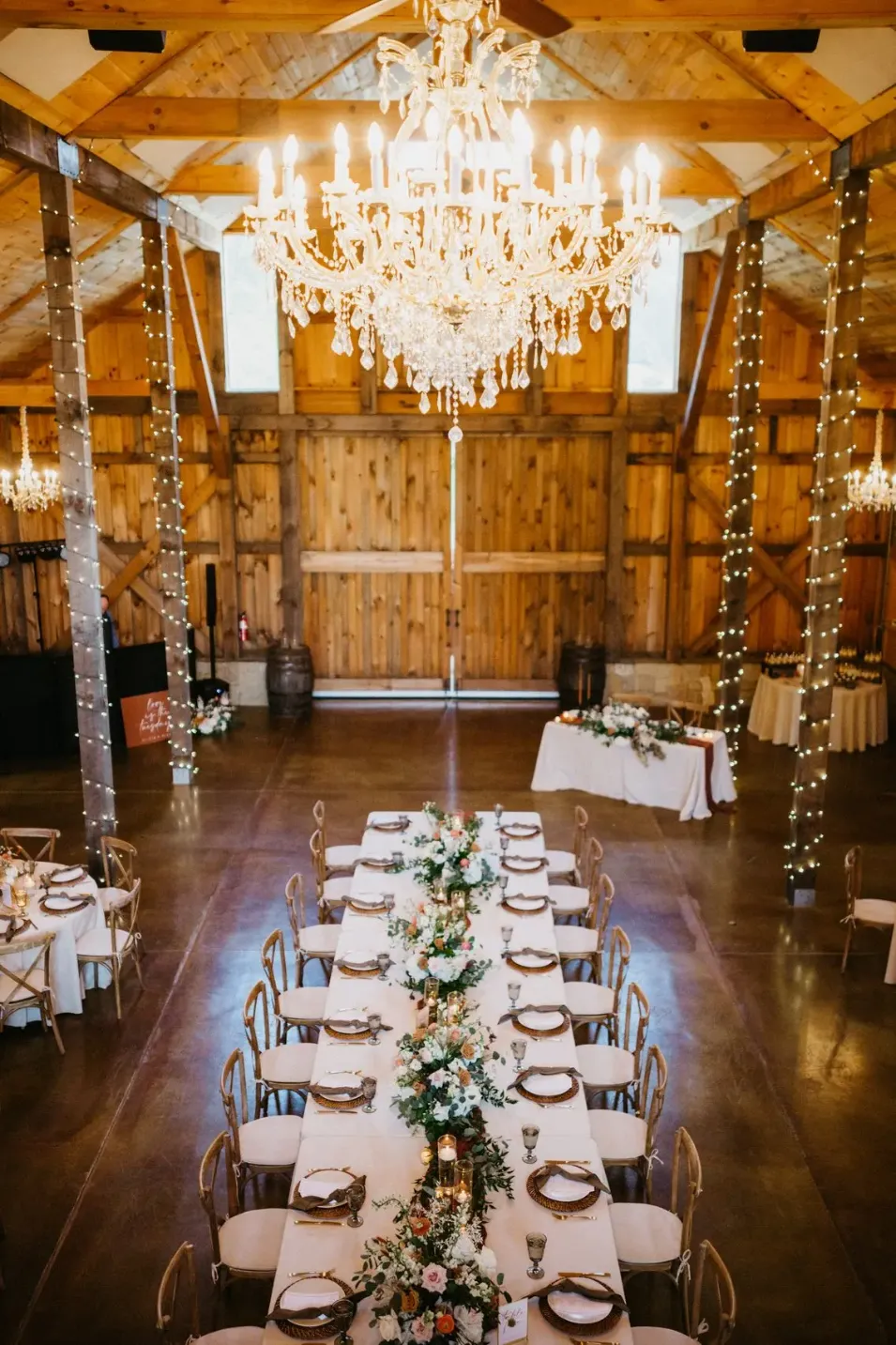 Oasis Outlook: Tranquility and Natural Beauty
Imagine sipping your favorite cocktail on the stone patio, overlooking picturesque farmland as the sun sets. The warm glow of the strung lights creates a magical ambiance, perfect for intimate moments with loved ones. Just a few steps away, the ceremony site awaits, featuring a rustic arbor and a tranquil pond with a stunning illuminated fountain. The patio area also serves as an ideal spot for rehearsal dinners or elegant cocktail hours, making it a versatile space for your wedding festivities.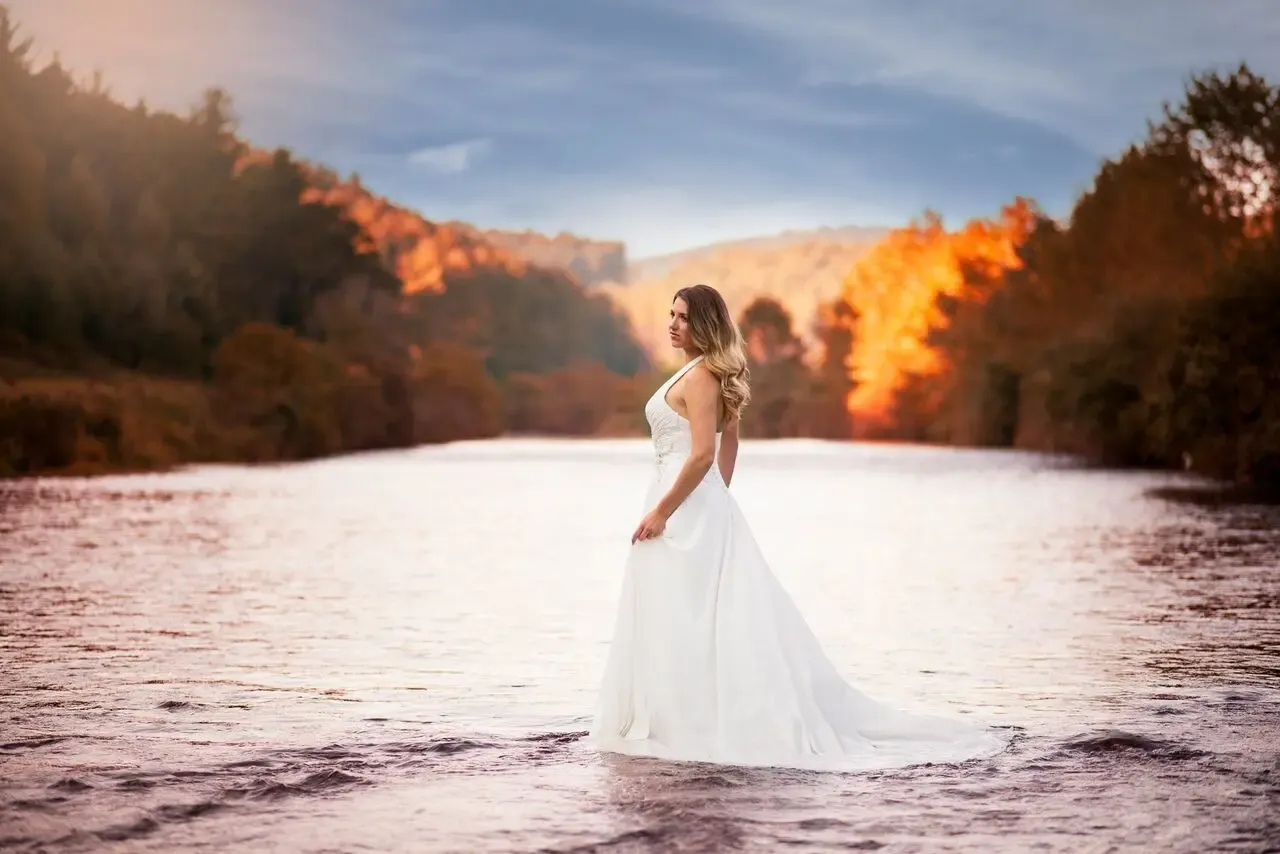 Packages & Pricing: Customizable Experiences for Your Dream Day
We're thrilled to offer customizable packages that cater to your unique style and vision. Our Single Day Package provides all-inclusive options for a stunning wedding day, starting at $3,500. For those seeking a full weekend of celebration, our Weekend Package offers an array of benefits and experiences, including lodging for up to 12 guests on the property. Additional a la carte add-ons, such as overnight stays and photoshoot opportunities, allow you to enhance your experience even further.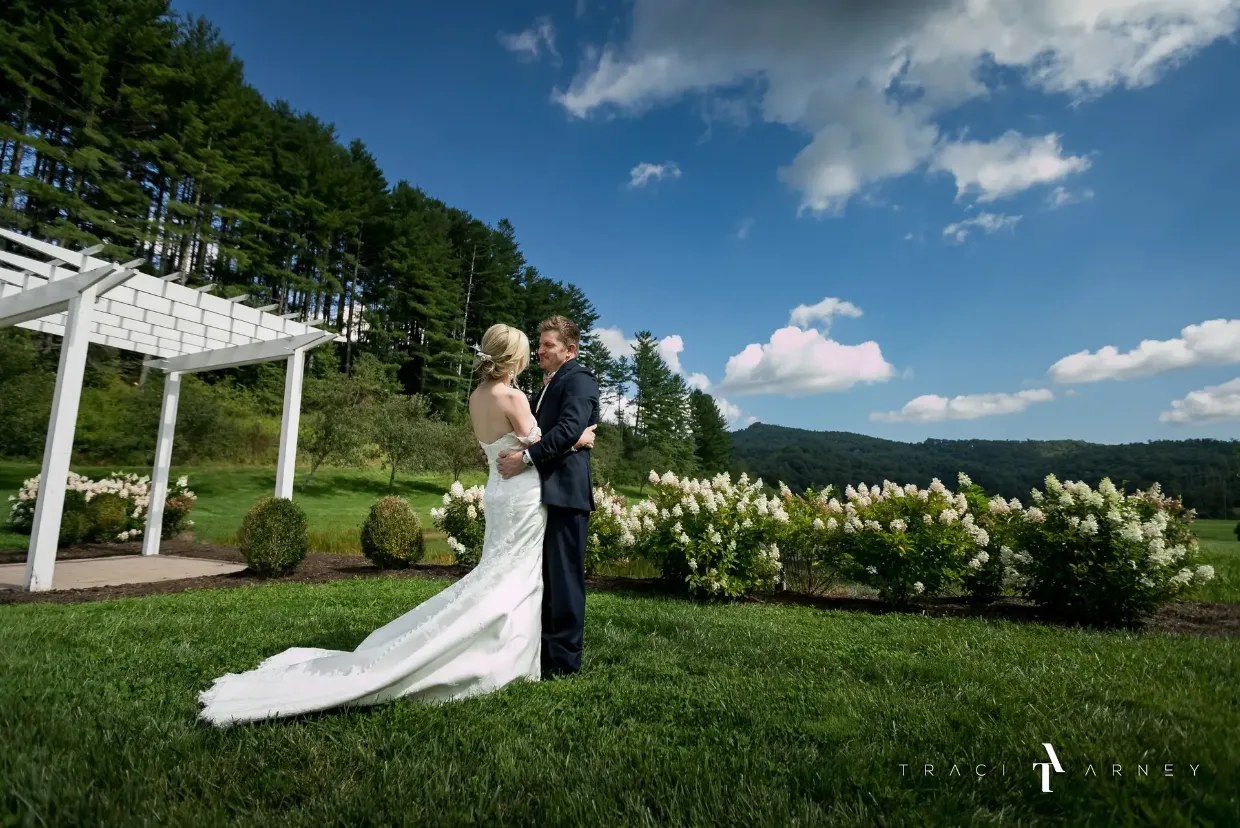 Single-Day Package – Blue Ridge
Our Single Day Package is perfect for couples seeking a mountain wedding venue with stunning views and numerous amenities. This package includes:
Exclusive use of our 90-acre farm, featuring picturesque ponds, fields, river frontage, gardens, outdoor patio areas, and breathtaking mountain views.
BYOB and BYO Vendors option allowing you to save thousands of dollars.
The Dahlia Suite and Lounge are two ready rooms, where you can prepare and relax before your ceremony.
A beautiful handicap-accessible post-and-beam barn with modern bathrooms, crystal chandeliers, a second-floor balcony, and oversized doors that provide a seamless connection to the outdoors.
Ample seating and table options, including (20) 60″ round tables, (20) 8″ long tables, (10) cocktail tables, (6) whiskey barrels, and 200 indoor wooden cross-back padded chairs, along with ceremony site seating.
A tucked-away caterer's kitchen and prep area, saving you money on catering services that need to reheat food.
A stone patio cocktail area with lighting and access to an indoor/outdoor stylish live edge wood bar.
A beautiful ceremony site with a paved aisle, a gorgeous arbor (included), and a pond with a fountain that lights up at night.
A covered outdoor cocktail area at the Old Hay Bar, where you and your guests can enjoy yard games and a fire pit.
The opportunity to capture breathtaking sunset photographs at the summit of the mountain.
Parking access with an on-site attendant to ensure convenient arrival and departure for your guests.
The dedicated support and care of Paula, who will make sure your special day is everything you've dreamed of.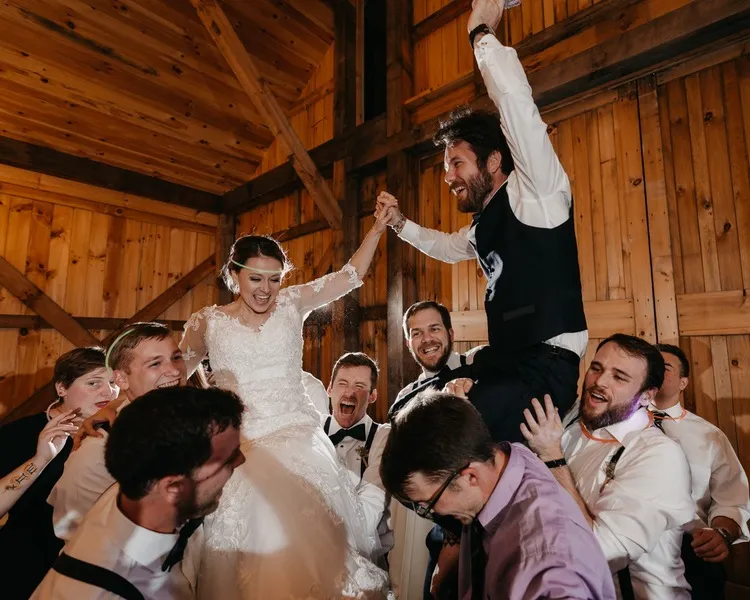 A La Carte Add-Ons
In addition to our packages, we offer a variety of a la carte add-ons to enhance your wedding experience:
4-Bedroom Cabin: Add on additional nights at our on-property cabin for $450/night. Please note that this price does not include taxes and a $180 cleaning fee.
Honeymoon Suite: If your package does not include the Honeymoon Suite, you can add it for one night at $200/night (taxes not included).
Photoshoot: For $200, you can have a two-hour photoshoot on our 90-acre property. We will accompany you and your photographer in a 4-wheeler, granting you access to the mountaintop, fields, New River, gardens, and barns. Please note that the photographer is not included.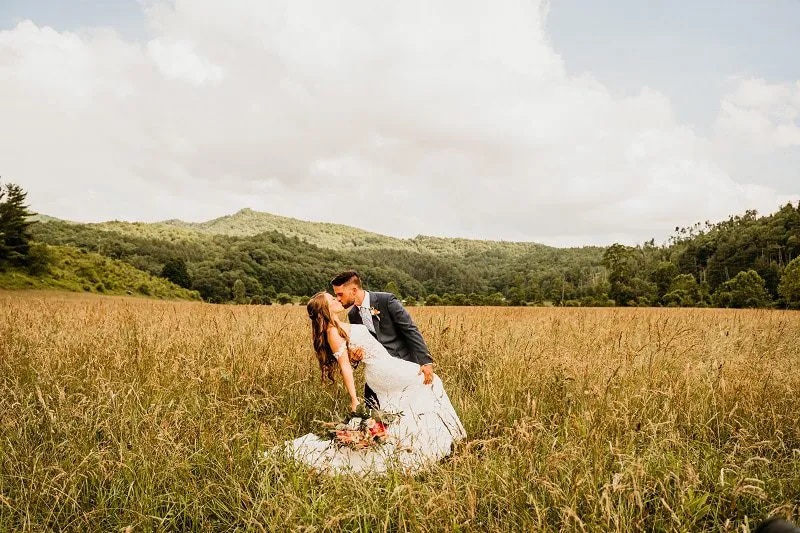 Weekend Package – South Fork
Our Weekend Package offers a full weekend wedding experience with lodging and a range of exciting activities and adventures. This package includes:
Full weekend wedding with lodging on-site, allowing you to accommodate up to 12 guests.
Plan various adventures and experiences for your wedding weekend, including kayaking (with nearby rental companies), a rehearsal for the ceremony and reception (up to 50 guests), wine tasting with live music at Old Barn Winery, a group hiking excursion on the property and nearby, s'mores at the fire pit, the option to rent golf carts to explore the property, a picnic by the river with a charcuterie spread, and the ability to host a yoga class or other lawn activities on the lawn.
The option to add a welcome party and farewell brunch on the patio for an additional fee.
Several cabins located within 1.5 miles of the property that your guests can rent independently. This allows you to accommodate up to 46 guests nearby, providing the ultimate weekend wedding experience.
Please note that the Weekend Package is available from May to August, with September and October unavailable due to high demand. For availability inquiries, please reach out to us.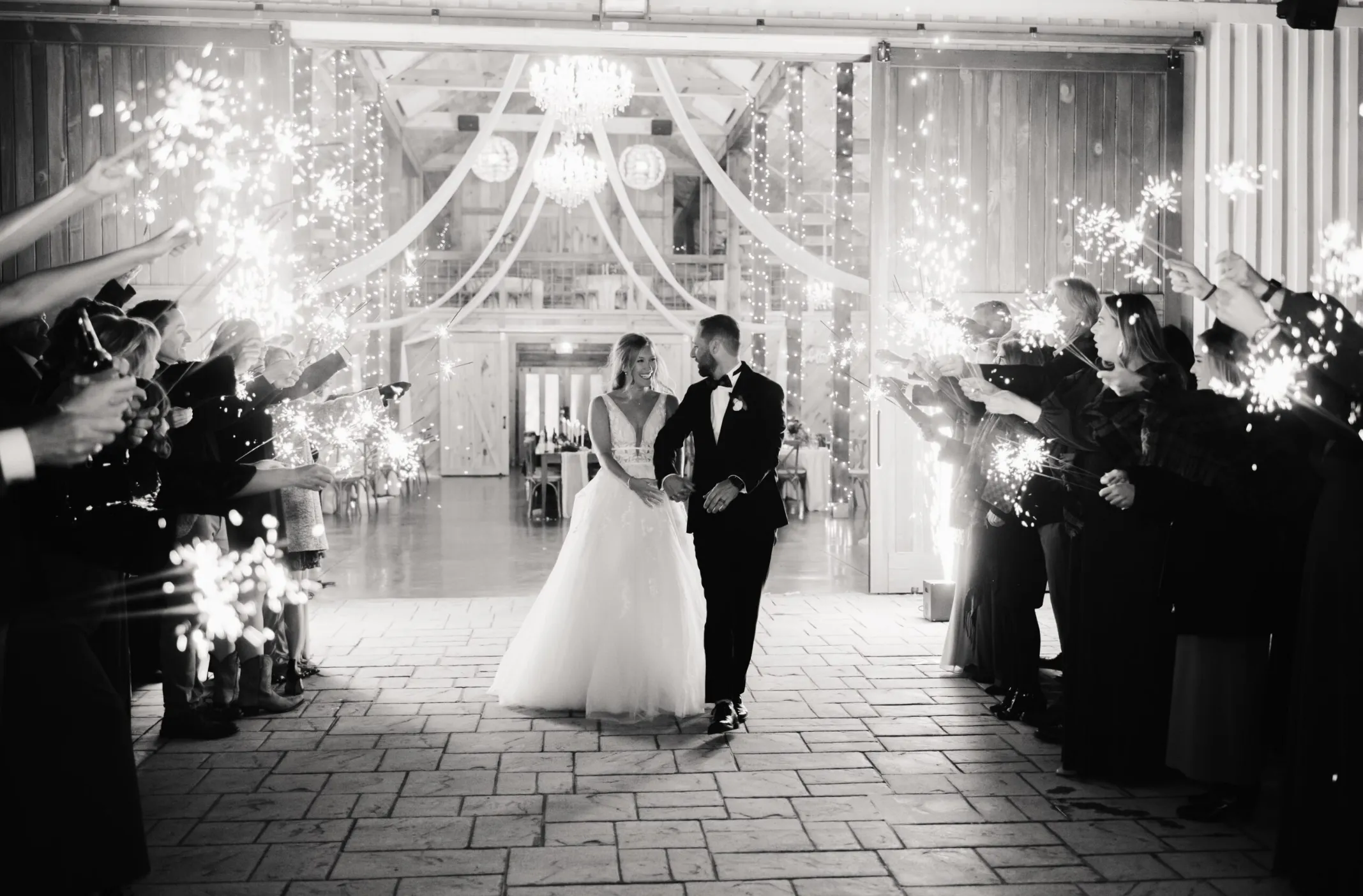 Join us at The Barn On New River, where love stories come to life amidst the enchanting beauty of Boone's mountain landscape. Experience the personal touch, natural splendor, and timeless elegance that make our venue truly unforgettable. Contact us today to begin creating your wedding masterpiece.
2. The Barn at Cornerstone
Address: 64 Cornerstone Cir, Banner Elk, NC 28604
The Barn at Cornerstone is a charming and elegant wedding venue situated in Boone, NC. This rustic venue is perfect for couples looking for a unique and affordable wedding location that can accommodate up to 100 guests. The venue features a natural bowl amphitheater, a stage with a dance floor, a barn, and tents for seating and dining. It also comes with a 3-bedroom farmhouse and two Airstreams for on-site lodging, making it a convenient location for couples and their guests. The farm's rolling hills and breathtaking mountain views provide a stunning backdrop for wedding photos and a romantic ambiance for the wedding ceremony and reception. With its unique features and amenities, The Barn at Cornerstone is an ideal wedding venue for couples looking for a rustic and elegant wedding experience.
3. Banner Elk Winery & Villa
Address: 60 Deer Run, Banner Elk, NC 28604
Banner Elk Winery & Villa is a top choice for couples looking for a unique and picturesque wedding venue in Boone, NC. Located in the quaint mountain town of Banner Elk, this venue offers breathtaking long-range mountain views and a peaceful and private atmosphere that is perfect for celebrating your special day. The winery and villa offer a beautiful and rustic backdrop for your wedding, with a scenic vineyard and a charming villa that can accommodate up to 12 guests. The venue also offers amenities such as a concierge service, on-site catering, and comfortable lodging options for your family and friends, ensuring that your wedding weekend is a memorable and stress-free experience. With its stunning location, unique features, and exceptional service, Banner Elk Winery & Villa is the perfect choice for couples looking to tie the knot in style.
4. The Inn at Crestwood
Address: 3236 Shulls Mill Rd, Boone, NC 28607
The Inn at Crestwood is a private mountain inn in Boone, NC that offers a breathtaking setting for couples looking to have a romantic wedding. With indoor and outdoor spaces that can accommodate up to 200 guests, this venue is perfect for both ceremonies and receptions. The lawn is ideal for outdoor weddings, while the main dining hall offers stunning views of the mountains from its towering glass wall. The Inn at Crestwood has an experienced event coordinator who will take care of all the planning and design, including full-service catering services and preferred vendors for a cake, DJ, and more. The venue also has nine guest rooms and cottages, making it an excellent option for staying overnight. With its picturesque location and exceptional service, The Inn at Crestwood is an unforgettable wedding venue that will make your special day even more memorable.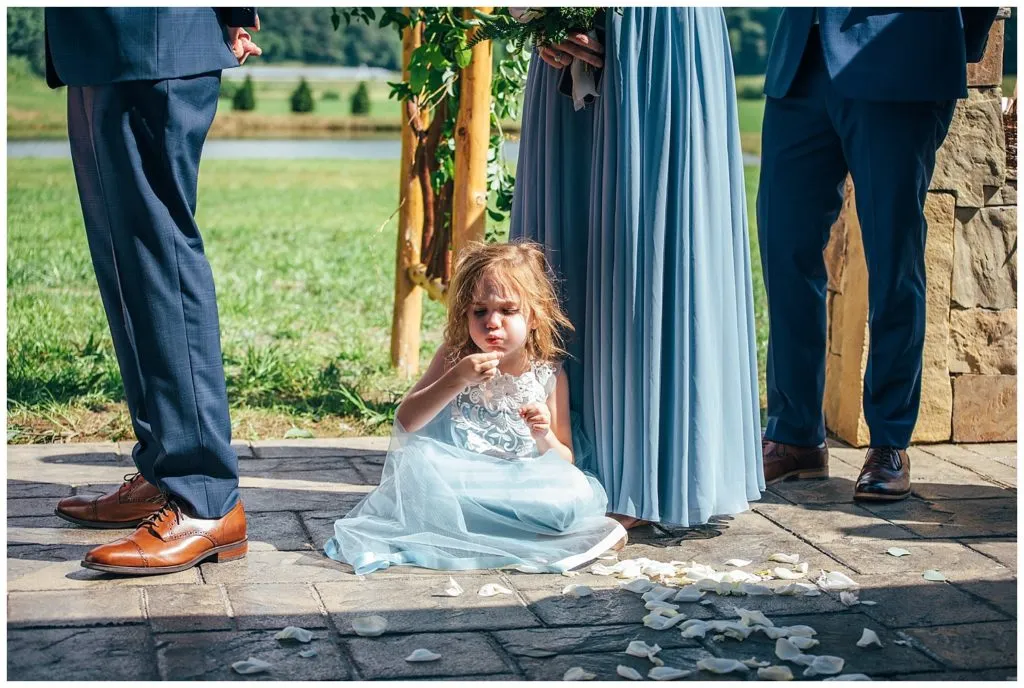 FAQs About Boone NC Wedding Venues
Q: What types of wedding venues are available in Boone, NC? A: Boone offers a variety of wedding venues, including barns, outdoor spaces, mountain resorts, event centers, and historic venues.
Q: How far in advance should I book a wedding venue in Boone? A: It is recommended to book your wedding venue in Boone, NC at least 9-12 months in advance to secure your desired date and venue.
Q: What is the average cost of a wedding venue in Boone, NC? A: The cost of wedding venues in Boone can vary depending on factors such as the venue type, size, amenities, and location. On average, wedding venues in Boone range from $3,000 to $8,000.
Q: Can I bring my own vendors to a wedding venue in Boone? A: Many wedding venues in Boone allow you to bring your own vendors, including caterers, florists, and decorators. However, it's always best to check with the venue for any specific restrictions or recommendations.
Q: Are there accommodations available for wedding guests in Boone, NC? A: Boone offers a range of accommodations, including hotels, resorts, cabins, and vacation rentals, providing ample options for your wedding guests.
Q: Can I have an outdoor wedding ceremony in Boone? A: Boone is known for its scenic beauty and stunning outdoor locations for wedding ceremonies. Many venues have outdoor ceremony spaces or offer the flexibility to set up outdoor ceremonies.
Q: Do wedding venues in Boone provide on-site catering? A: Some wedding venues in Boone offer on-site catering services, while others may have preferred caterers or allow you to bring in your own caterer. It's important to inquire about catering options when selecting a venue.
Q: Is parking available at wedding venues in Boone? A: Most wedding venues in Boone provide parking facilities for guests. Some venues may have on-site parking, while others may offer nearby parking options.
Q: Can wedding venues in Boone accommodate both the ceremony and reception? A: Many wedding venues in Boone have spaces available for both the ceremony and reception, ensuring a seamless transition between the two events.
Q: Are there restrictions on music or noise levels at wedding venues in Boone? A: Some wedding venues in Boone may have noise restrictions due to their location or local regulations. It's advisable to check with the venue regarding any specific guidelines for music and noise.
What else should I know about wedding venues near Boone NC?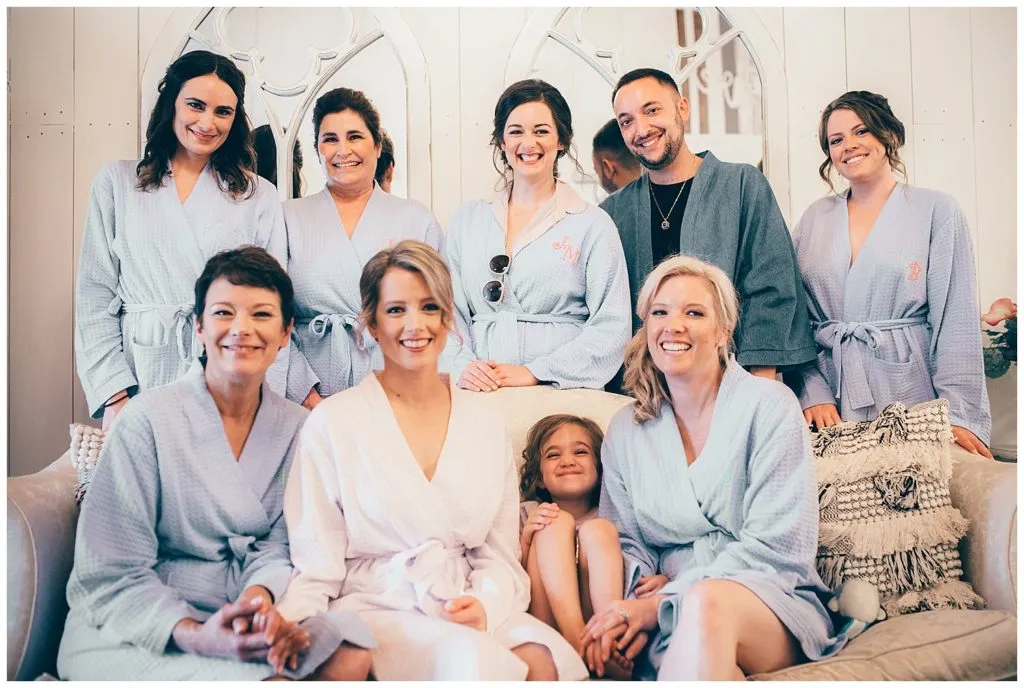 What is the top Boone NC wedding venue?
The Barn On New River is the top Boone NC wedding venue based on price, reviews, availability, and flexibility.
With 90 acres of stunning landscapes, including serene ponds, picturesque gardens, and majestic mountain views, our venue offers a truly awe-inspiring setting for your special day. From the elegant post-and-beam barn with crystal chandeliers to the seamless indoor-outdoor flow and affordable options like BYOB and BYO vendors, every detail has been carefully curated to ensure an unforgettable experience. Contact Paula at The Barn on New River today and let us make your wedding dreams a reality.
Where else can I search for wedding venues near Boone NC?
| | |
| --- | --- |
| Rank | City/Town |
| 8 | |
| 18 | Banner Elk |
| 24 | West Jefferson |
| 32 | Wilkesboro |
| 18 | Linville |
| 17 | Jefferson |
| | |
| 28 | Lenoir |
| 85 | Asheville |
| 56 | Johnson City (TN) |
| 117 | Charlotte |
| 69 | Statesville |
| 42 | Morganton |
| 52 | Marion |
| 65 | Boonville |
| 39 | Spruce Pine |
| 22 | Newland |
| 47 | Sparta |
| 53 | Burnsville |
| 32 | North Wilkesboro |
| 48 | Elizabethton (TN) |
| 87 | Greenville (TN) |
| 57 | Bristol (TN) |
| 86 | Winston-Salem |
| 113 | Greensboro |
| 44 | Hickory |
| 54 | Conover |
| 80 | Gastonia |
| 29 | Mooresville |
| 107 | Hendersonville |
What are the top attractions near Boone NC?
Good luck finding your perfect Boone wedding venue
Boone, NC offers diverse wedding venues to suit various preferences and styles. With its picturesque landscapes and charming settings, couples have ample choices to find their perfect Boone wedding venue. Whether you envision a rustic barn wedding, an outdoor ceremony surrounded by nature, or a historic venue with character, Boone has it all.
If you're looking for a wedding venue that combines affordability, style, and elegance, we invite you to consider The Barn on New River. With exclusive access to a stunning 90-acre farm, breathtaking mountain views, and a range of amenities, our venue provides a picturesque backdrop for your special day. Contact Paula at The Barn on New River to learn more about our customizable packages and to discuss how we can bring your dream wedding to life.
Good luck in your search for the perfect Boone wedding venue, and we hope to be a part of your unforgettable celebration!