Welcome to a world of enchantment and endless possibilities. North Carolina is renowned for its stunning landscapes, rich history, and Southern charm, making it an ideal destination for couples seeking the perfect wedding venue. This guide unveils the best wedding venues in North Carolina, where your dreams can come to life. From historic mansions to rustic barns and breathtaking gardens, these venues offer unparalleled beauty, impeccable service, and exceptional experiences that will make your wedding day unforgettable. Let us guide you on a journey to discover the finest wedding venues in North Carolina, where cherished memories are made and love stories unfold.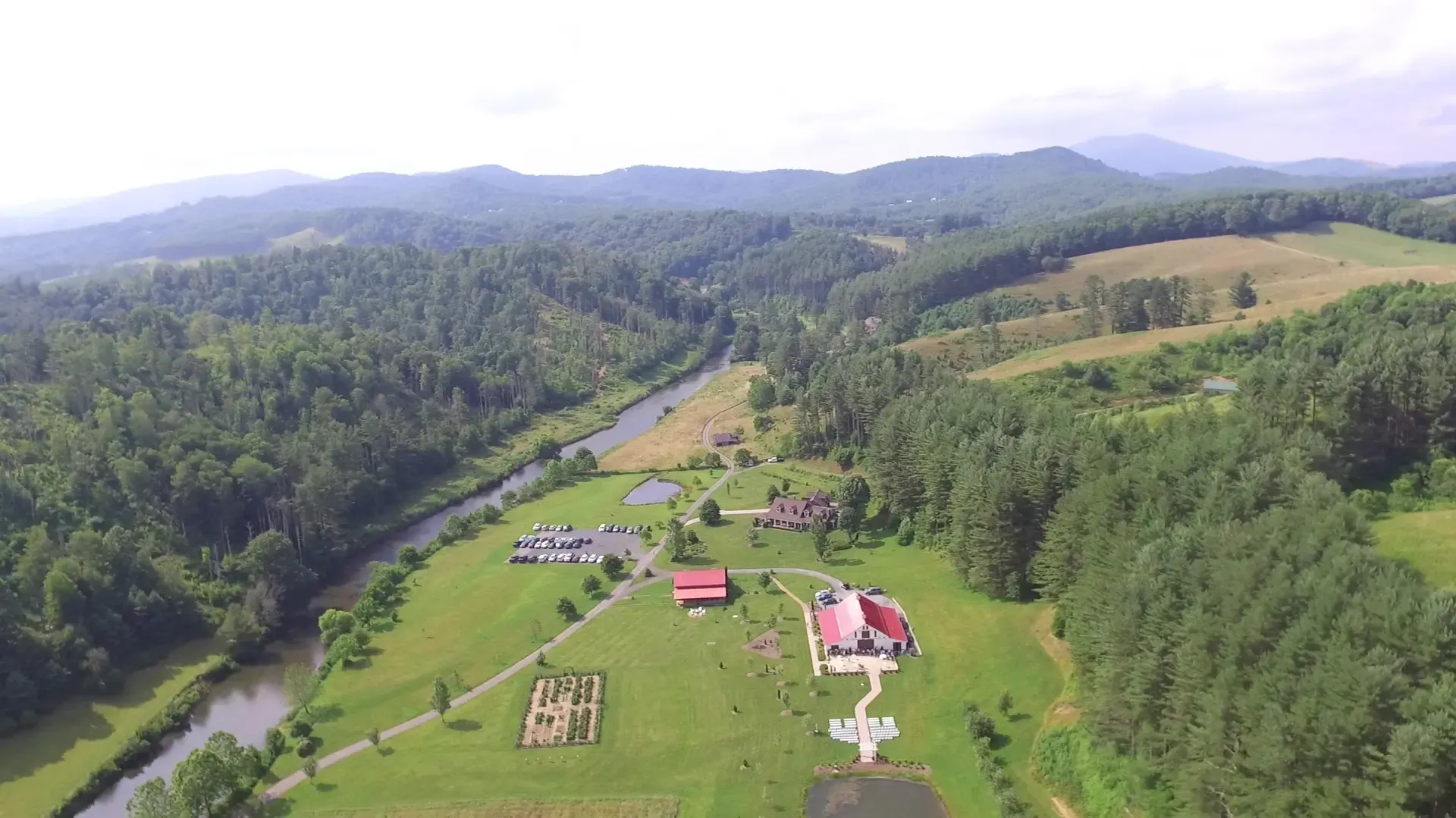 1. The Barn on New River in West Jefferson, NC
Welcome to The Barn On New River, a truly enchanting mountain wedding venue situated amidst the breathtaking beauty of the Blue Ridge Mountains near Boone, NC. Our 90-acre property offers an idyllic setting where your wedding dreams can come to life. Imagine exchanging vows surrounded by serene ponds, blossoming gardens, and the tranquil South Fork New River. At The Barn On New River, we provide exclusive access to our property, granting you full photography rights to capture your love story amidst the splendor of nature.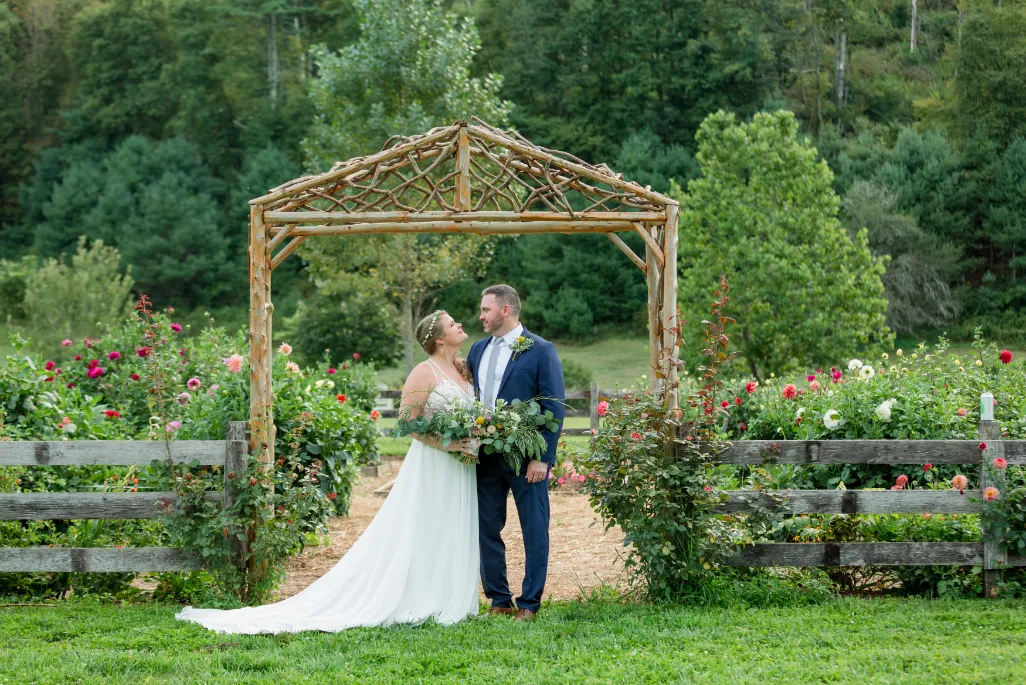 Limited Time Offers: Mountain Magic
We are committed to making your wedding day exceptional and are thrilled to present our limited-time offers. All wedding dates include a complimentary night in our luxurious Honeymoon Suite, allowing you to extend the joy of your special day. For May/June 2024 dates, we are delighted to offer an additional $1,000 discount, ensuring that your celebration is both unforgettable and affordable.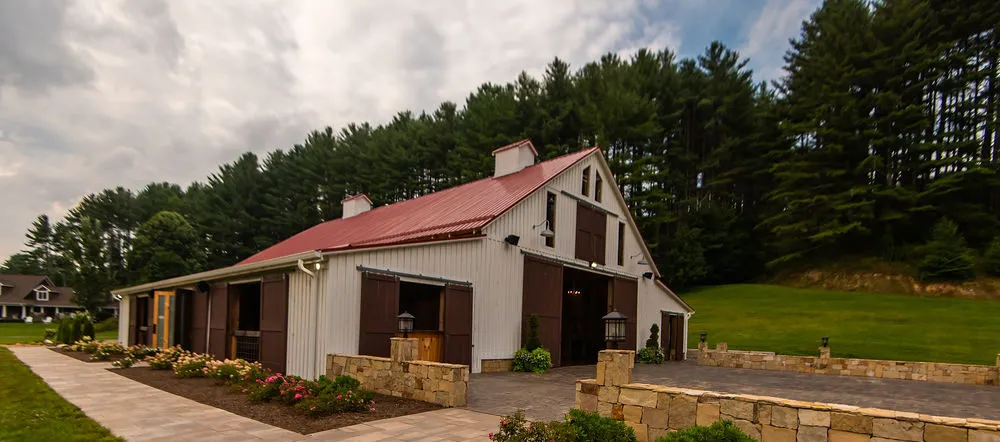 An Idyllic Setting: Scenic Serenity
Step into our charming post-and-beam barn, a perfect blend of rustic elegance adorned with crystal chandeliers and soft lighting. The Barn On New River sets the ideal romantic atmosphere for your celebration of love. We prioritize your peace of mind and aim to make your wedding experience stress-free and enjoyable. Our dedicated team is here to answer your questions, offer recommendations, and ensure that every aspect of your day is handled with care.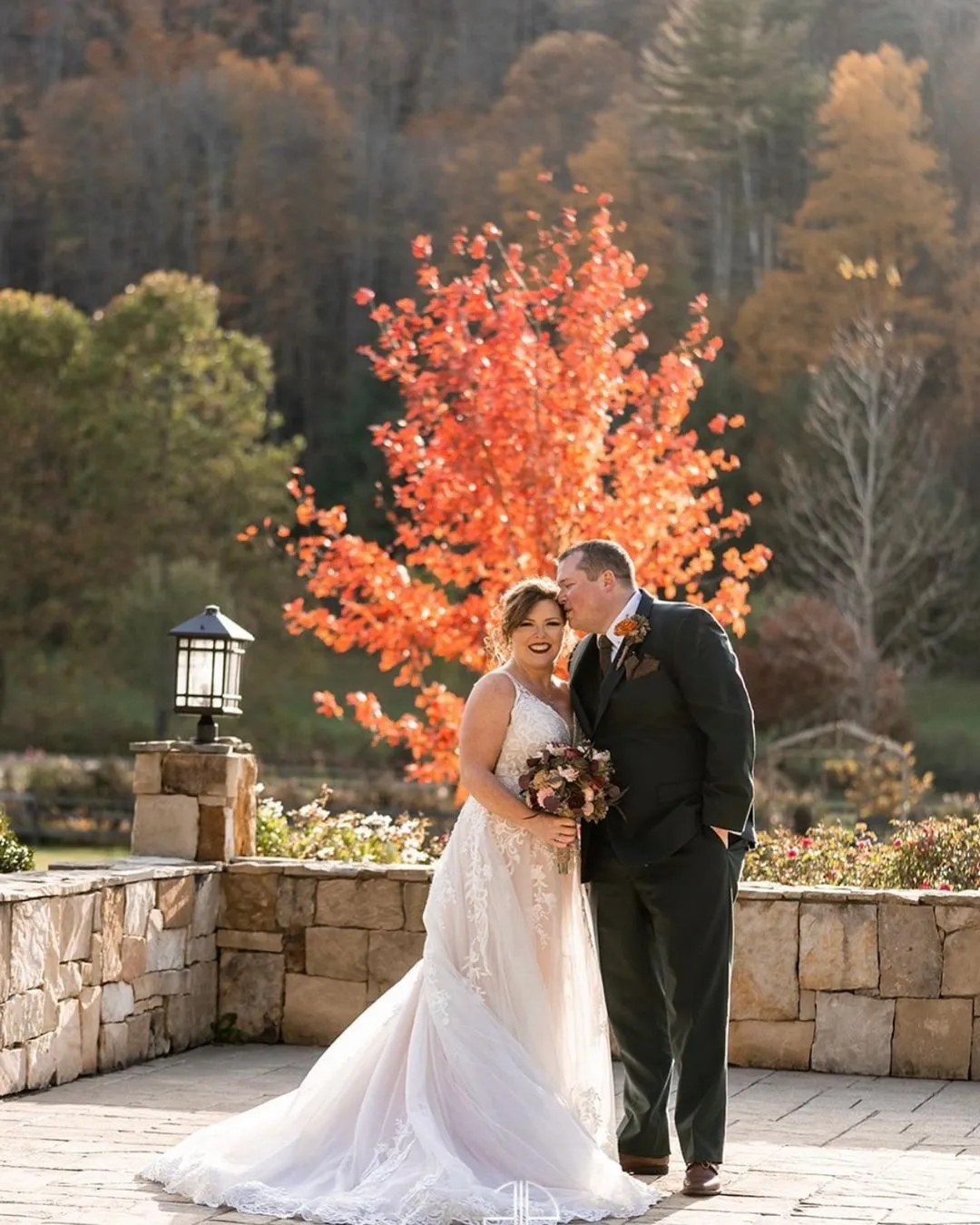 A Canvas for Your Wedding Masterpiece: Our Property & Spaces
We understand that planning a wedding can be overwhelming, especially if you're unfamiliar with the area. That's why we are committed to helping you create a beautiful and unforgettable wedding day that is truly a work of art. Our 90-acre property encompasses various enchanting spaces, including the Main Barn, the Old Hay Barn for outdoor seating and socializing, a stunning garden adorned with vibrant dahlias, a pond with a fountain, and a Main House with a honeymoon suite. Additionally, our lodging Cabin provides accommodation for your VIP guests who wish to stay overnight.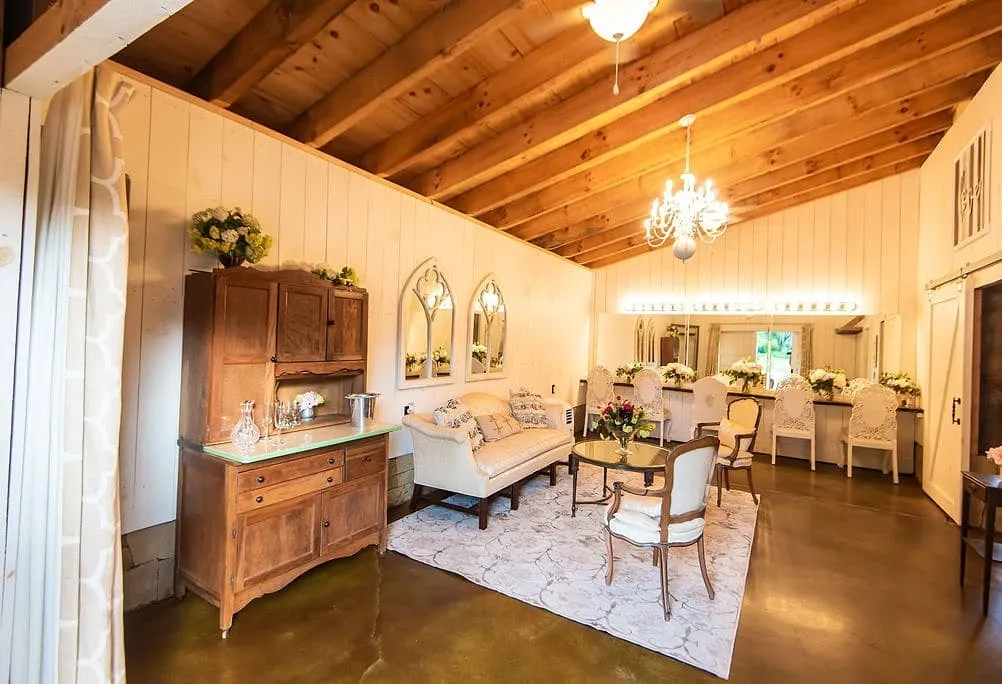 The Barn and Its Timeless Charm: Unveiling the Splendor
Step into The Barn, where elegance takes center stage. With its soaring 30-foot post-and-beam ceilings, exquisite Swarovski crystal chandeliers, captivating string lighting, and stunning acid-stained concrete floors, The Barn On New River has become a beloved venue that consistently leaves couples and their guests in awe.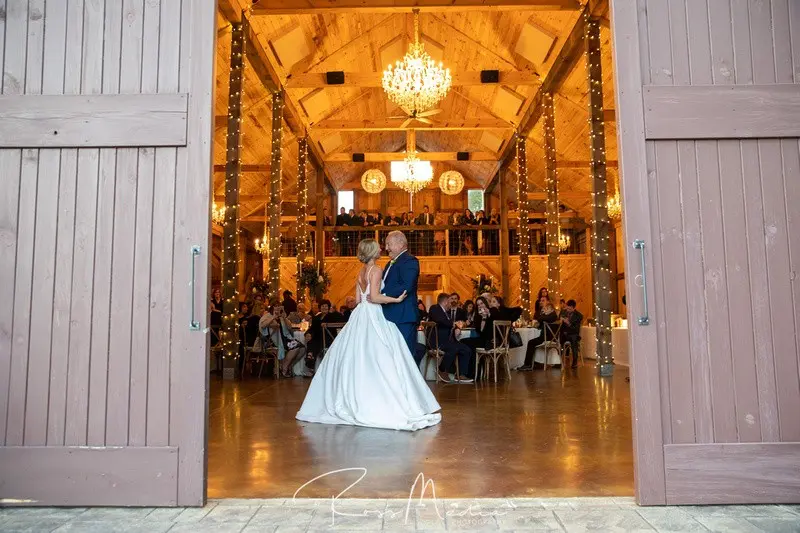 Preparing for Your Unforgettable Day: Sweetheart Suites
Our venue features two distinct areas for you and your party to prepare for the big day. The Dahlia Suite, a spacious haven bathed in natural light, offers the perfect space for relaxation and unwinding. It is an ideal spot for getting ready with ample seating, mirrors, and optimal lighting. The Lounge, located at the opposite end of the barn, provides a cozy atmosphere where you can easily enjoy TV and prepare. Both suites offer privacy and direct access to the barn and outdoor areas, ensuring comfort and convenience throughout the day.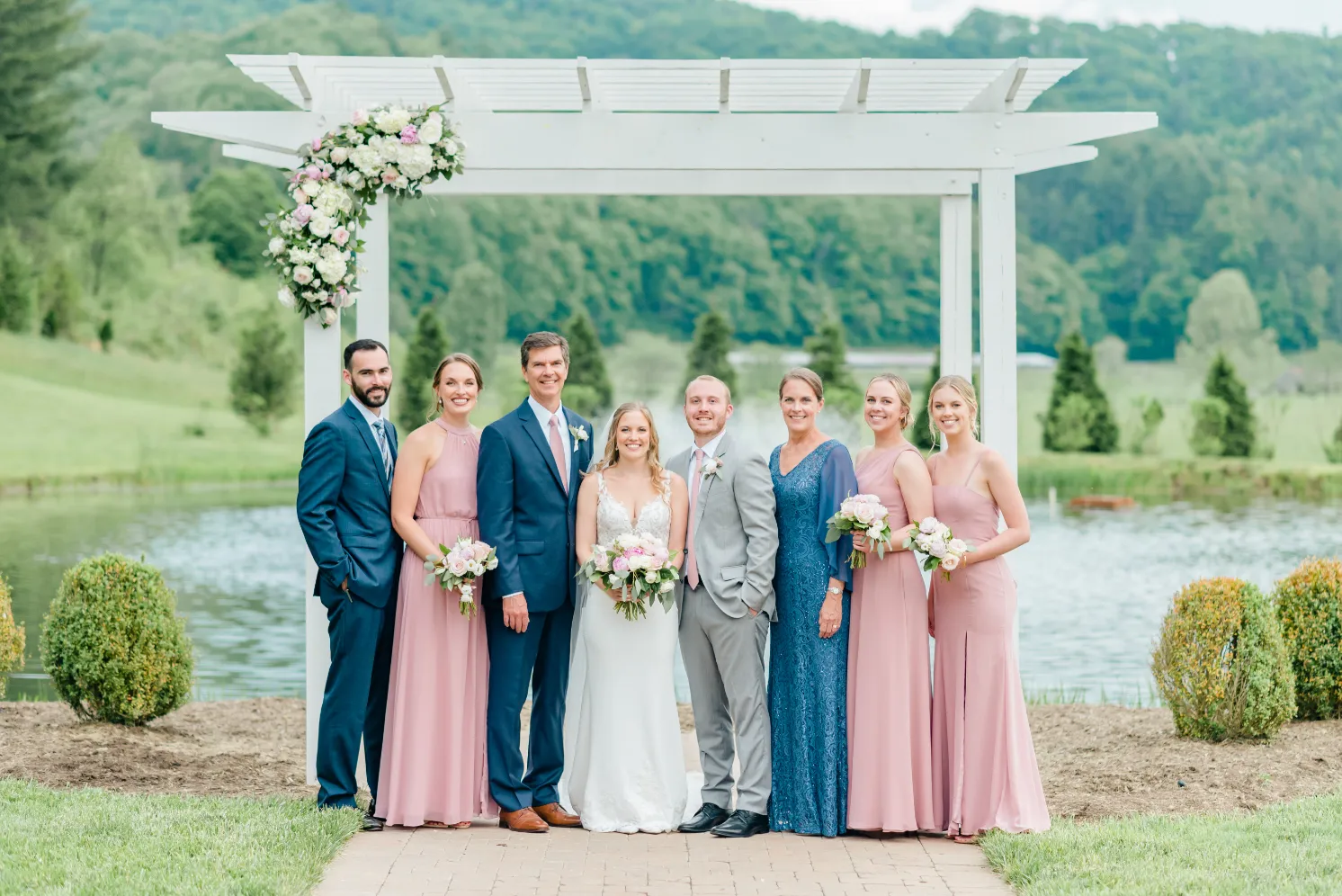 Unwind and Make Memories: Fireside Lounge
Step into The Old Hay Barn, a haven for unwinding, socializing, and fun-filled moments. The covered outdoor area is adorned with mesmerizing string lights, creating an inviting ambiance for mingling. Adjacent to the covered space, a grassy area awaits outdoor games and entertainment, while a cozy seating arrangement with Adirondack chairs and a gas fire pit offers the perfect spot for relaxation.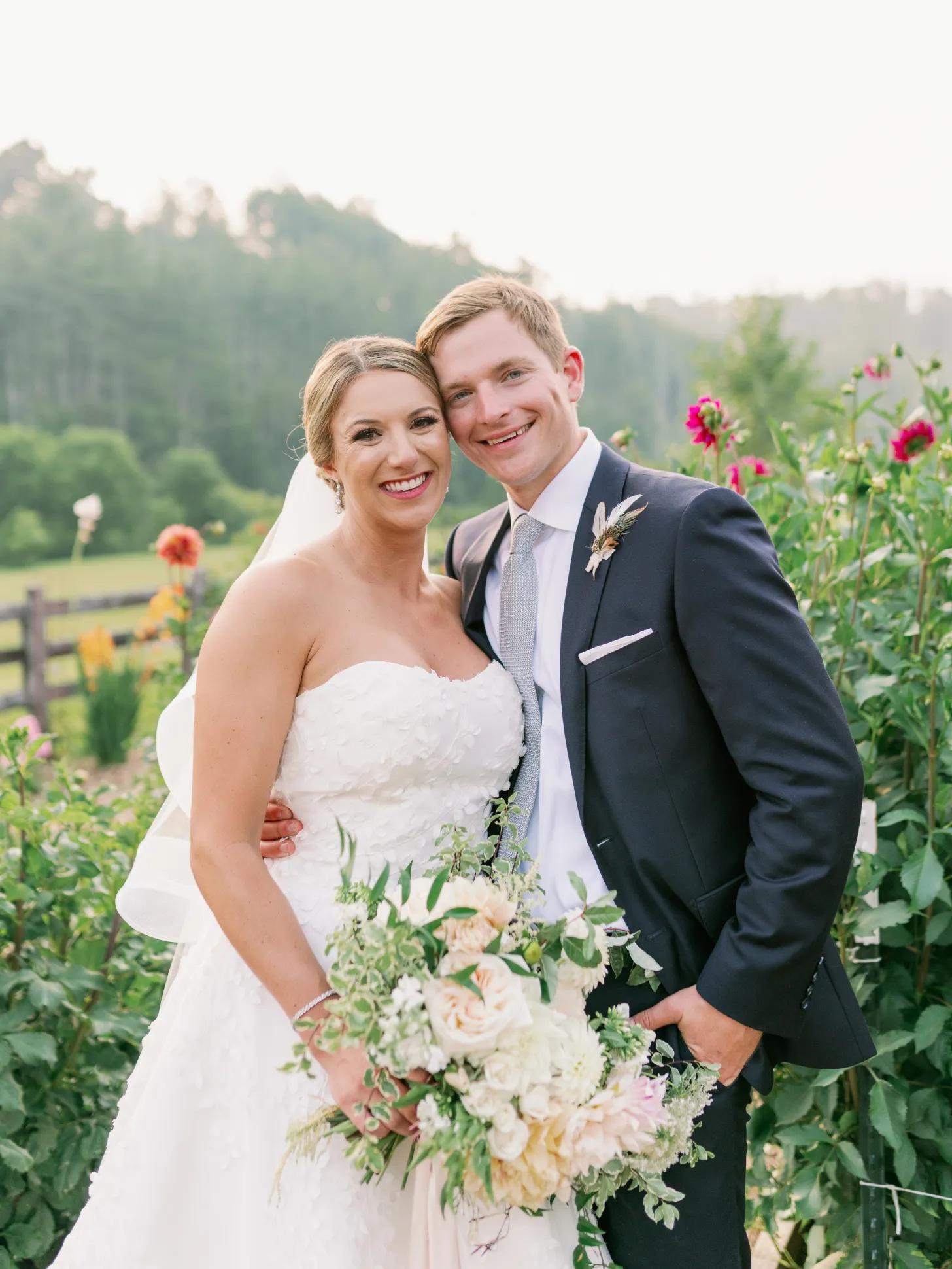 A Botanical Wonderland: Garden Glam
Discover The Dahlia Garden, a botanical paradise where vibrant dahlias bloom from late June to mid-October, accompanied by an array of colorful flora. Walk through charming arbors and meander around raised beds filled with flowers and vegetables. Every corner of The Garden presents an opportunity for stunning photos, ensuring cherished memories. It also serves as a peaceful oasis for guests to take a moment amidst the excitement. For those seeking a unique ceremony experience, The Garden offers an alternative site that will leave you breathless.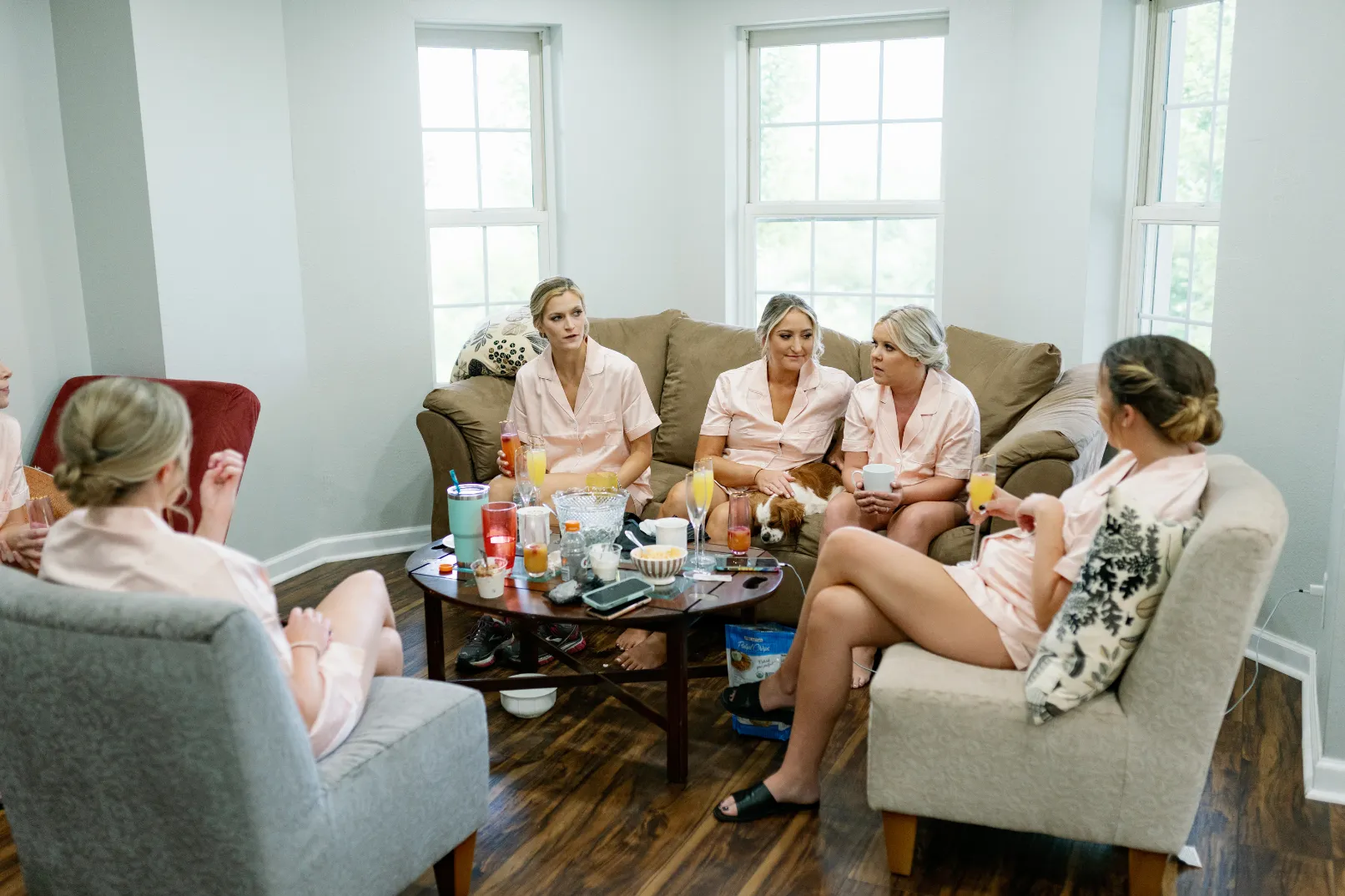 Tranquility and Natural Beauty: Oasis Outlook
Imagine sipping your favorite cocktail on the stone patio, overlooking picturesque farmland as the sun sets. The warm glow of strung lights creates a magical ambiance, perfect for intimate moments with loved ones. Just a few steps away, the ceremony site awaits, featuring a rustic arbor and a tranquil pond with a stunning illuminated fountain. The patio area also serves as an ideal spot for rehearsal dinners or elegant cocktail hours, making it a versatile space for your wedding festivities.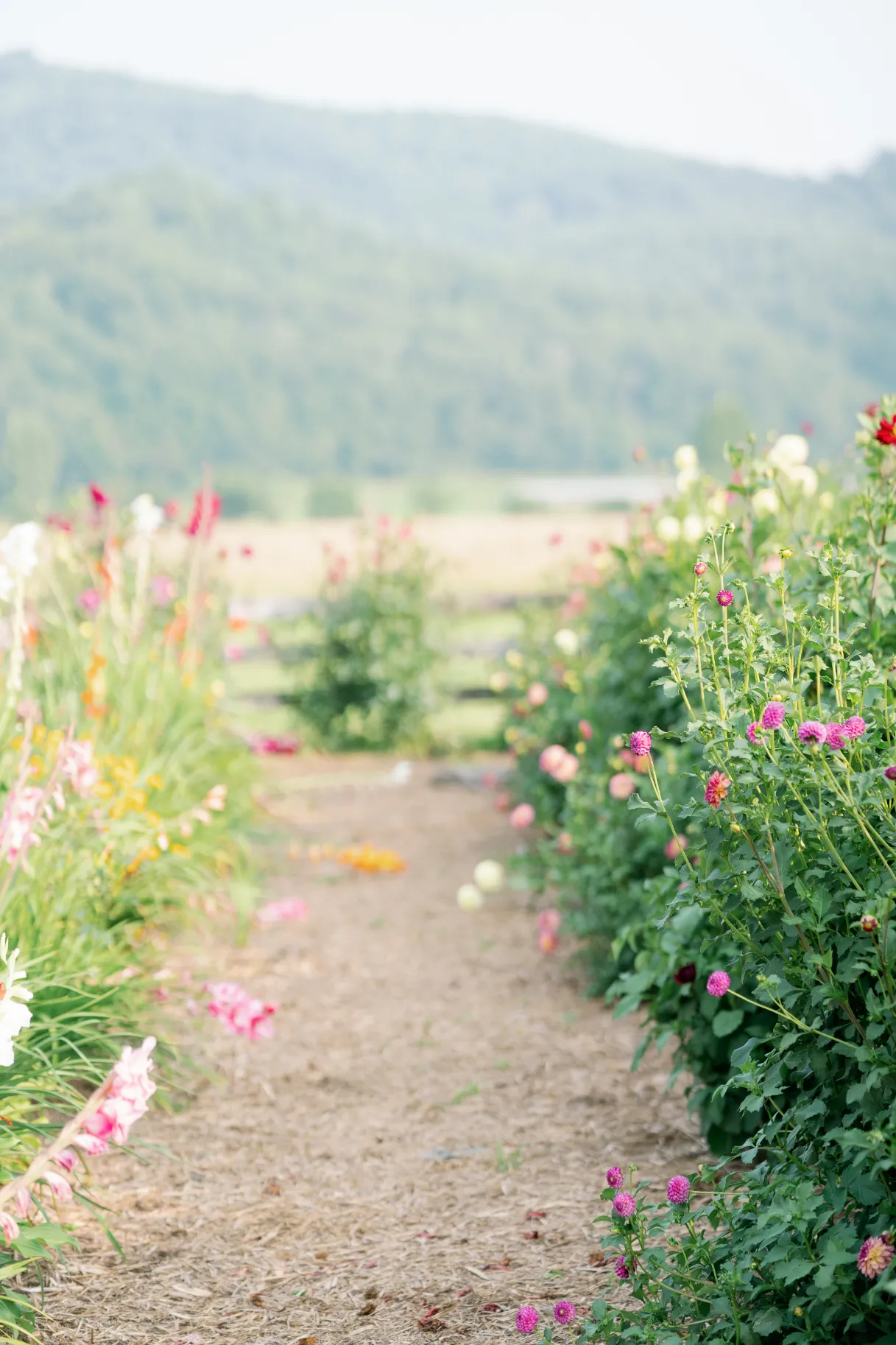 Customizable Experiences for Your Dream Day: Packages & Pricing
We are thrilled to offer customizable packages that cater to your unique style and vision. Our Single Day Package provides all-inclusive options for a stunning wedding day, starting at $3,500. For those seeking a full weekend of celebration, our Weekend Package offers an array of benefits and experiences, including lodging for up to 12 guests on the property. Additional a la carte add-ons, such as overnight stays and photoshoot opportunities, allow you to enhance your experience even further.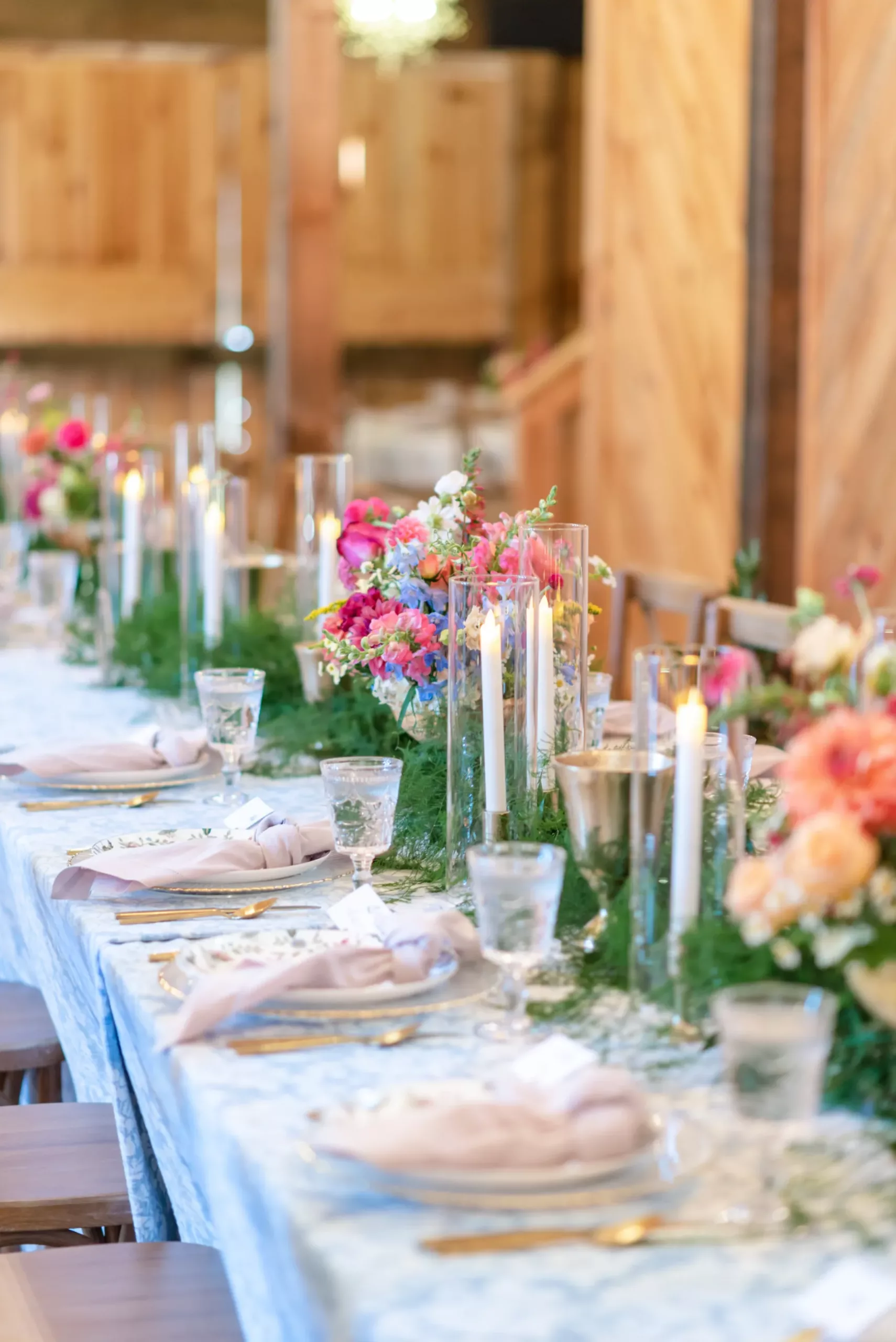 Join us at The Barn On New River, where love stories come to life amidst the enchanting beauty of Boone's mountain landscape. Experience the personal touch, natural splendor, and timeless elegance that make our North Carolina wedding venue unforgettable. Contact us today to begin creating your wedding masterpiece.
2. Chateau des Fleures
Address: 104 Pope Lake Rd, Angier, NC 27501
Located in the charming town of Angier, North Carolina, Chateau des Fleures is a truly magical North Carolina wedding venue where dreams come true. This enchanting castle is the perfect setting for your fairytale wedding, offering timeless elegance and romantic gardens that will leave you and your guests in awe. Nestled in the rolling hills of North Carolina, this magnificent mansion exudes the ambience and history of a European castle, complete with a grand ballroom, picturesque gazebos, elegant arbors, a luxurious bride suite, a groom's parlor, and even the option for poolside celebrations.
Best Wedding Venue in Raleigh Area
Situated in Angier, North Carolina, Chateau des Fleures is a one-of-a-kind castle North Carolina wedding venue. This extraordinary estate features a French-style fairytale chateau and stunning gardens, providing the perfect backdrop for your special celebration. Step into a world reminiscent of the beautiful countryside of Provence, France, as you and your guests are transported to a place where romance and elegance intertwine.
Magnolia Package
For weddings taking place in May, June, September, October, November, and *December, Chateau des Fleures offers the Magnolia Package with the following pricing:
Saturday: $8800
Friday or Sunday: $8000
Monday – Thursday: $6000
The Magnolia Package includes exclusive use of the Chateau and Gardens from 1:00pm to 11:00pm, tables and chairs, tablecloths in black or white, free Wi-Fi, and parking for up to 90 cars. Additionally, you have the option to enhance your wedding experience with the Early Bird Special, which allows for two extra hours of early access on your wedding day for $800. This allows you to have more time in the morning for getting ready, vendor set-up, and creating cherished wedding day memories. You can also add a touch of class with valet parking services provided by two professional valets for $800 (4 hours). For a truly fairytale arrival and getaway, you can opt to include a beautiful mock getaway horse and fairytale carriage for $800.
Gardenia Package
If you are planning your wedding for January, February, March, April, *July, or August, Chateau des Fleures offers the Gardenia Package with the following pricing:
Saturday: $7300
Friday or Sunday: $6500
Monday – Thursday: $5000
The Gardenia Package includes the same features as the Magnolia Package, such as exclusive use of the Chateau and Gardens, tables and chairs, tablecloths, free Wi-Fi, and parking for up to 90 cars. You also have the option to add the Early Bird Special, valet parking services, and the horse and carriage arrival and getaway.
Elegante All-Inclusive
Indulge in the Elegante All-Inclusive package and let Chateau des Fleures treat you like royalty on your special day. This package includes:
12 hours of Chateau venue rental
Accommodation for 100 to 200 guests
Bridal bouquet, groom's boutonniere, 10 centerpieces, and a 10-foot gazebo garland
Premium seated dinner and open bar
Two professional photographers for 8 hours
Custom 4-tier wedding cake
Personal wedding planner
Horse and carriage arrival and getaway (or equivalent)
DJ entertainment and DJ party package for 6 hours
Honeymoon suite
Amour All-Inclusive
The Amour All-Inclusive package offers a comprehensive wedding experience, including:
12 hours of Chateau venue rental
Accommodation for 50 to 200 guests
Bridal bouquet, groom's boutonniere, 10 centerpieces, and a 10-foot gazebo garland
Classic seated dinner and open bar
Professional photographers for 8 hours
Custom 4-tier wedding cake
Personal wedding planner
Horse and carriage arrival and getaway (or equivalent)
DJ entertainment for 6 hours
Elopement Package
For intimate ceremonies and elopements, Chateau des Fleures offers the Elopement Package, which includes:
The Elopement Package provides a personalized ceremony at Chateau des Fleures, complete with venue or destination setup for up to 50 of your closest family and friends. It includes tables, chairs, table centerpieces, linens, a ceremony officiant, up to 3 hours of use of the venue (additional hours available at an extra cost), a fresh and fragrant bouquet and boutonniere, a 1-hour professional photography session, champagne with keepsake signature glasses, and a 2-tier wedding cake by Miranda's Sweet Addictions. Chateau des Fleures ensures that every detail is taken care of, allowing you to be fully present and at peace on your special day.
Chateau des Fleures is dedicated to creating unforgettable wedding experiences in a truly magical setting. Let the Chateau be the backdrop to your love story, where every moment is filled with beauty, elegance, and cherished memories.
3. Seven Paths Manor
The Seven Paths Manor offers affordable luxury and is the perfect setting for your dream wedding. Take a look at the included features in the North Carolina wedding venue rental fee:
Exclusive use of the venue: During your 10-hour event, you and your guests will have the undivided attention of our staff, ensuring a truly focused and personalized experience.
Multiple photo-ready manicured areas: With over 60 acres of custom photo opportunities, including water features, swings, and benches throughout the property, you'll have a variety of stunning backdrops for your wedding photos.
Access to the venue for photo experiences: Booked couples are granted scheduled access to the venue for engagement and bridal photo sessions, allowing you to capture special moments in a beautiful setting.
Tables and Chairs: Choose from two chair options and round and rectangular table options to create a seating arrangement that suits your style and preferences.
Multiple Ceremony locations: Select from eight ceremony areas, each offering its own unique ambiance, allowing you to tailor your ceremony to reflect your personal style and vision.
On-Site Shuttle Service: Our venue provides shuttle service throughout your event, ensuring the comfort and convenience of your guests. We also offer a dedicated bridal photography shuttle for easy transportation during your special moments.
Multiple Dressing Suites: The manor house provides several areas for you and your wedding party to get ready, ensuring a positive and stress-free experience.
Caterer warm-up area/prep station: Our chef-style kitchen grants caterers access to two ovens, a stove, and ample space for prep work. We also include a caterer prep tent closer to the reception area, complete with a sink for added convenience.
Dedicated Refrigerators: Keep your food and beverages fresh with the use of two full-size refrigerators and a full-size chest freezer provided during your event.
Access to Manor House: Enjoy the use of the main areas of the manor house, providing ample space for relaxation for your wedding party and preparation areas for your vendors.
The manor house can accommodate up to 200 guests, ensuring a comfortable and memorable experience for everyone.
Multiple Outdoor Sound Systems: Pre-installed sound systems located throughout the venue eliminate the need for heavy equipment and provide excellent sound quality. Simply plug in your device or use Bluetooth connectivity for seamless music playback.
Heaters and Fire Pit options for colder weather: Prepare for unpredictable North Carolina weather with our available heaters and fire pit options, ensuring the comfort of your guests.
Close access to bathrooms for guests: Quality restrooms are conveniently located within walking distance for your guests, and the manor house provides over four bathroom areas for the wedding party.
Security: Trained security personnel will be present to handle any unforeseen situations privately and professionally, ensuring the safety and peace of mind of you and your guests.
Inclement weather planning: Covered areas are available for both your ceremony and reception, providing shelter in case of rain, so your special day can proceed seamlessly.
Access to all venue décor: Choose from our extensive inventory of wedding décor items, saving you time and money while adding personal touches to your celebration.
Ample On-site Parking: Multiple well-lit parking areas are conveniently located on-site, keeping cars out of the main venue areas and ensuring they won't appear in your wedding photos.
Animal Encounters: Enjoy delightful encounters with our quarter horses, miniature horses, dwarf goats, and a miniature donkey, providing adorable selfie and photo opportunities for you and your guests.
20×20 Dance Floor: Let loose and dance the night away on our spacious dance floor, available for you and your guests to enjoy free of charge.
Full Clean-up and Trash Service: Leave the dirty work to us. Our team will handle the full clean-up and trash service, allowing you and your guests to relax and savor the special moments without any worries.
Pricing:
Winter (December, January, February):
Tuesday: $6,200
Wednesday: $6,200
Friday:
Winter: $6,200
Standard (March, June, July, August, November): $6,700
Prime (April, May, September, October): $7,200
Saturday:
Winter: $7,200
Standard: $7,700
Prime: $8,200
Additional Pricing:
Multi-Day Options:

2-Day (Thursday 3-9 pm & Friday 10 hours, no overnight stay):

Winter: $7,200
Standard: $7,700
Prime: $8,200

2-Day (Saturday 9 am to Sunday 12pm, couple-only overnight):

Winter: $7,850
Standard: $8,350
Prime: $8,850

2-Day (Saturday 9 am to Sunday 12pm, up to 20 overnight guests):

Winter: $9,700
Standard: $10,200
Prime: $10,700

Weekend (Friday 12pm to Sunday 12pm, up to 20 overnight guests):

Winter: $12,400
Standard: $13,400
Prime: $14,400
Explore the Raleigh Area:
Located just 35 miles east of Raleigh, Seven Paths Manor offers a convenient and scenic escape. Whether you're coming from Wake Forest, Cary, Chapel Hill, Durham, Rocky Mount, Holly Springs, Zebulon, Apex, or Wilson, our venue is within an hour's drive, allowing you and your guests to reach this enchanting wedding destination easily.
4. The Ballantyne Hotel
Address: 10000 Ballantyne Commons Pkwy, Charlotte, NC 28277
Breathtaking Event Spaces for Unforgettable Celebrations
The Ballantyne Ballroom: A Grand Reception Setting
The Atrium: Intimate Elegance Under Open Skies
The Fairway Ballroom and Carolina Room: Intimate Gatherings
Carolina Balcony: A Picturesque Cocktail Hour
Indoor Ceremony Spaces: Creating Memorable Moments
Outdoor Ceremony Locations: Beauty in Blooms
The Lodge at Ballantyne: Seamless Convenience
Seamless Wedding Coordination and Services
Professional Vendor Recommendations: Unlocking the Best
Day-of Coordinator: Your Wedding Day Champion
State-of-the-Art Audiovisual Equipment: Elevating the Experience
Indulge in Culinary Delights
Delectable Cuisine and Impressive Presentations
Customized Elegant Desserts
Luxurious Accommodations and Amenities
Elegant Hotel Rooms: Where Luxury Meets Comfort
Spa, Golf, and Shopping: Begin Your Honeymoon
Venue Details: Where Every Detail Matters
Ceremony Area: A Sacred Space
Covered Outdoor Space: Nature's Canopy
Dressing Room: Prepare in Style
Handicap Accessible: Ensuring Accessibility
Indoor Event Space: Sheltered Celebrations
Liability Insurance: Peace of Mind
On-Site Accommodations: Convenience at Your Fingertips
Outdoor Event Space: Embrace Nature's Beauty
Reception Area: Festive and Welcoming
Wireless Internet: Stay Connected, Seamlessly
Ceremony Types: Tailored to Your Vision
Civil Union: Celebrate Your Union
Commitment Ceremony: Solidify Your Commitment
Elopement: Intimate and Romantic
Interfaith Ceremony: Honoring Your Beliefs
Non-Religious Ceremony: Celebrate Love Unconventionally
Religious Ceremony: Embrace Your Faith
Second Wedding: Renew Your Vows in Style
Vow Renewal Ceremony: Reaffirm Your Love
Settings: Where Your Dreams Take Shape
Backyard: Nature's Embrace
Ballroom: Grandeur and Sophistication
Garden: Tranquil Outdoor Oasis
Hotel: Opulence and Convenience
Park: Embrace the Outdoors
Tented: Customizable Elegance
Create an Unforgettable Experience: Venue Service Offerings
Bar & Drinks: Raise a Glass to Love
Cakes & Desserts: Sweet Indulgences
Cupcakes: Bite-Sized Delights
Other Desserts: Tempting Treats Beyond Cake
Destination Weddings: Celebrate in Paradise
Destination Wedding Packages: All-Inclusive Bliss
Destination Wedding Planning: From Vision to Reality
Food & Catering: Culinary Excellence
Planning: Expert Guidance Every Step of the Way
Wedding Design: Creating Your Dream Aesthetic
Rentals & Equipment: Enhancing Your Wedding Experience
Service Staff: Professional and Attentive Support
FAQs About Wedding Venues in North Carolina
As you embark on the journey of planning your wedding in North Carolina, it's natural to have questions about selecting the right venue, understanding the booking process, and ensuring a smooth and memorable event. To assist you in this process, we have compiled a list of frequently asked questions (FAQs) about wedding venues in North Carolina. Whether you're curious about logistics, accommodations, pricing, or amenities, these FAQs provide valuable information to help you make informed decisions and create the wedding of your dreams. Let's dive in and address the common queries you may have when it comes to choosing the perfect wedding venue in the beautiful state of North Carolina.
Where else can I search for NC wedding venues?
There are several other platforms and resources where you can search for NC wedding venues. Here are some options to consider:
Wedding Websites: Websites like The Knot (www.theknot.com) and WeddingWire (www.weddingwire.com) have comprehensive directories of wedding venues in North Carolina. You can search based on location, venue type, and specific preferences to find a range of options.
Local Wedding Directories: Many regions in North Carolina have local wedding directories or magazines that feature wedding venues. These directories often provide in-depth information about venues, including contact details and pricing.
Social Media: Platforms like Instagram and Pinterest can be valuable sources for finding wedding venues. Many venues showcase their spaces and real weddings on social media, allowing you to get a visual sense of the venue's style and ambiance.
Local Event Planners: Reach out to local wedding or event planners in North Carolina. They have extensive knowledge of the area's venues and can provide recommendations based on your preferences and budget.
Venue Open Houses and Bridal Expos: Keep an eye out for venue open houses and bridal expos in North Carolina. These events allow exploring multiple venues in person, meeting with venue representatives, and gathering information.
If you meant what regions you can search for NC wedding venues in, here are the top regions in NC.
NC Mountains Region
The Mountains region of North Carolina is a nature lover's paradise, boasting breathtaking views of the Blue Ridge Mountains and charming mountain towns. If you're dreaming of a mountain retreat, consider Asheville, the vibrant city in the heart of the mountains. Asheville offers a blend of natural beauty, artistic culture, and historic charm. The Biltmore Estate, a historic mansion with magnificent gardens, provides an iconic backdrop for a grand wedding. Explore the vibrant downtown area with local breweries, art galleries, and unique boutiques.
| | |
| --- | --- |
| Mountain Towns in North Carolina | Description |
| Asheville | Immerse yourself in a vibrant city amidst the Blue Ridge Mountains, where enchanting art, craft breweries, and breathtaking views set the stage for a truly unforgettable wedding experience. |
| Boone | Discover a picturesque mountain town, home to Appalachian State University, offering the perfect blend of outdoor adventures, scenic beauty, and a charming atmosphere for your dream wedding. |
| | Fall in love with Blowing Rock, a town known for its stunning cliffside views, romantic hiking trails, and upscale boutiques, providing an idyllic setting for a magical mountain wedding. |
| Highlands | Experience mountain elegance in Highlands, a jewel atop the Blue Ridge Mountains, offering cool temperatures, enchanting waterfalls, and a charming downtown for an intimate and scenic wedding. |
| Waynesville | Journey to Waynesville, a historic town in the Great Smoky Mountains, where rich heritage, apple orchards, and proximity to national parks create an idyllic backdrop for your special day. |
| Hendersonville | Bask in the mild climate and natural beauty of Hendersonville, a town adorned with apple orchards, a delightful downtown, and easy access to outdoor activities, perfect for a romantic wedding. |
| Brevard | Embark on an adventure in Brevard, a gateway to Pisgah National Forest, where cascading waterfalls, outdoor recreation, and a vibrant arts scene combine to create a wedding experience like no other. |
| Black Mountain | Discover the enchantment of Black Mountain, nestled in the Swannanoa Valley, offering a small-town charm, scenic hiking trails, and proximity to majestic Mount Mitchell, ideal for an intimate wedding. |
| Sylva | Fall in love with Sylva, a picturesque town embraced by the Plott Balsam Mountains, boasting a charming Main Street, proximity to the Great Smoky Mountains, and a magical ambiance for your wedding. |
| Maggie Valley | Escape to the beauty of Maggie Valley, tucked in the embrace of the Great Smoky Mountains, offering a playground for outdoor adventures, including skiing, hiking, and an idyllic backdrop for your wedding. |
| Burnsville | Delight in the scenic wonders of Burnsville, located near the majestic Mount Mitchell, where natural beauty, rich arts and crafts traditions, and the annual Mount Mitchell Crafts Fair enhance your wedding. |
| | Immerse yourself in the outdoor wonderland of Banner Elk, where skiing, hiking, and awe-inspiring mountain vistas create a backdrop of adventure and romance for your dream wedding celebration. |
| Cashiers | Indulge in the beauty of Cashiers, a mountain oasis boasting upscale resorts, championship golf courses, and serene lakes, providing a luxurious and idyllic setting for your elegant mountain wedding. |
| Marshall | Discover the charm of Marshall, nestled along the banks of the French Broad River, offering a historic downtown, a thriving arts community, and scenic river views, setting the stage for an intimate wedding. |
| Valle Crucis | Step back in time to Valle Crucis, a place of pastoral beauty and historic charm, where outdoor activities, quaint country stores, and the iconic Mast General Store create an unforgettable wedding experience. |
| Linville | Be captivated by the natural wonders of Linville, home to Linville Gorge and Linville Falls, offering breathtaking scenery, abundant outdoor activities, and a sense of serenity for a nature-inspired wedding. |
| Lake Lure | Fall under the spell of Lake Lure, nestled in the Hickory Nut Gorge, offering pristine lake and mountain views, water activities, and access to Chimney Rock State Park, providing a romantic setting for your wedding. |
| Hayesville | Experience tranquility in Hayesville, situated in the Nantahala National Forest, where peaceful surroundings, golf courses, and proximity to Lake Chatuge create a serene and charming atmosphere for your wedding. |
| Highlands-Cashiers Plateau | Delight in the elegance of the Highlands-Cashiers Plateau, encompassing both Highlands and Cashiers, known for stunning waterfalls, prestigious golf courses, and luxury resorts, ideal for an upscale wedding. |
| Jefferson | Discover the allure of Jefferson, nestled in Ashe County, offering a small-town atmosphere, a charming downtown, and access to outdoor recreation, providing a cozy and intimate setting for your mountain wedding. |
| Robbinsville | Gateway to natural beauty, Robbinsville invites you to explore the wonders of the Great Smoky Mountains, Fontana Lake, and Joyce Kilmer Memorial Forest, offering a picturesque and adventurous backdrop for your wedding. |
| Little Switzerland | Uncover the hidden gem of Little Switzerland, perched on the Blue Ridge Parkway, where scenic vistas, gem mining, and access to the awe-inspiring Linville Gorge create a unique and enchanting setting for your wedding. |
| Beech Mountain | Reach new heights on Beech Mountain, the highest town east of the Rockies, offering thrilling skiing, hiking, and panoramic views of the surrounding mountains, setting the stage for an unforgettable mountain wedding. |
| Sugar Mountain | Embrace the spirit of adventure on Sugar Mountain, known for its winter sports and outdoor recreational opportunities year-round, providing an exciting and scenic backdrop for your active and nature-inspired wedding. |
Piedmont Region
The Piedmont region is home to bustling cities, cultural attractions, and vibrant communities. Charlotte, the largest city in North Carolina, offers a mix of modern amenities and Southern hospitality. Here, you'll find a wide range of wedding venues, from elegant ballrooms to urban chic spaces. Consider The Duke Mansion, a stunning historic estate in Charlotte, featuring manicured gardens and elegant ballrooms. Raleigh, the state capital, is another popular choice with its charming neighborhoods and cultural landmarks. The Merrimon-Wynne House, a beautifully restored venue in Raleigh, offers southern charm, lush gardens, and versatile indoor and outdoor spaces.
| | |
| --- | --- |
| Piedmont Towns in North Carolina | Description |
| Charlotte | Southern charm meets urban sophistication in the Queen City. A vibrant blend of culinary delights, arts, and entertainment makes Charlotte an ideal backdrop for your dream wedding. |
| Raleigh | Modern amenities and southern hospitality converge in the capital city. With a rich history and dynamic downtown, Raleigh sets the stage for a stylish and memorable wedding celebration. |
| Greensboro | Experience a vibrant city with a diverse community, art galleries, and beautiful gardens. Greensboro offers urban amenities and natural beauty, creating a versatile backdrop for your wedding. |
| Winston-Salem | Steeped in history, art, and innovation, Winston-Salem blends old-world charm with contemporary flair for an unforgettable wedding. |
| Durham | Durham is home to renowned universities and a vibrant arts scene and exudes energy and cultural richness, providing a trendy and unique wedding experience. |
| Chapel Hill | Idyllic charm awaits in Chapel Hill, known for its prestigious university and picturesque surroundings. Discover tree-lined streets and charming venues for an intimate wedding celebration. |
| High Point | Discover High Point, where modern design and Southern hospitality converge. This bustling city offers stylish venues and a touch of sophistication for a chic and memorable wedding celebration. |
| Cary | Embrace suburban allure in Cary, nestled between Raleigh and Durham. With beautiful parks and a thriving community, Cary offers a charming and picturesque setting for your wedding. |
| Burlington | Explore the charm of Burlington, known for its historic districts, boutique shops, and scenic parks. Enjoy a quaint and romantic backdrop for your intimate wedding celebration. |
| Gastonia | Uncover the hidden gem of Gastonia, a city with rich textile heritage and natural beauty, providing an elegant and rustic setting for a timeless wedding. |
| Mooresville | Indulge in the lakefront beauty of Mooresville, situated on the shores of Lake Norman. This nautical town offers a chic and sophisticated backdrop for your wedding celebration. |
| Concord | Experience the allure of Concord, rich in motorsports history and Southern charm. From the iconic Charlotte Motor Speedway to historic downtown, Concord offers excitement and nostalgia. |
| Kannapolis | Delight in the friendly atmosphere of Kannapolis, known for community spirit and scenic parks. Create an intimate and heartfelt wedding celebration in this charming town. |
| Salisbury | Step back in time in Salisbury, a city with historic architecture and Southern charm, providing an elegant and timeless setting for a classic wedding celebration. |
| Statesville | Discover the historic town of Statesville, known for its preserved buildings and small-town hospitality. Enjoy a serene and romantic setting for your wedding in this picturesque town. |
| Lexington | Indulge in the culinary delights of Lexington, the "Barbecue Capital of the World." This charming town offers quaint venues and mouthwatering cuisine for a flavorful wedding experience. |
Coastal Plain Region
The Coastal Plain region offers sandy beaches, charming coastal towns, and a relaxed coastal vibe. Wilmington, a vibrant coastal city, is a favorite wedding destination for those seeking a beachfront celebration. Picture saying your vows surrounded by the beauty of Airlie Gardens, a picturesque garden setting with lush landscapes, a historic gazebo, and waterfront views. Explore the charming downtown area, stroll along the Riverwalk, and enjoy fresh seafood at local restaurants. On the Outer Banks, the picturesque barrier islands, you'll find the historic Whalehead Club in Corolla. This mansion features Art Nouveau architecture, stunning grounds, and panoramic views of the Currituck Sound.
| | |
| --- | --- |
| Coastal Plains Towns in North Carolina | Description |
| Wilmington | Immerse yourself in the coastal beauty of Wilmington, a vibrant city with charming riverfront views and picturesque beaches. |
| New Bern | Step into history in New Bern, a town filled with colonial charm, stunning waterfront vistas, and a delightful small-town atmosphere. |
| Outer Banks | Discover the enchanting Outer Banks, a string of barrier islands offering pristine beaches, picturesque lighthouses, and rich history. |
| Morehead City | Experience coastal elegance in Morehead City, known for its marinas, waterfront dining, and stunning sunsets over the Atlantic Ocean. |
| Beaufort | Delight in the coastal charm of Beaufort, the third oldest town in North Carolina, featuring historic homes and a quaint waterfront. |
| Jacksonville | Explore Jacksonville, a gateway to the Crystal Coast, offering access to beautiful beaches, outdoor adventures, and coastal relaxation. |
| Hatteras Island | Retreat to Hatteras Island, a tranquil paradise renowned for its pristine beaches, breathtaking dunes, and world-class fishing. |
| Kitty Hawk | Experience the legendary birthplace of aviation in Kitty Hawk, where the Wright Brothers took flight, and enjoy coastal beauty and charm. |
| Atlantic Beach | Relax and rejuvenate in Atlantic Beach, a serene coastal town known for its white sandy beaches, crystal-clear waters, and natural beauty. |
| Southport | Delight in the coastal allure of Southport, a picturesque town with waterfront views, historic homes, and a charming small-town ambiance. |
Sandhills Region
The Sandhills region is known for its beautiful golf courses, rolling hills, and Southern hospitality. Pinehurst, a charming village in the Sandhills, is renowned for its golf resorts and elegant wedding venues. Consider Pinehurst Resort, which offers stunning venues, including elegant ballrooms, outdoor spaces, and impeccable service. The town of Southern Pines is another gem in the Sandhills region, with its quaint downtown area and unique shops. For a rustic yet refined wedding, The Carolina Barn in Pittsboro, surrounded by picturesque farmland, offers a blend of Southern charm and modern amenities.
| | |
| --- | --- |
| Sandhills Towns in North Carolina | Description |
| Pinehurst | Discover the charm of Pinehurst, a renowned golf destination with beautiful courses, luxurious resorts, and a serene atmosphere. |
| Southern Pines | Experience the relaxed Southern Pines, a town known for its equestrian culture, charming downtown area, and easy access to outdoor activities. |
| Aberdeen | Immerse yourself in the small-town charm of Aberdeen, featuring historic sites, quaint shops, and a close-knit community atmosphere. |
| Carthage | Explore Carthage, a town with a rich history, scenic landscapes, and a peaceful ambiance that offers a perfect setting for intimate weddings. |
| Seven Lakes | Retreat to Seven Lakes, a tranquil community surrounded by beautiful lakes and rolling hills, providing a picturesque backdrop for weddings. |
| Whispering Pines | Find tranquility in Whispering Pines, a charming town nestled amidst tall pines, offering a serene and nature-filled setting for your wedding. |
Research Triangle
Raleigh: Raleigh, the capital city of North Carolina, offers a blend of urban sophistication and natural beauty. Known as the "City of Oaks," it boasts numerous oak-lined streets and parks, creating a picturesque setting for outdoor weddings. Raleigh is home to diverse wedding venues, ranging from historic estates and elegant ballrooms to modern event spaces. With its vibrant downtown, thriving arts scene, and renowned culinary offerings, Raleigh provides a vibrant backdrop for couples seeking a mix of cosmopolitan charm and Southern hospitality.
Durham: Durham, often referred to as the "Bull City," is renowned for its world-class universities, including Duke University. This city is known for its rich history, thriving music and arts scene, and revitalized downtown area. Durham offers a range of unique wedding venues, including historic warehouses, industrial-chic spaces, and contemporary art galleries. Couples can embrace the city's vibrant energy and cultural diversity while enjoying the charming Southern hospitality that defines Durham.
Chapel Hill: Chapel Hill is home to the University of North Carolina at Chapel Hill, the oldest public university in the United States. This college town exudes a laid-back, bohemian atmosphere and is known for its tree-lined streets and beautiful campus. Chapel Hill offers a variety of venues for couples seeking a charming and intimate wedding, such as historic homes, garden settings, and rustic barns. The town's artsy vibe, vibrant music scene, and locally owned shops and restaurants add to its unique appeal.
Wedding Venues near Charlotte, NC
The Duke Mansion Address: 400 Hermitage Rd, Charlotte, NC 28207
Separk Mansion Address: 209 W 2nd Ave, Gastonia, NC 28052
The Laboratory Mill Address: 848 S Fork Rd, Lincolnton, NC 28092
Daniel Stowe Botanical Garden Address: 6500 S New Hope Rd, Belmont, NC 28012
Ritchie Hill Address: 530 Church St N, Concord, NC 28025
Foundation For The Carolinas Address: 220 N Tryon St, Charlotte, NC 28202
The Ballantyne Hotel Address: 10000 Ballantyne Commons Pkwy, Charlotte, NC 28277
Alexander Homestead Weddings Address: 4717 Shamrock Dr, Charlotte, NC 28215
Providence Country Club Address: 6001 Providence Country Club Dr, Charlotte, NC 28277
The Palmer Building Address: 2601 E 7th St, Charlotte, NC 28204
Wedding Venues near Raleigh, NC
The Stockroom at 230

Address: 230 Fayetteville St, Raleigh, NC 27601

The Merrimon-Wynne House

Address: 500 N Blount St, Raleigh, NC 27604

The Sutherland

Address: 13371 Wake Union Church Rd, Wake Forest, NC 27587

The Matthews House

Address: 317 W Chatham St, Cary, NC 27511

The Cotton Room

Address: 807 E Main St, Durham, NC 27701

The Rand-Bryan House

Address: 5140 Pearce Rd, Garner, NC 27529

The Leslie-Alford-Mims House

Address: 100 Avent Ferry Rd, Holly Springs, NC 27540

The State Club

Address: 2450 Alumni Dr, Raleigh, NC 27606

The Meadows at Firefly Farm Preserve

Address: 5581 Harward Ln, Raleigh, NC 27606

The Glass Box

Address: 230 Fayetteville St, Raleigh, NC 27601
Wedding Venues near Durham, NC
The Cotton Room

Address: 807 E Main St, Durham, NC 27701

The Cookery

Address: 1101 W Chapel Hill St, Durham, NC 27701

Bay 7 at American Tobacco Campus

Address: 318 Blackwell St, Durham, NC 27701

The Rickhouse

Address: 609 Foster St, Durham, NC 27701

The Durham Convention Center

Address: 301 W Morgan St, Durham, NC 27701

The Cotton Company

Address: 306 S White St, Wake Forest, NC 27587

The King's Daughters Inn

Address: 204 N Buchanan Blvd, Durham, NC 27701

The Durham Hotel

Address: 315 E Chapel Hill St, Durham, NC 27701

The Rickhouse

Address: 609 Foster St, Durham, NC 27701

The Cookery

Address: 1101 W Chapel Hill St, Durham, NC 27701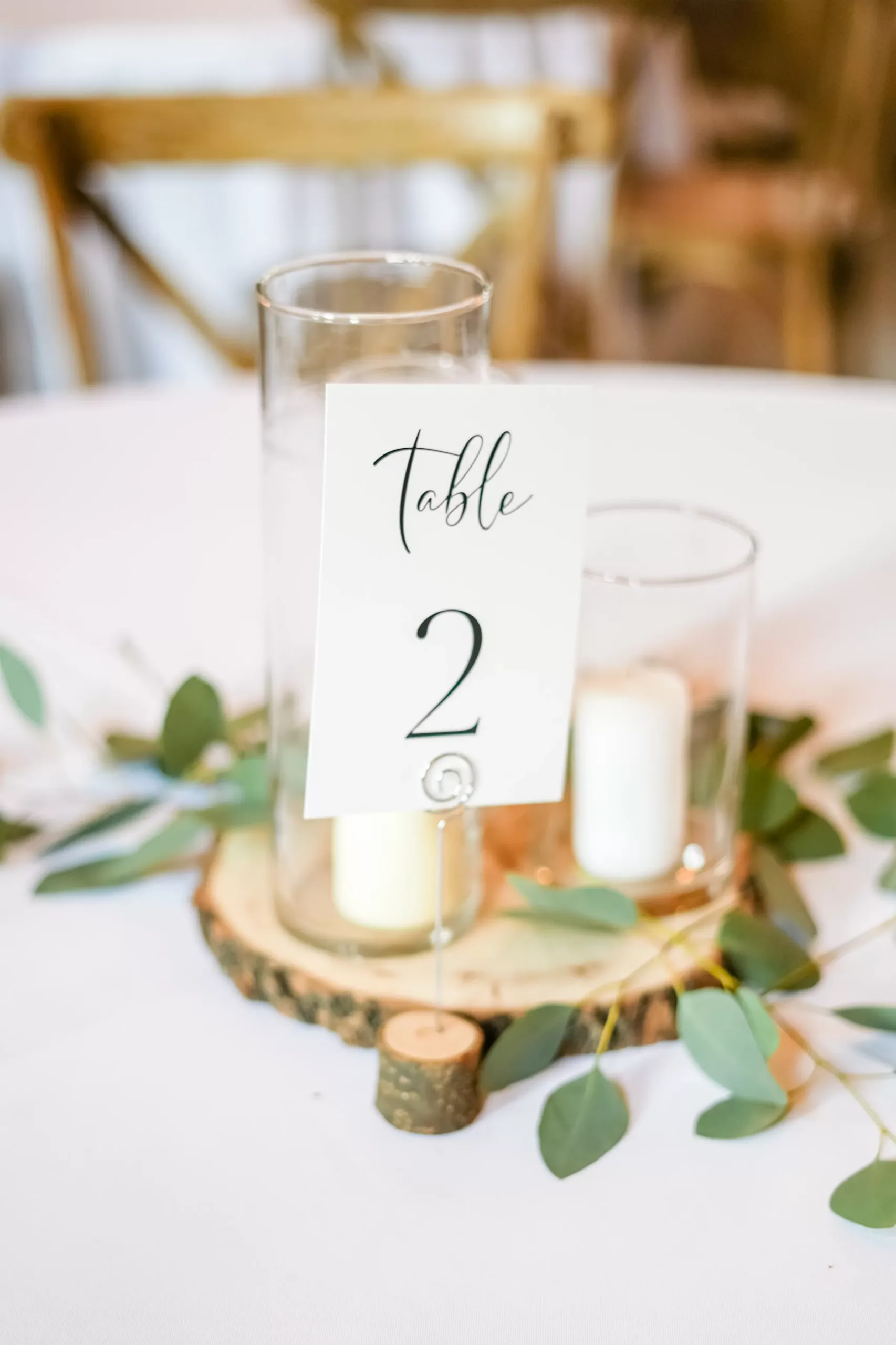 Wedding Venues near Asheville, NC
Biltmore Estate

Address: 1 Lodge St, Asheville, NC 28803

The Venue

Address: 21 N Market St, Asheville, NC 28801

Homewood

Address: 19 Zillicoa St, Asheville, NC 28801

Highland Brewing Company

Address: 12 Old Charlotte Hwy, Asheville, NC 28803

The Farm

Address: 215 Justice Ridge Rd, Candler, NC 28715

Crest Center and Pavilion

Address: 30 Ben Lippen School Rd, Asheville, NC 28806

Celine and Company at On Broadway

Address: 49 Broadway St, Asheville, NC 28801

The Omni Grove Park Inn

Address: 290 Macon Ave, Asheville, NC 28804

Hidden River Events

Address: 30 Hidden River Dr, Swannanoa, NC 28778

The Ridge

Address: 180 Herman Wilson Rd, Marshall, NC 28753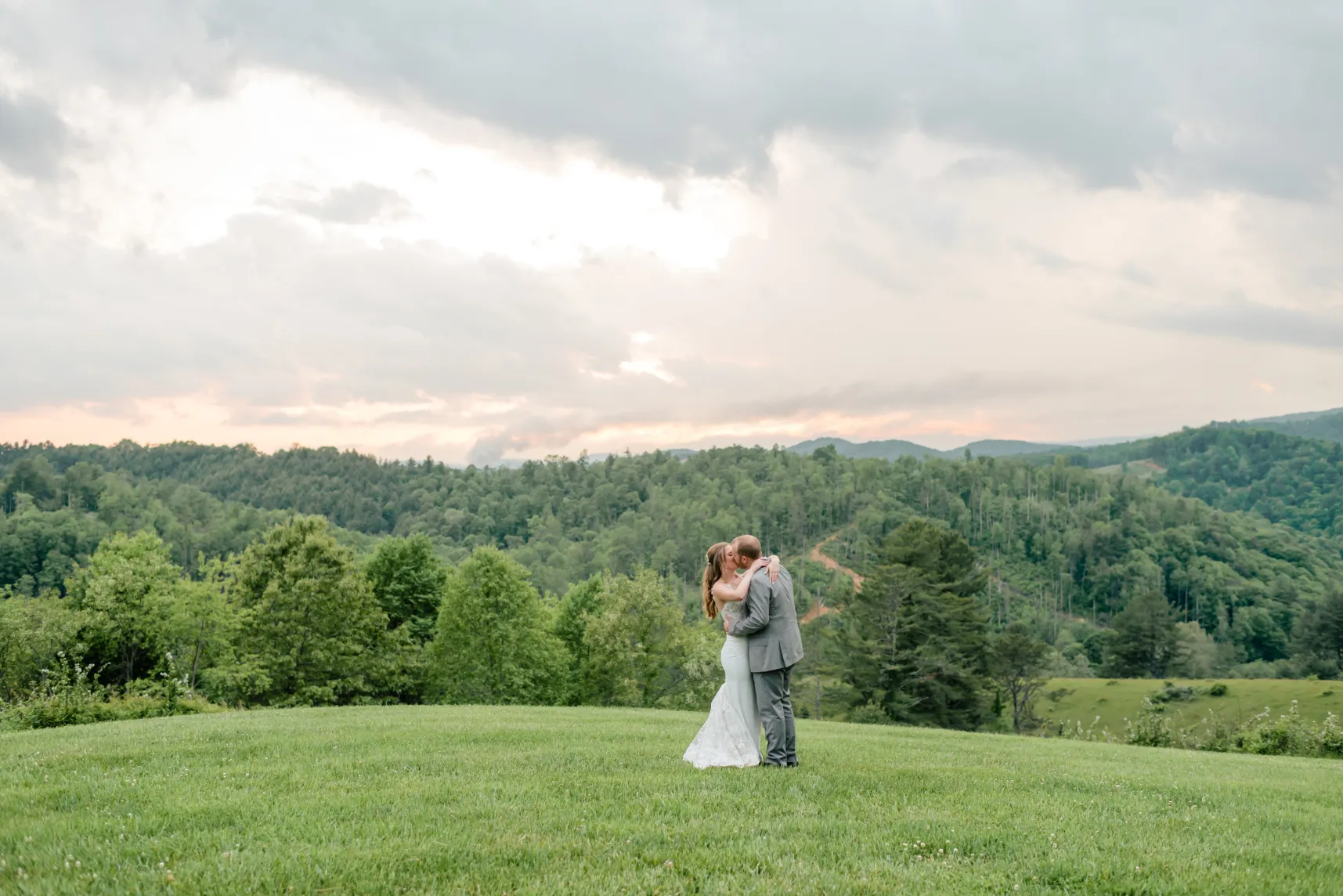 Best of Luck!
North Carolina offers a remarkable selection of wedding venues catering to various tastes and preferences. Whether you dream of a rustic barn wedding, a picturesque outdoor ceremony, or an elegant ballroom affair, you can find the perfect venue to bring your vision to life. From the scenic beauty of the Blue Ridge Mountains to the charming coastal landscapes, North Carolina's diverse geography sets the stage for unforgettable wedding celebrations. The state's rich history, warm hospitality, and abundance of amenities further enhance the appeal of its wedding venues. Whether you're a local resident or planning a destination wedding, North Carolina's enchanting venues will create lifelong memories for you and your loved ones. So start exploring the possibilities, and let the search for your dream wedding venue in North Carolina begin.